Within a few seconds the elevator doors opened again and I stepped onto a walkway with a giant white horse statue leading the way. You go into a car museum and there's a white horse statue? Before you see any cars...a horse? I'm puzzled. I find out later it's an insider's joke at the expense of Kaiser Wilhelm II, a German emperor, who once said: "I do believe in the horse - the automobile is no more than a transitory phenomenon". This museum will prove him wrong.
Worth It's Price, Even Twice
Over the years we have explored many museums. Some great ones, some good ones and also some rather boring ones. I've never personally wanted to return to any of them until Denise and I went to the Mercedes-Benz Museum in Stuttgart several years ago. I kept thinking of taking my Dad there. My Dad, like me, is a car nut. We both love anything that has four wheels and sounds great. If it goes fast? Even better!
Every other year the International Motor Show is in Frankfurt am Main, and my Dad and I push ourselves through the masses in order to get a glimpse at the newest cars. This was an off-year for the International Motor Show, and Stuttgart is only a 2-hour car drive away from my parent's home in Germany. Perfect time to take a joy ride down to Stuttgart and show him the museum which I still thought about from time to time. If you have the slightest interest in cars, architecture or history, do not miss the Mercedes-Benz Museum.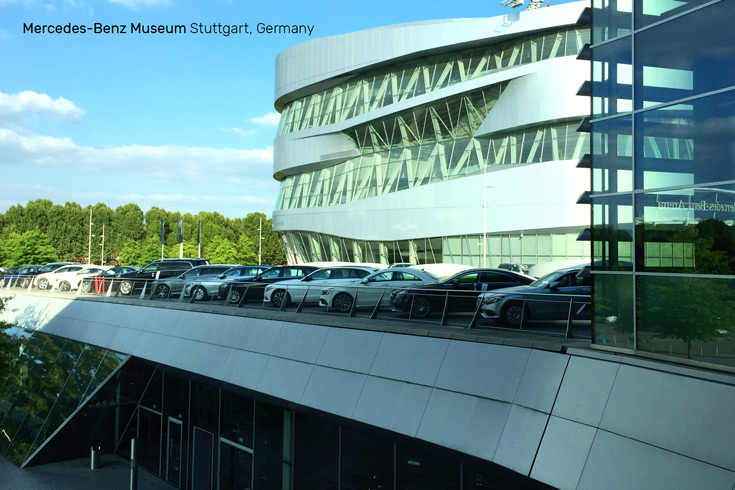 This striking, one-of-a-kind gray building with its wavy forms and massive windows, stands 47.5 meters (156 feet) tall. Looking at it from the outside it is hard to believe there are any straight walls or floors in this building with its swaying form factor. Built in 2006, you enter through large glass doors and stand in a light filled foyer, forcing your eyes to wander up to the ceiling. It is a tall building, but even at this massive size it appears airy and dynamic. Past the cashiers you can see all the way up to the 8th floor, which is also where you start exploring.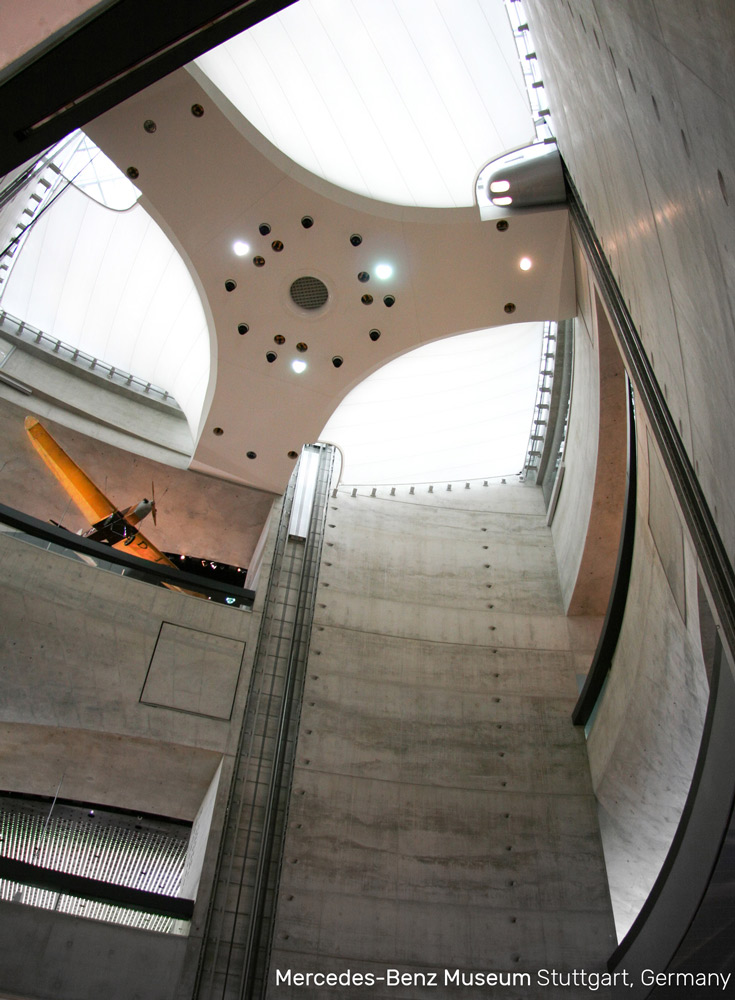 To get up there, you scan your ticket and enter one of the elevators, taking you all the way up. Even the elevators are a work of art, shooting up like a silver bullet along the cement walls. Before you enter the elevator you have the opportunity to pick up an audio guide in several languages, giving you even more information as you make your way through the museum. Personally, we did not use the audio guide, so I can not comment on them. The majority of the exhibits were bilingual, German and English.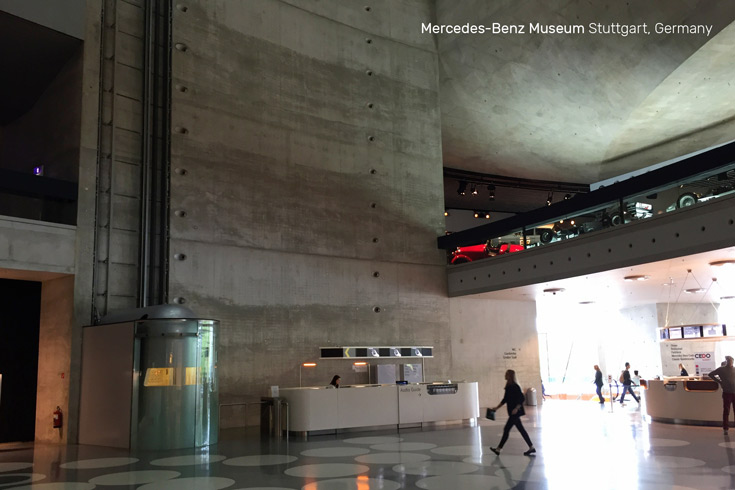 A small window in the elevator lets you peek outside where moving pictures are displayed on the cement walls. Trying to take it all in, the ride is over way too fast.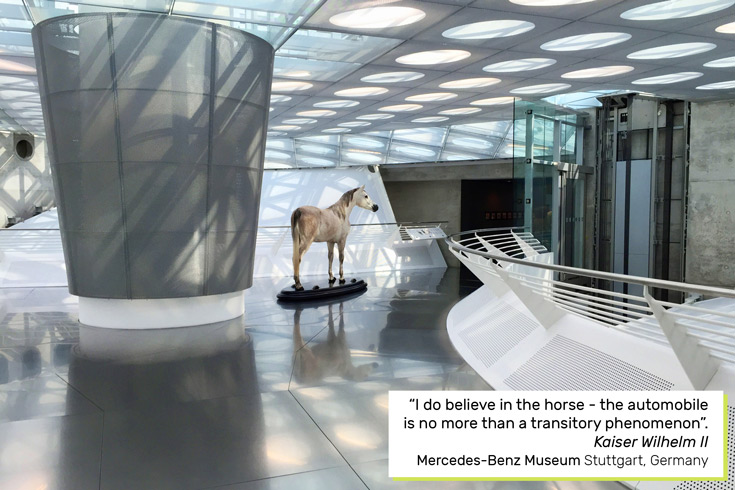 Legend 1 | Pioneers – The Invention of the Automobile
Pass the horse, you step into a large, round room dedicated to the year 1886, when the 130+ years' history of Mercedes-Benz began. It is the first of seven 'Legend' rooms, called 'Pioneers – The Invention of the Automobile.' In the middle of the room are the first prototypes of Mercedes-Benz cars, which look like open-horse carriages with an engine strapped on.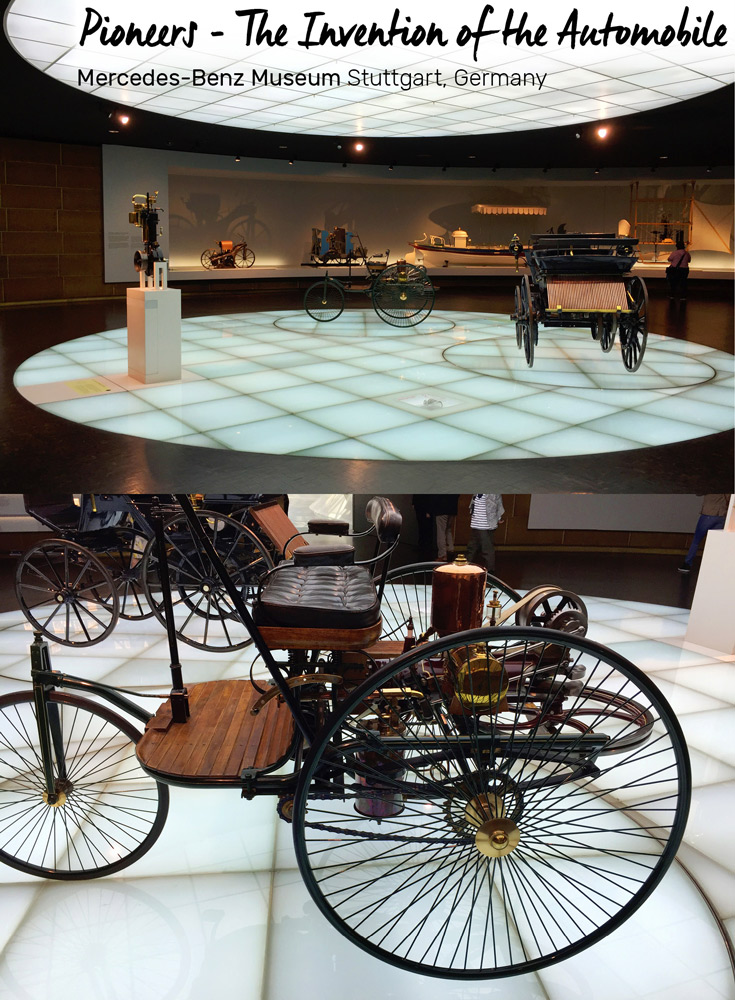 I wonder if the first drivers felt like daredevils? No seat belts, no metal roof, combined with oversized wheels make the prototype look too adventurous for my taste.

The picture above is of the Benz Patent Motor Car made by Carl Benz, which is the first car in the world with a gasoline engine. Germans invented the first automobile. Henry Ford did not introduce the world-famous Model T until 1908, more than 22 years later. Benz also experimented with engine-powered bikes and carriages, many of them also displayed in this large room.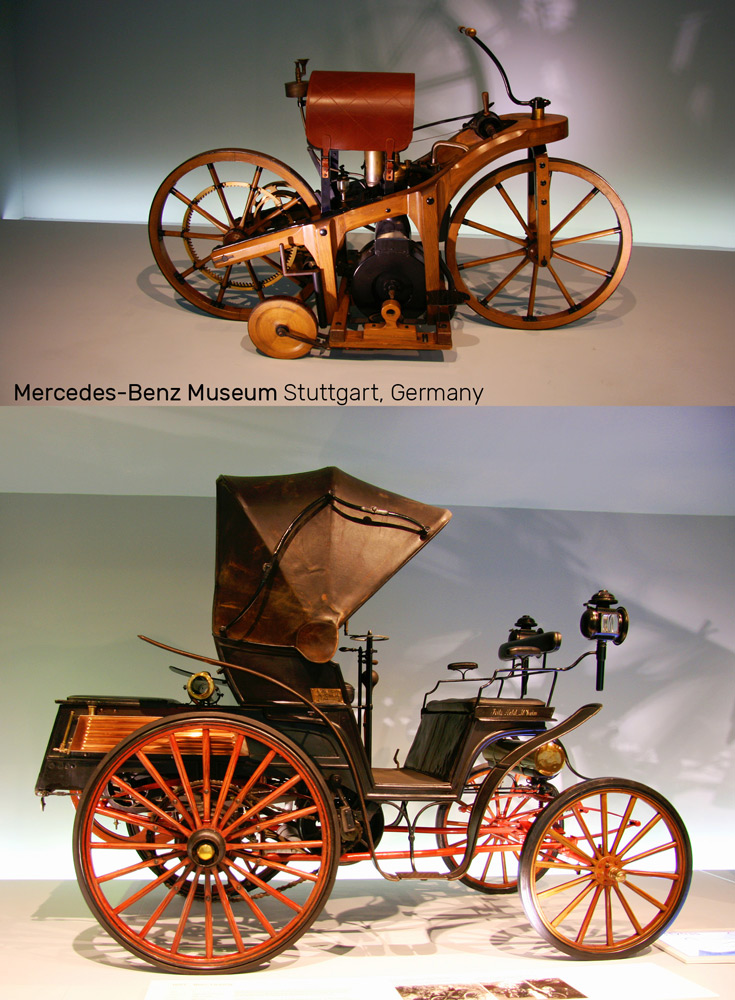 The most surprising take-away from the first room was discovering that Carl Benz in Mannheim, Germany, and 60-miles away, Gottlieb Daimler in Cannstatt, (a suburb of Stuttgart) Germany each independently produced an automobile in 1886. The exhibit in the museum stated that Daimler never met Benz while both were inventing their engine-powered automobiles. Daimler later sued Benz in 1896 for a violation of the hot tube ignition patent, and won.
After Daimlers passing in 1900, his company Daimler Motoren Gesellschaft signed an agreement with Karl Benz's Benz & Cie company in 1926 resulting in a merger and a new company name: Daimler-Benz. But, why is it Mercedes-Benz instead of Daimler-Benz today? The name 'Mercedes' was an important automobile series named after Mercedes Jellinek, the first daughter of Emil Jellinek, an automobile entrepreneur and racecar enthusiast. who had created the Mercedes trademark in 1902. Jellinek had bought all his racecars from Daimler and loved the cars so much, he referred to the engine as 'Daimler-Mercedes'.
After you exit the first Legend room, you step onto a spiral walkway, leading you down a hallway filled with pictures, historic facts and meticulous lighting. Yes, even the lighting is absolutely on target and made me imagine a small army of workers adjusting each and every light until it was perfect. The cars shine and sparkle from every angle, like they just rolled out of the factory.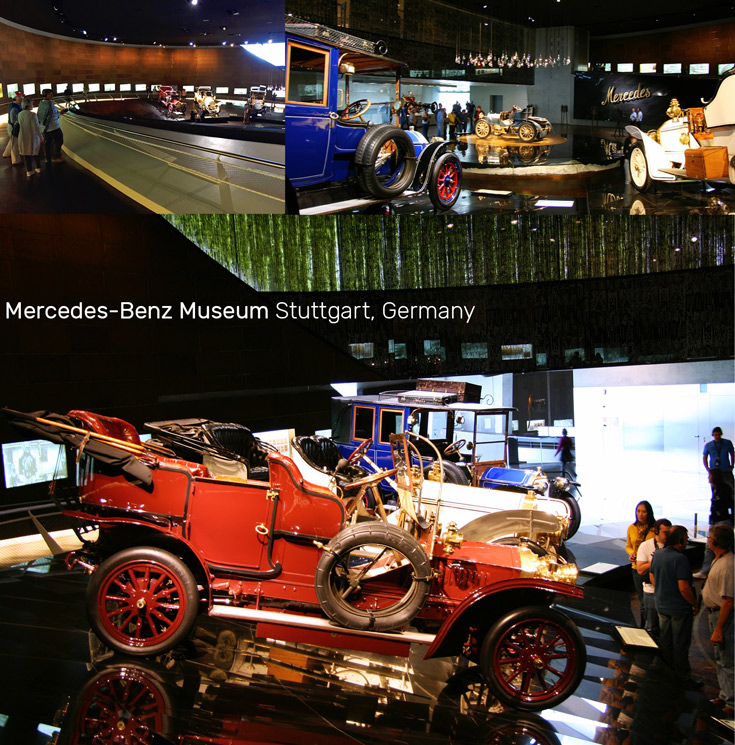 The museum tour is well-thought through, effortlessly guiding you chronologically through history from level to level. After my first visit with Denise I looked up the idea behind the architecture and found that the museum interior was inspired by the double helix structure of DNA carrying the human genome. Click here for an in-depth article on how this ties to Mercedes-Benz' philosophy. And here is how the Mercedes-Benz Museum is set up architecturally with the DNA next to it.

Legend 2 | Mercedes – Birth of the Brand
After slowly winding down the walkway, and trying to read as many German history notes along the wall, you step onto the Legend 2 platform, titled: 'Mercedes – Birth of the Brand.' Here you will find the Mercedes Simplex 40 hp, which is the oldest surviving Mercedes. It looks more like one of our modern cars, instead of an open carriage form that we saw in the first room. The form factor is still box-like, and the wooden wheels probably made an uncomfortable ride.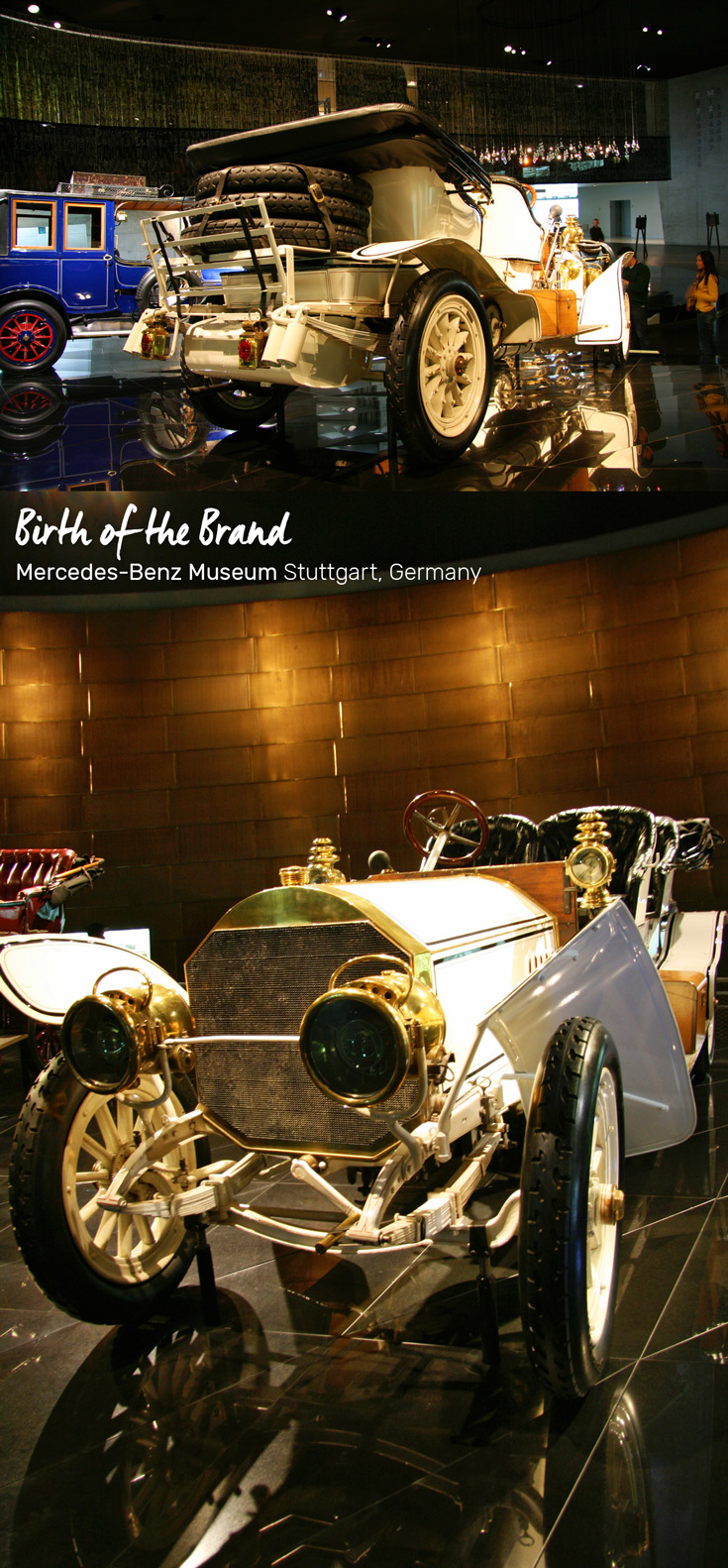 Collection 1 | Gallery of Voyagers
After checking out these treasured and immaculate automobiles under the artificial lights, while the rest of the Legend 2 Platform is pretty dark, you catch a shimmer of daylight from a room off to the right. Next to the chronological and artificially-lit Legend rooms are the naturally-lit Collection exhibit rooms with huge window walls overlooking Stuttgart. The Collection 1 is named "Gallery of Voyagers" showcasing different modes of Mercedes transportation. One of the most elegant cars was the Mercedes-Benz 320 streamlined sedan from the 1930s.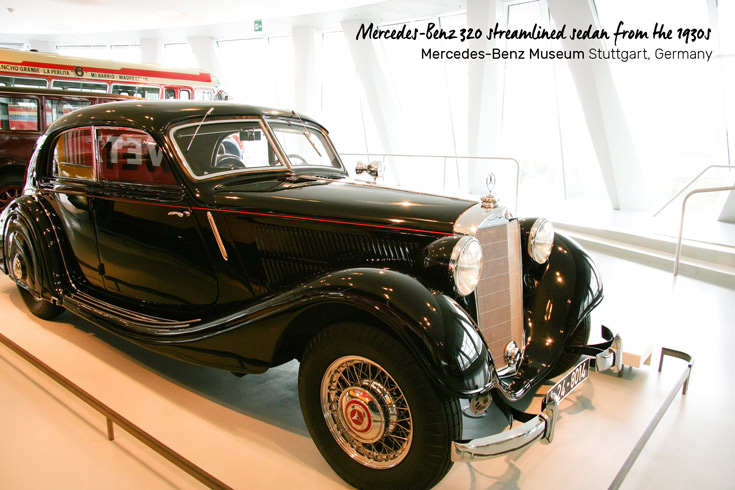 No need to race down the Autobahn with this car, it is a show-stopper. The dark green paint color with a red pinstripe and the huge front grille all come together to impress your friends and family.
The room also shows Mercedes buses, older and newer, including this beautiful O 3500 touring coach with a soft top and glazed roof edges. Its main purpose was tourist travel from Germany to Italy in the 1950s. Even though these buses have been through rough terrain and accumulated thousands of miles, they appear as new and fresh as the cars in the previous room.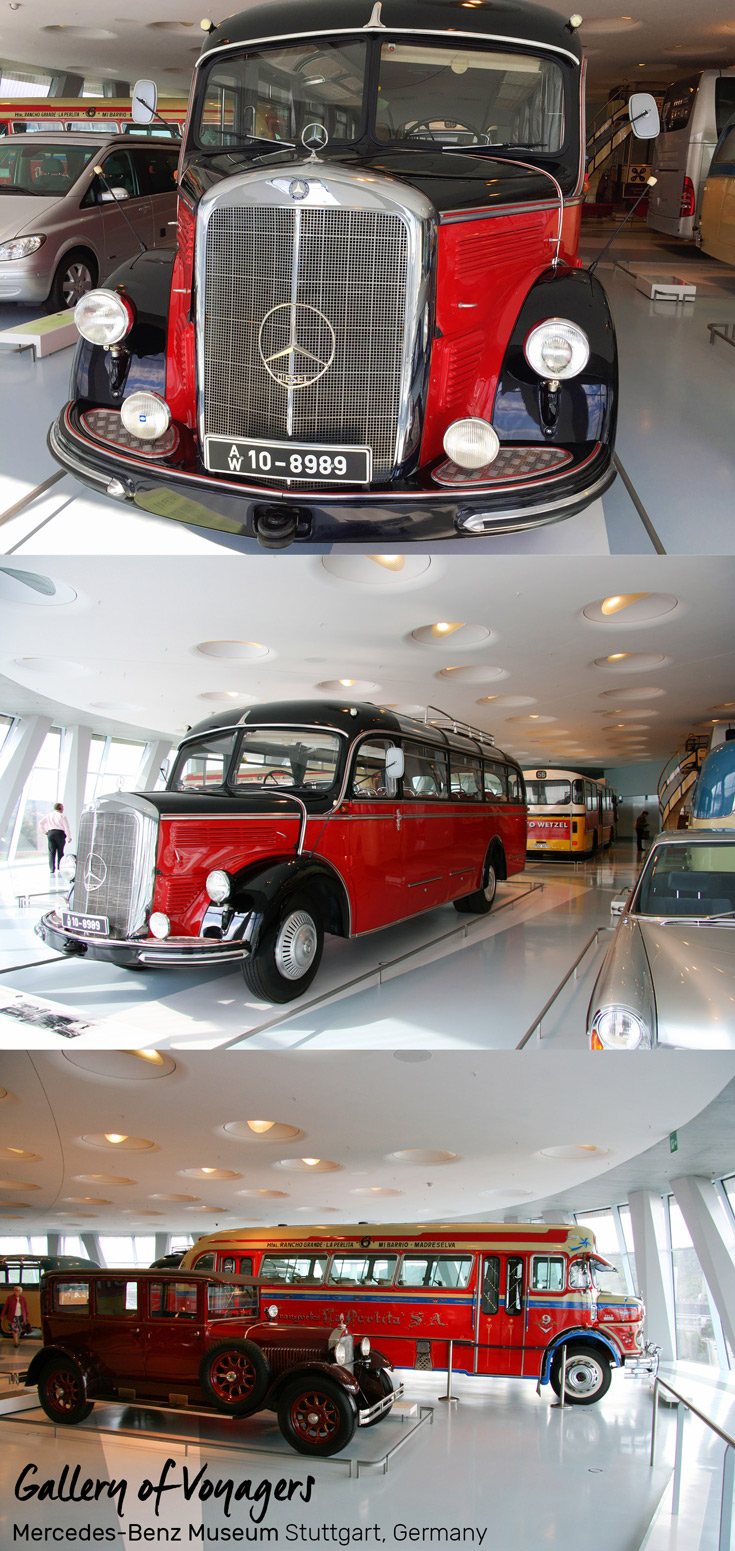 We make our way back through the Legend 2 room and continue down the walkway. Every level has a viewing platform where you can get a sneak peek at the next Legend room below, and also rest on a bench for a moment if you need to pause after all the automobile awesomeness. This is your view, if you look from the Legend 2 down to the Legend 3 room.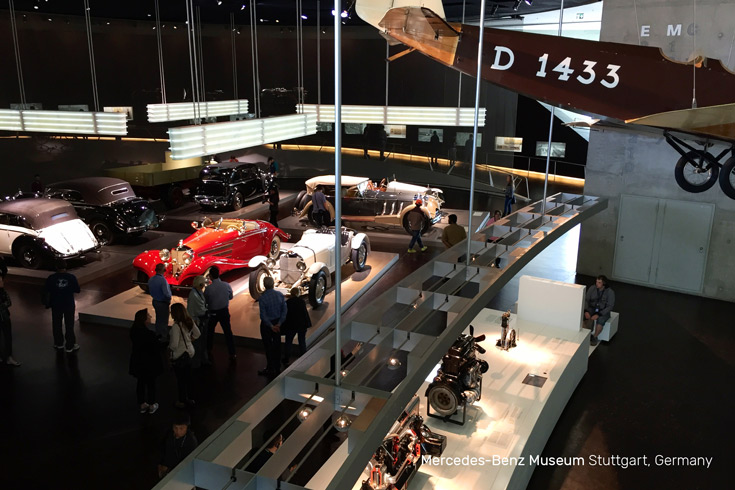 Legend 3 | Times of Change - Diesel and Supercharger
Legend 3 is called "Times of Change– Diesel and Supercharger", containing my very favorite piece in the museum. I seem to have a weakness for red cars and this one stole my heart.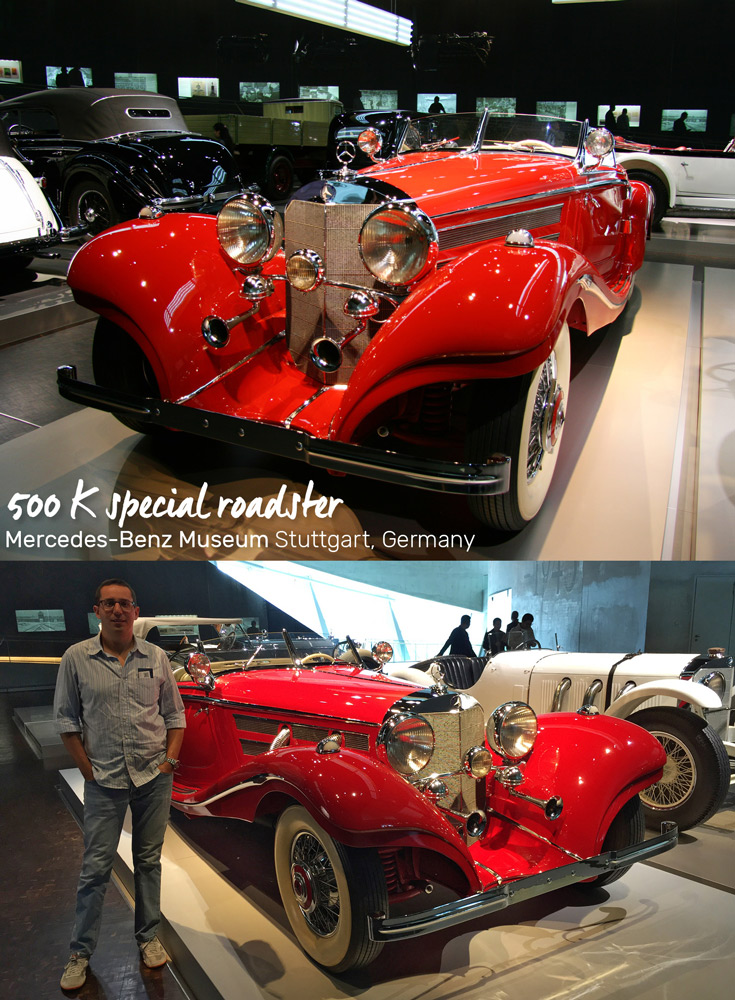 If there is one car I could drive out of the museum, it would be this Mercedes-Benz 500 K special roadster. It was one of the most expensive cars of the 1930s, roughly equivalent to $100,000 of today's money. Only thirty-four were produced from 1934 to 1936. Arguably the most beautiful German pre-war car design with a commanding presence, it is over 17 feet long with only two seats, one for the driver and one for a very happy passenger. The rare auctions of this model top out at five Million USD, so I will have to save quite a bit until I can drive this red beauty out of the showroom. I kept walking around the car again and again. I actually asked my Dad to take a picture of me with the car, something I never do.
Collection 2 | Gallery of Carriers
Still fascinated by the 500 K roadster, we step into the next naturally-lit Collection room, showcasing the "Gallery of Carriers" with trucks, car transporters and a mobile post office that carried three phone booths. The Mercedes-Benz O 10000 mobile post office was very popular after WWII when Germany was trying to rebuild the bombed buildings, whilst trying to stay in communication with family members that lived further away. Not every town had a post office, so the truck would make its rounds, transporting letters and packages from town to town.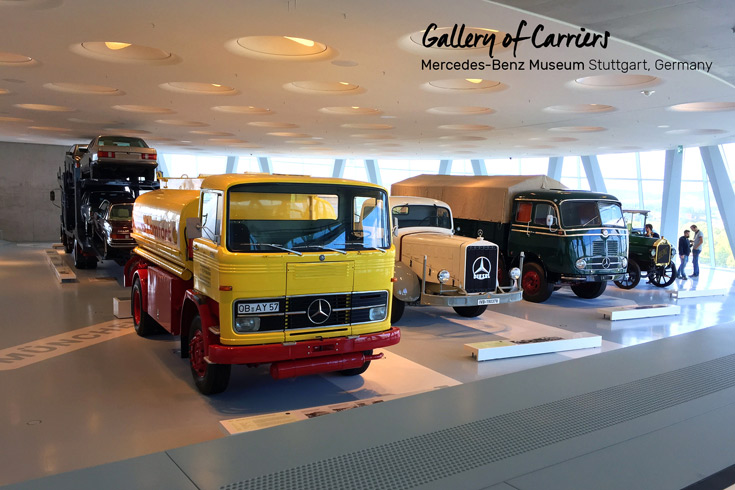 Legend 4 | Post-war Miracle – Form and Diversity
After leaving the room, I can't help but peek at the next platform already, called Legend 4 "Post-war Miracle – Form and Diversity". It highlights how practically-designed cars morph into becoming more individually styled and aesthetically pleasing. This bird's-eye view is great and gets my Dad and I excited for the cars ahead.

From up there we can already spot the legendary 300 SL coupe in a shiny white color. With its gullwing doors, it stands apart from all the other cars in this exhibit. The high tube, lightweight frame wraps around the perimeter of the car, necessitating the use of the two roof-hinged doors. Take a closer look with this video from the Mercedes-Benz Museum:
Collection 3 | Gallery of Helpers
Next to the stylish roadsters there is the Collection 3 room, "Gallery of Helpers" - basically the dream cars of most little kids.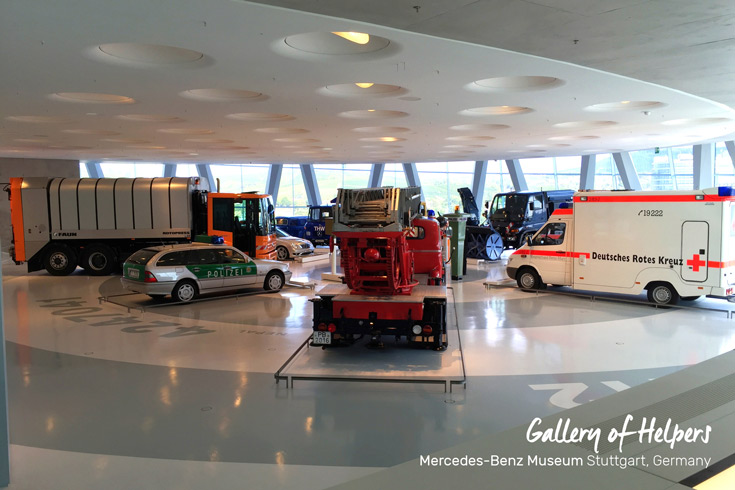 Police cars, fire trucks and ambulance vehicles dominate the space, some classic, some modern. Most of them are essential pieces of any model toy car collection and I remember having several of these models myself. It throws me back to my childhood to see these cars up close and personal, remembering how they rushed by with blinking blue lights on top, sirens howling. I would love to have blue lights and a siren on my current car to get through traffic much faster.
Legend 5 | Visionaries – Safety and the Environment
Dreaming along, we wander down to Legend 5, "Visionaries – Safety and the Environment". After so many thrilling cars, this was my least favorite exhibit room. The cars from the 1960s and 1970s seem rather bland and boxy, and showcased the development of the passenger safety cell, including newly developed airbags and the anti-lock braking system.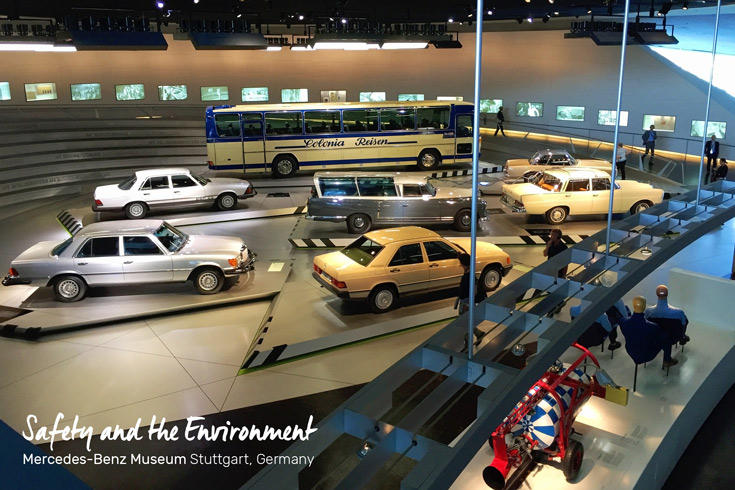 We still look at all the exhibited cars, but this is the room we leave the fastest. Beautiful design fascinates us more than safety features. Not saying that this is not important, but we know there are even more exciting things ahead that need all of our attention.
Collection 4 | Gallery of Celebrities
Another light-filled room called Collection 4 "Gallery of Celebrities" grabs our attention again.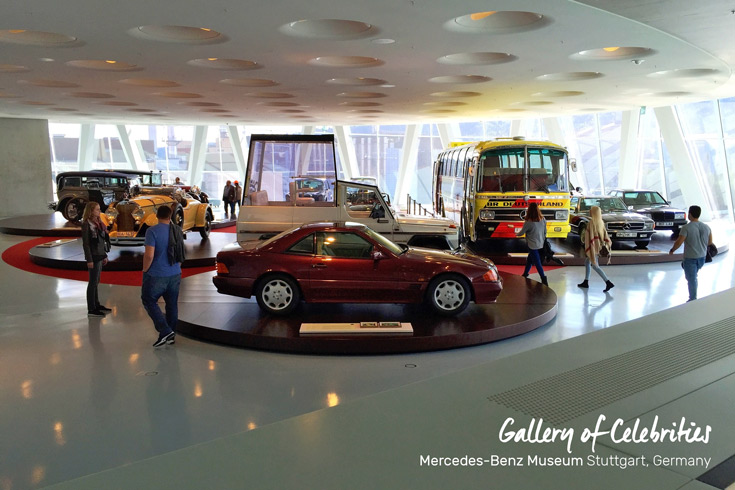 In the middle of the room is a replica of the German soccer team touring bus used when West Germany won the 1974 World Cup. Coming down the walkway I can hear the song that the team sung back then, titled "Fussball ist unser Leben," which means 'Soccer is our life.' Certainly an acquired taste, but hear it yourself:
Since the bus is a replica, you can walk through and sit behind the wheel, making this exhibit a bit more interactive than earlier parts of the Mercedes-Benz Museum, and a fun spot to take a picture!
You can also take a look at a custom-built, glass-enclosed 230 G popemobile, built in 1980 for Pope John Paul in order to protect him from rain and wind. Off to the side is an SUV used in The Lost World: Jurassic Park movie and a red 500 SL owned by Princess Diana. She returned the car to Mercedes-Benz in response to criticism from the British government for not driving a British car. Sad for her, good for the museum.
Legend 6 | New Start – The Road to Emission-free Mobility
The next platform is named Legend 6 "New Start – The Road to Emission-free Mobility". Looking down to the platform, it does not look very promising, but it turned out to be very interesting.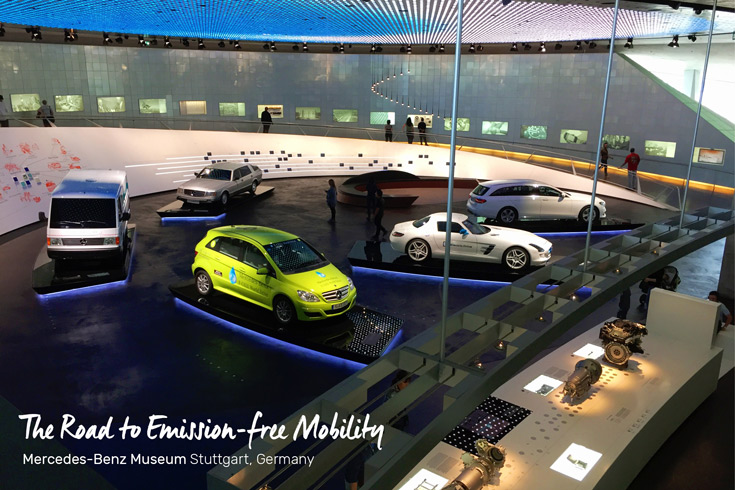 Mercedes has worked on alternative drive systems, for example fuel cells and batteries which do not produce exhaust gases, and ultimately results in less emissions. The green car in the picture is the Mercedes-Benz F-Cell World Drive, a fuel-cell vehicle powered by hydrogen. A central focus of Mercedes-Benz is to have drivers be able to refuel with hydrogen as an alternative to gasoline and diesel. Hydrogen is the lightest of all elements and burns nearly pollution-free, since it turns into heat and water vapor when used. It is easy to forget about this alternative while battery-powered electric vehicles are consistently making headlines.We will have wait to see if hydrogen technology will become more popular. The exhibit definitely made us wonder why this technology is not more popular already, but I guess the current rage are electric vehicles, powered by batteries.
The last Collection room number 5 is used for temporary exhibits. When we visited it in September 2016 it was an homage to the Mercedes-Benz E-Class vehicle series. Before that it was an exhibit for the cars used in the Mille Miglia race series and a dedication to the 60-year anniversary of the Mercedes-Benz SL" cars.
Legend 7 | Silver Arrows – Races & Records
Our tour ends at another spectacular room, the Legend 7 "Silver Arrows – Races & Records" exhibit, where a steep banked curve sweeps around the entire wall space, filled with famous, record-breaking cars.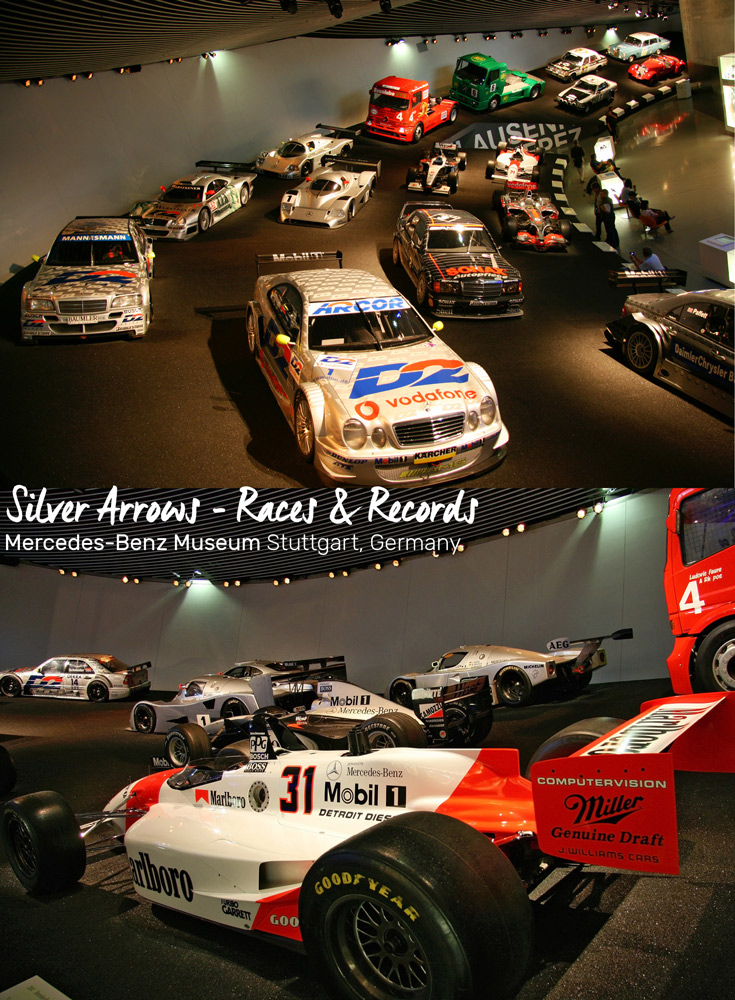 It is an emotional finale to the museum tour and highlights again all the victories of Mercedes-Benz, showing off winning cars and film footage of historic motor races. Dad and I sit down and watch a movie while peering over to the cars hanging on the wall in front of us. I know that the race cars are light, but hanging them up like this makes them seem weightless.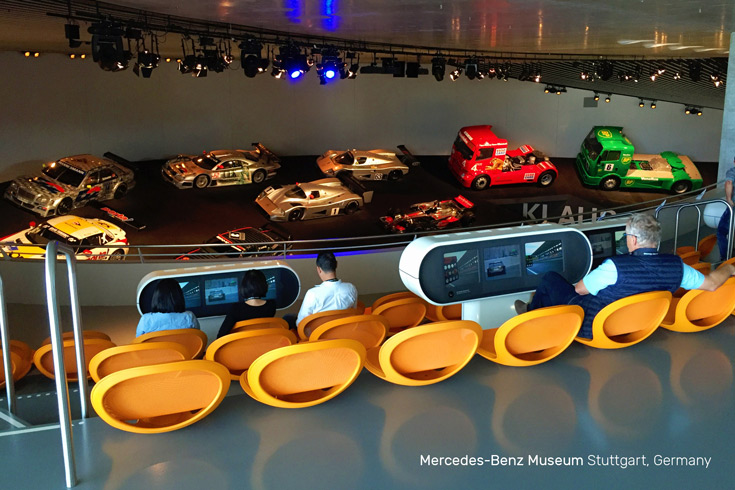 Passing the hanging cars, you can enjoy the thrill of a real race in two racing simulators, or examine two race cars which have their protective metal skin lifted up to reveal the engine and technology underneath. We all know what race cars look like, but rarely do we get to see what is under the metal. Definitely another highlight of the museum since Formula 1 race cars like these are only built in very limited numbers, and seeing them up close and personal like this proves rather tricky without a VIP pass at a race event.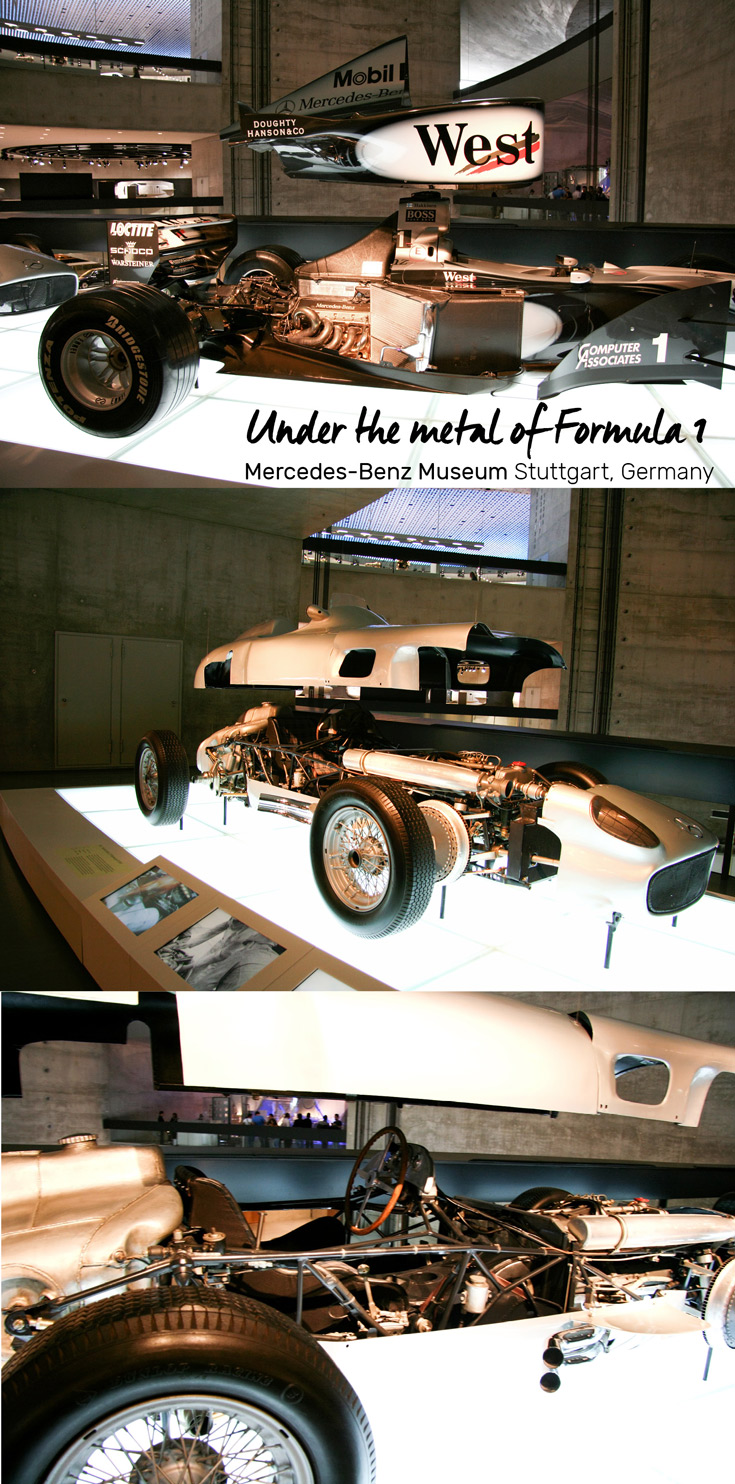 If you have picked up your audio guide, you will have to surrender it at the end of the Legend 7 room, then make your way down a long staircase surrounded by even more Mercedes-Benz cars mounted on the wall or displayed on separate platforms.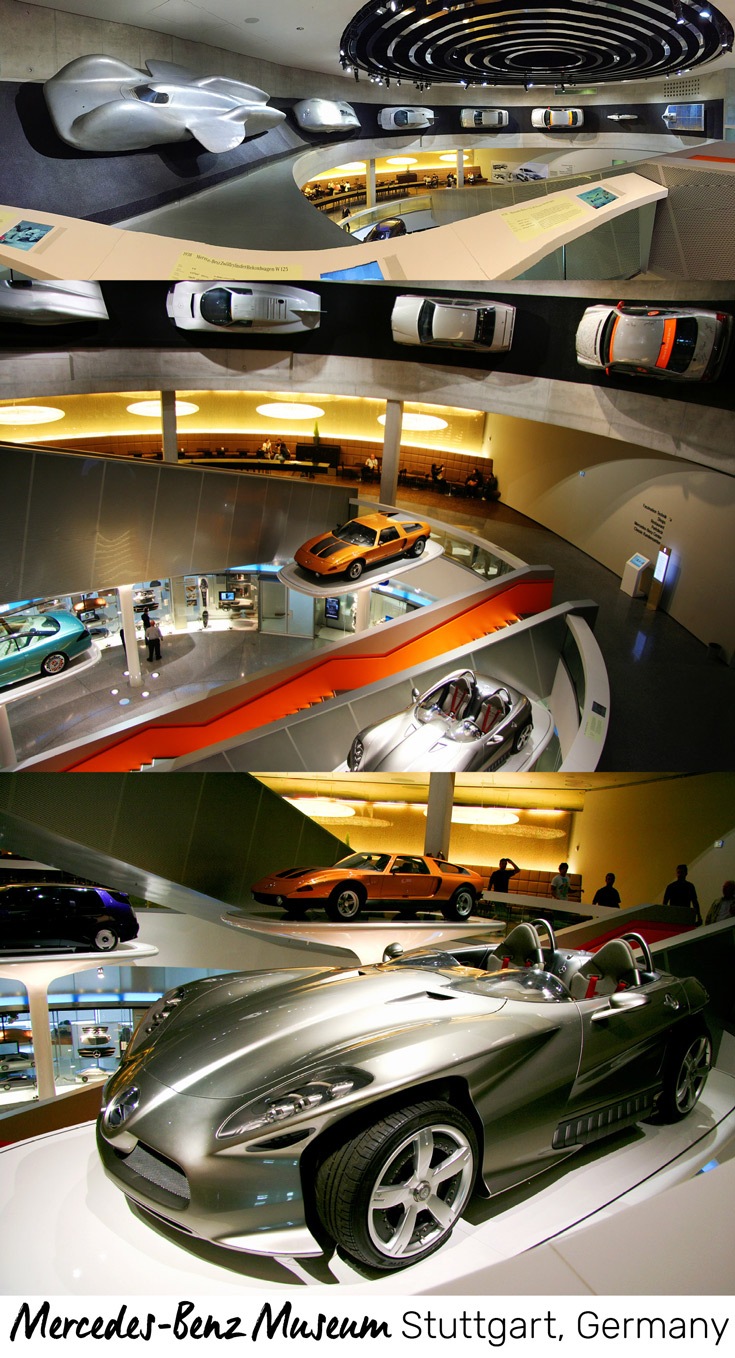 At the end of the stairs you will find a snack bar, Cafébar, where you can get a coffee, soda and small food items at a reasonable price. It was the perfect resting spot to reflect on all the unforgettable impressions we had just seen. I went to the Cafébar both times, with Denise years ago and with my Dad.
But Wait, There's More
If you think that this is the end of your Mercedes-Benz experience, think again! We head back to the main entrance area and pass the cashiers, keeping left. Down an escalator is the huge museum shop, selling anything and everything connected to the famous car brand. The perfect keepsake for me was the "Buy Me a Mercedes-Benz" book about the museum with gorgeous photos and more background information, perfect to look through when you are back home and the rain is hitting the windows.
I wander through the rest of the shop and lose my Dad in between all the memorabilia. Mercedes-Benz can not only build a great museum, but also a great gift shop. I was impressed smelling several of their branded perfumes. They have more than 15 perfumes they have created since 2012?!
At the gift shop exit is the official restaurant of the museum with black leather chairs and wooden tables. Looks great, but I am not hungry after the cafe earlier, and I let my eyes wander around the rest of the long hall.
All the way at the end of the hall I see a large, light filled room with more cars lining the way. Once Dad finally catches up to me, we walk into a part of the building did not know existed during my first visit with Denise. It is called the Mercedes-Benz Center, where you can look at (and buy) their newest models. Most of them are unlocked and you can sit in them, although a nice sales associate will keep an eye on you while you enjoy all the new car smells.

The cars are shown on three levels, ranging from most affordable, entrance-level cars to most expensive AMG and S-Class models on the third floor. If you are interested in a specific model, you can pick up a detailed brochure on one of the many racks around the cars. It was the perfect ending to an almost 4 hour long visit bringing us to present-day cars, seeing the newest models and being able to play with them a bit. Be warned, you might want to drive off with one of them! The higher the floor, the more loaded the cars are with costly extras!
If you have been to the Mercedes-Benz Museum in Stuttgart, let us know what your favorite part of the museum is in the comment section below.
Going There
Official Website | Mercedesstrasse 100, 70372 Stuttgart, Germany | Tuesdays to Sundays, 9 a.m. until 6 p.m.| For a Day Ticket, 8 Euro
Always double-check your travel plans with the Museum's Website, as details may change after this article has published.
Follow Along
If you enjoyed this article, or these topics sound interesting to you, you'll love our weekly newsletter. You'll receive a free Germany Packing list for signing up, and you'll receive each week's newest posts every Friday. Thank you for reading!