When you have it all, the big palace with the big garden, dozens of servants to cater to you, riches to spend, a court to entertain, armies to oversee, the next thing you need is somewhere to escape. This is Schloss Favorite, a getaway from getting everything you ever wanted. I'm not being snarky, this really was the purpose!
The Pheasants Can Stay
If you leave Residenzschloss Ludwigsburg from the embroidery-style garden in the north, part of Blooming Baroque, you'll see Schloss Favorite straight ahead upon a little hill. The palace started out modestly as a pheasant farm. In 1713, Duke Eberhard Ludwig ordered a pleasure palace to be built. The pheasants could stay, for now. Schloss Favorite was never intended to be a permanent residence, but solely an entertainment venue.
The original baroque exterior was designed by Donato Giuseppe Frisoni. The Italian-inspired flat roof terrace that provides a panoramic view of the park and additional entertaining space, unfortunately is not suited to German rains. Water coming inside the palace has been a never ending problem for conservators. Hurry and tour the interiors of Schloss Favorite before it is closed for roughly a year's worth of restoration, starting in January 2017.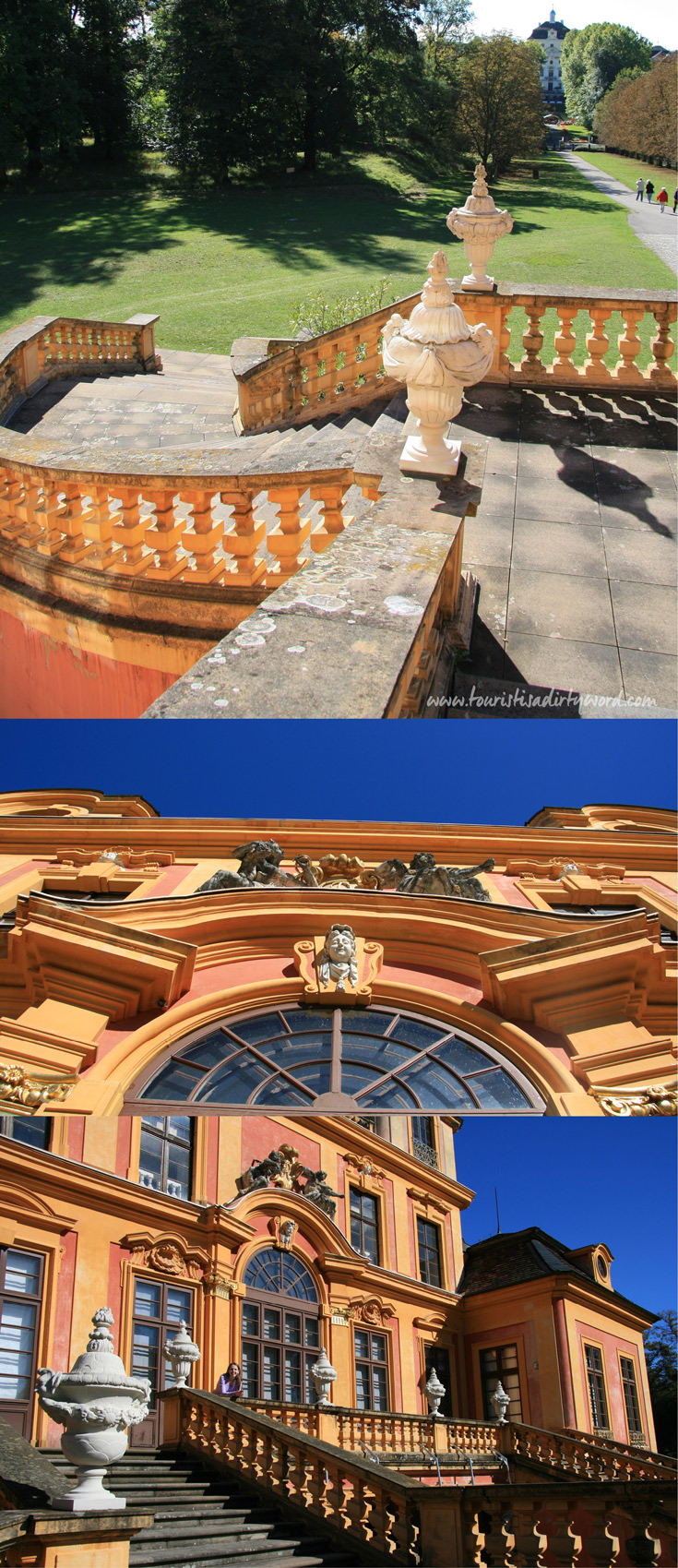 My Favorite Part of the Tour
During this time of history, there was only two ways of listening to music, through a mechanical music box, or with live musicians. While musicians are great, they take up valuable dance floor space. To the shock and delight of the dancing guests, there is a hidden gallery at the top of the great hall where the musicians play, out of the way. The four towers have staircases inside them, but only two of them go from the ground to the roof terrace. In order for the musicians to remain secret, tucked away in their hidden gallery, they had to climb up one tower, cross the roof terrace, and descend down another tower. During our tour we had the opportunity to climb up, and it was shockingly confining. It must have been really challenging for the musicians with large instruments!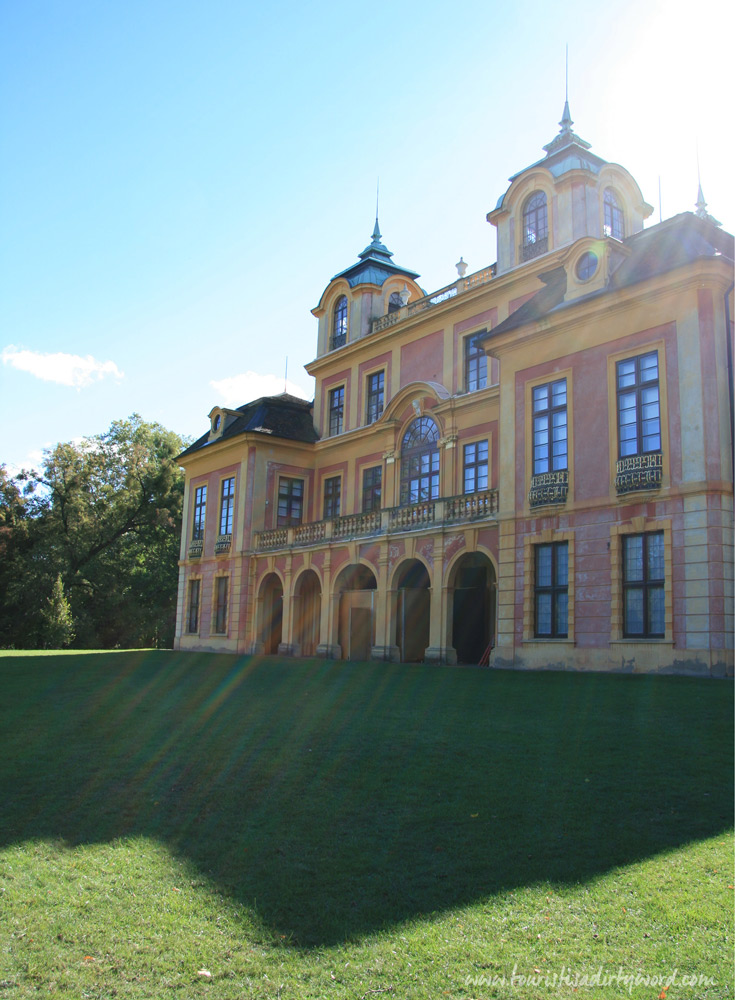 The Pheasants Must Go
Schloss Favorite continued to host parties as it was built from Duke Eberhard Ludwig's through Duke Carl Eugen's time, even serving as an excellent vantage spot to shoot off fireworks to celebrate Eugan's wedding to Elisabeth Friederike of Brandenburg-Bayreuth. Duke Carl Eugen's only complaint was the pheasants, who packed their bags, and were soon replaced with deer.
In 1806, the first King, King Frederick I of Württemberg instructed the court architect Nikolaus Friedrich von Thouret to update Schloss Favorite's 'out of style' Baroque decor with trending 'Neo-classical'. One room is left original to Eberhard Ludwig's time, in the Baroque style.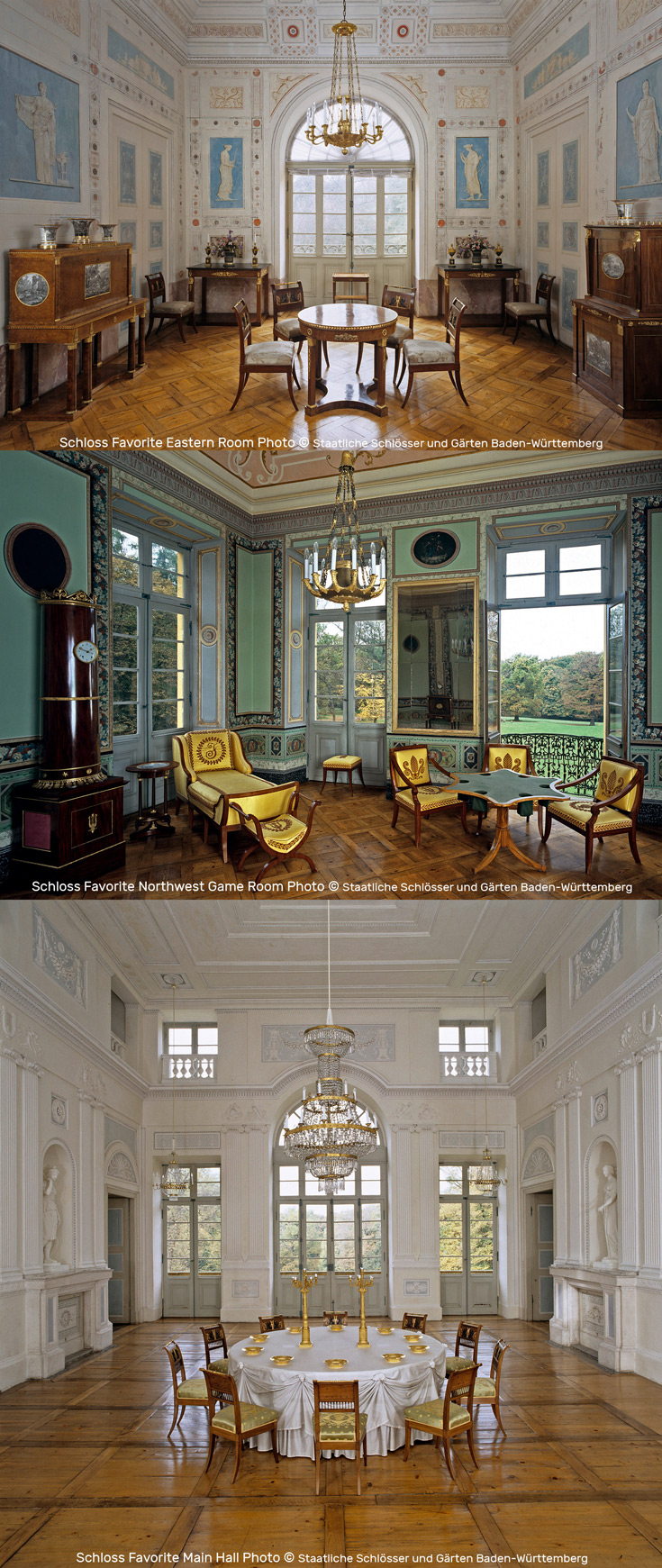 Photography inside the castle is not allowed, but I did have fun with the exteriors. The interior shots are supplied by Staatliche Schlösser und Gärten Baden-Württemberg in accordance with their press usage. Ready to go to Schloss Favorite? Find more information here on their English site.

Follow Along
If you enjoyed this article, or these topics sound interesting to you, you'll love our weekly newsletter. You'll receive a free Germany Packing list for signing up, and you'll receive each week's newest posts every Friday. Thank you for reading!