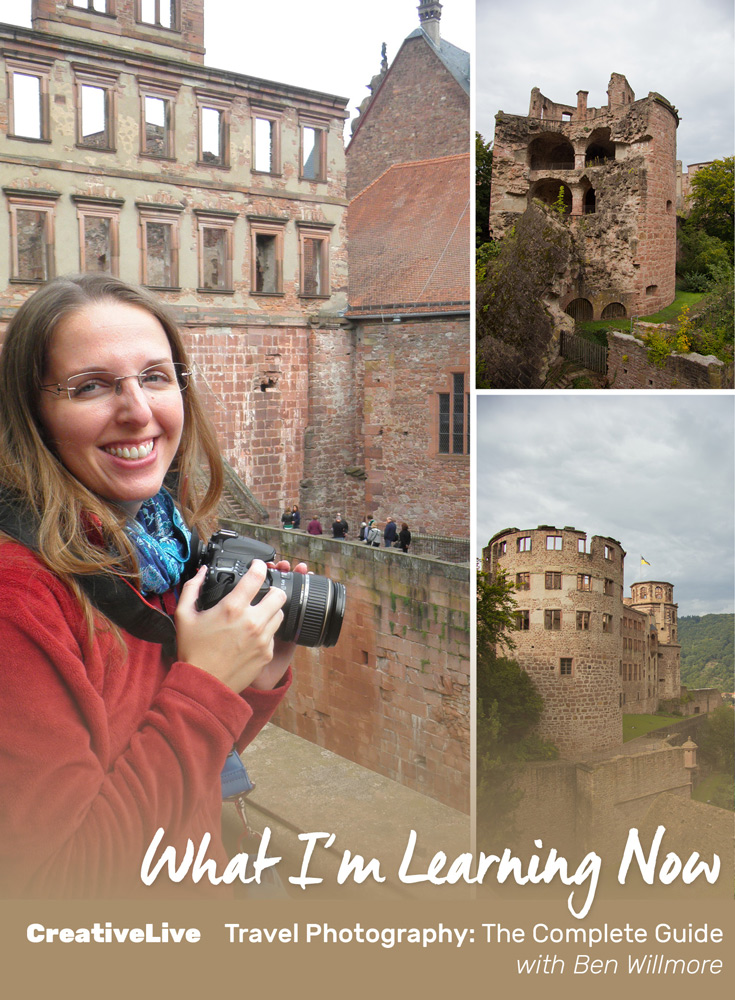 **This post contains affiliate links and I will be compensated if you make a purchase after clicking on my links. This is at no additional cost to you.

This post is the second in a series of four. If you missed the first one, double-back here to get caught up. It's explains why I'm passionate about CreativeLive, and why I'm currently taking Ben Willmore's Travel Photography: The Complete Guide class. I'm going to pick-up where I left off...
Culling Your Photos
The only way I muster the energy and enthusiasm to sort through thousands of vacation photos when I get home is knowing I have an iron-clad, efficient processing system.
If you don't have a processing system, you really need one, and I recommend you use Ben's verbatim until you've ironed out what you need. It will likely take 3-4 photo shoots before you start operating on autopilot. In the beginning, I had printouts and my notes beside my keyboard and I'd take it step by step.
If you have an efficient workflow already, look to see what features of Lightroom you could add to your existing process system to make it even more efficient. For example, I use Kevin Kubota's LightSpeed Workflow that I learned in his CreativeLive class, and it works for me really well. However, after taking this class I'm questioning my current importing process. I'm importing images directly onto my computer, then adding them to the catalog. Then renaming them. Why? Ben Imports them directly from his card with Lightroom and names them correctly right off the start. I'm going to re-watch that portion of Kevin Kubota's video and see if I'm forgetting something. That's a huge perk to buying the classes, is re-watching and comparing nuances between different workflows. You'd never have that opportunity in a real-life class.

Lightroom Presets
When you purchase the class, you get a gigantic set of Ben's presets, and he included a 2-page PDF with screenshots that walks you through step-by-step how to install them.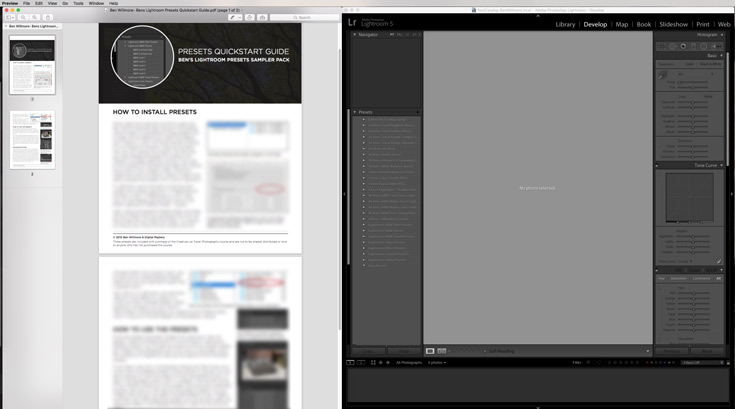 "Lightroom on Steroids"...Truly
The title of segment 2 on day 2 of the course really made me laugh. I've never seen Lightroom done this way, and truly it's fascinating to see so many different uses for a single software. Again, I come from learning and using Kevin Kubota's workflow, and I'm amazed at the differences although they're both incredibly efficient. I'm really interested in the keywording that Ben does.

Course Material Balance and Flow
The course flows well from picture-crafting tips in Lightroom to out-in-the-field advice really well. Right when a topic starts to feel overwhelming there's a 'palate cleanse' and the course switches mode. Be sure to take breaks, and let the concepts sink in. If you're able to, pause and follow along with two internet browsers up, which is great for hands-on-learners.

Welcome Promotion Until 9/20/16
Intrigued? Being the proud owner of thousands of vacation photos, who wouldn't be? Seriously, this has helped me so much. If you're interested in learning how to improve your travel photography photos as well as make your processing simpler, try Ben Willlmore's class, Travel Photography: The Complete Guide. Currently CreativeLive has a promotion for 20% off for all new customers. The promo code is APWELCOME20 or click here 20% off all orders for new customers only.

Coming Up Next
Part 3 will review the episodes dealing with curating the content in your images, composition tips and dealing with tourists in your shots. Part 4 will explore whether or not this class improved my travel photography and come out after my return from Germany in October! As I embark on this mini-series, please feel comfortable in providing feedback through the comments section below, or through email. I'd love to hear from you. Definitely let me know if you're interested in this type of content.



Follow Along
If you enjoyed this article, or these topics sound interesting to you, you'll love our weekly newsletter. You'll receive a free Germany Packing list for signing up, and you'll receive each week's newest posts every Friday. Thank you for reading!