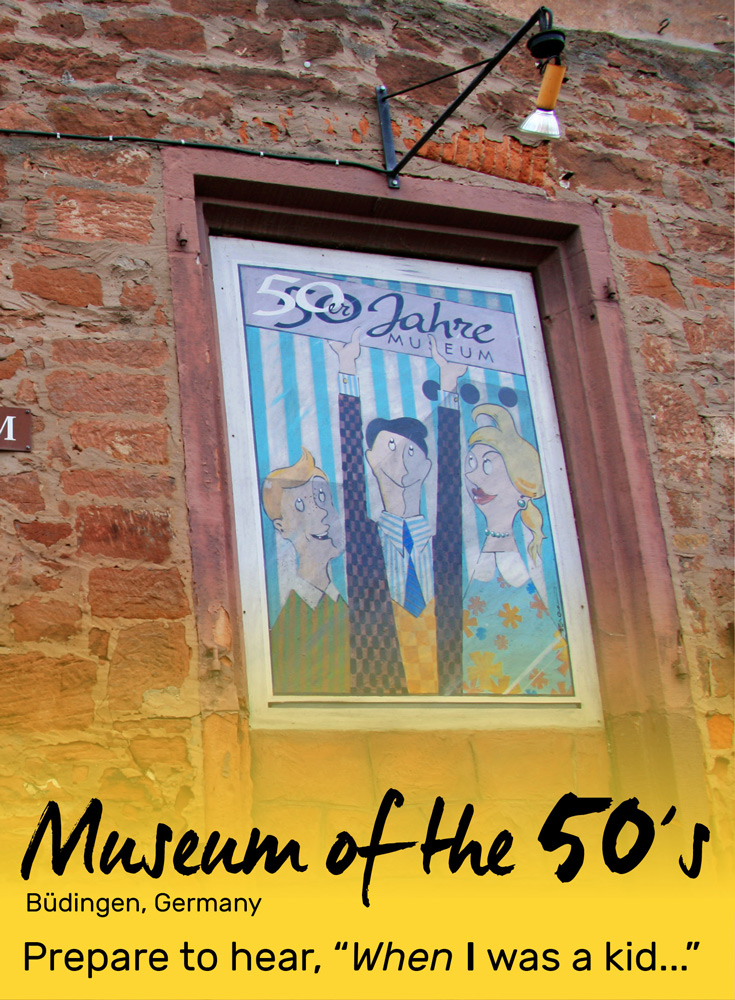 One of my personal highlights during our visit to Büdingen was a museum dedicated to the 1950's, the 50er-Jahre-Museum, curated by Else & Walter Arbeiter. It is a smaller museum in the rooms of a former bakery, but holds many things I have seen in my grandparents home or in old pictures of our family. All the better that Denise and I visited with my Oma, Opa, and my parents, as they all had several stories to tell as we toured.
The 1950's was a decade of change for Germany. The Germans had lost WWII, started rebuilding the bombed cities, and were introduced to rock & roll music by the American GI's that were now stationed throughout southeast Germany. Elvis Presley, Jerry Lee Lewis and Nat King Cole not only influenced listeners in the United States, but also listeners overseas when they turned their radio to the American Forces Network channel.
Collecting and Sharing History
The museum opened in 1999, but the passion for collecting items from the 50's started when Walter Arbeiter visited a flea market in the 1970's and found a model train set in original packaging, similar to the one his parents bought for him in his childhood. He continued his search for items from that era, ranging from books to household items, filling up a display cabinet... then filling the whole room... and finally the whole apartment. According to Arbeiter only 10% of his collection is in this museum, they are simply running out of space.
Museum of the 50's Exhibits
Upon entering the museum you (fittingly) walk into the music room, where you can find a TV set with an integrated vinyl disk player and an original, working jukebox that needs Deutsche Mark currency to play. After paying our entrance fee, we were offered a chance to exchange our Euro currency into Deutsche Mark currency, which was the official currency of Germany from 1948 until 2002 in order to experience making a selection on the jukebox. There was already good rock & roll music coming out of the museum speakers, so we opted to not take them up on their offer.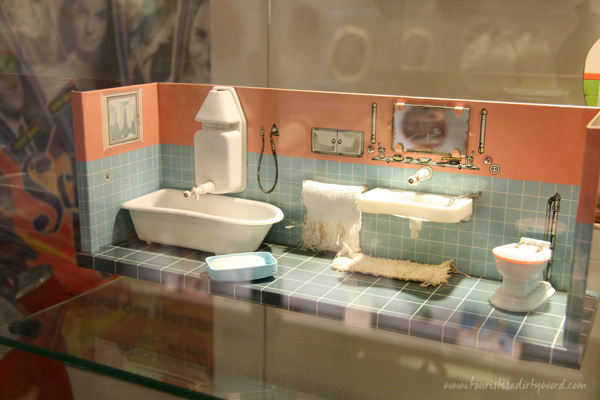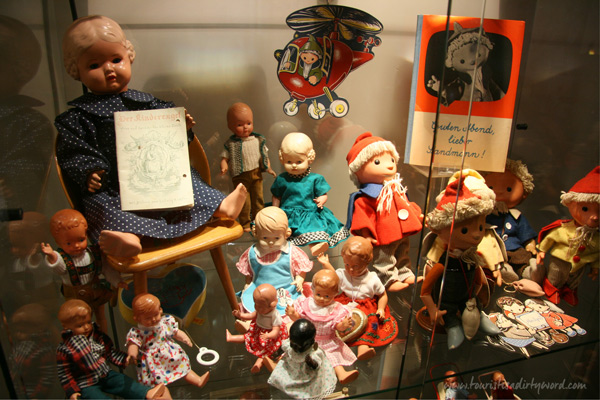 Walking past the cash register, we entered a room dedicated to German toys from the 50's with many well-preserved board games and model trains. My Mom was flabbergasted to see a doll toy bathroom just like she used to have as a little girl. There was also a recreated Mom and Pop grocery store with items packaged in their 1950 wrappers. These days, it is commonplace for us to walk into a grocery store, find exactly what we were looking for, and purchase the item. Not so after the war when small business corner stores struggled to stock the essentials, and slowly added more and more products as they became available. Each and every inch of the museum is packed with items and appropriately decorated, forcing you to slow down to take it all in.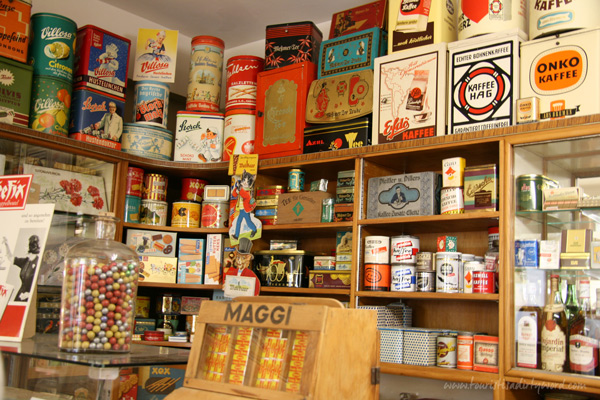 Stepping into the next room you will find yourself in the middle of a typical kitchen for that era. I spotted one of the first dishwashers and a humongous fridge made by Bosch, all of them in creamy pastel colors. The next room is a living room, filled to the brim with inviting memorabilia. All in all, it feels like you are walking through someone's apartment in the 1950's, while being allowed to look in all the drawers and cabinet doors. Don't be shy, there are even more items in there and it was a lot of fun!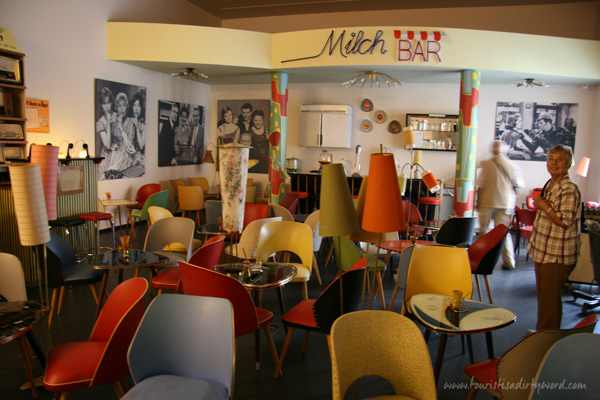 Stop by on a summer weekend and the milk bar in the back of the museum is open for business too. Also known as a dairy bar, no alcohol is served here, but you can get your milkshake and ice cream fix. The sign told us that there were over 1,500 milk bars in Germany at one point, but I do not remember ever being in one. Must have been a trend that became extinct before I came around.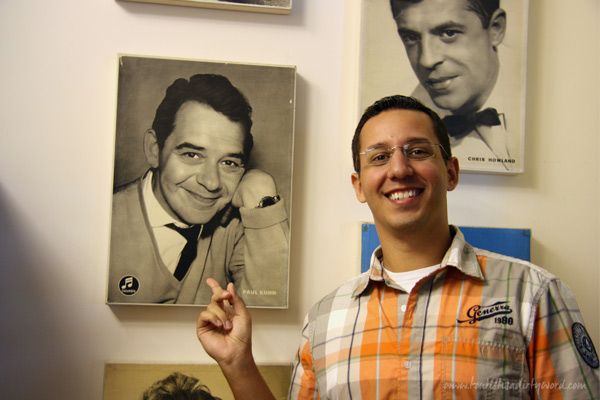 German Jazz Legend, Paul Kuhn
On the wall next to the milk bar I spot a picture of Paul Kuhn, a German jazz musician, entertainer and piano player, of whom I had the pleasure meeting several times before he passed away in 2013. He told me that he found his love for jazz by listening to BBC jazz broadcasts during his youth. Jazz music was hard to come by during the Nazi regime in Germany, since so-called fremdländisch (alien) music had to be eradicated, and prohibited to be played on German radio stations.
After WWII was over, Paul Kuhn was hired by the American Forces Network radio station in Wiesbaden and had chance to listen to records of his idol Glenn Miller and play at American music clubs at night. Although he was only paid in cigarettes and coffee, Paul Kuhn continued playing the piano and even toured while being well over 80 years old and slowly losing his eyesight. You can see one of his TV appearances here:
Seeing a great entertainer honored by the museum made me smile. If you want to go down memory lane to Germany in the 50's, I highly recommend spending an hour or two at the wonderful Museum of the 50's in Büdingen. For more information visit their website: www.50er-jahre-museum.de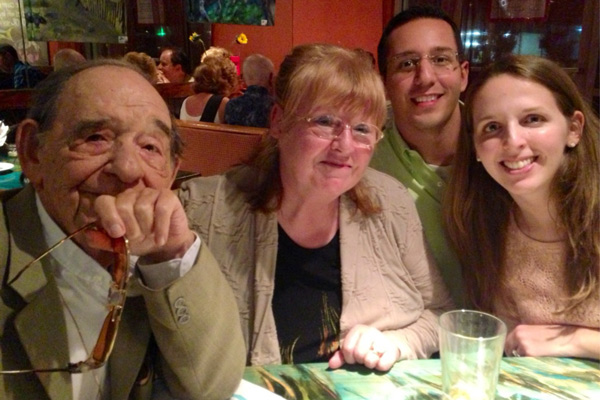 Follow Along
If you enjoyed this article, or these topics sound interesting to you, you'll love our weekly newsletter. You'll receive a free Germany Packing list for signing up, and you'll receive each week's newest posts every Friday. Thank you for reading!