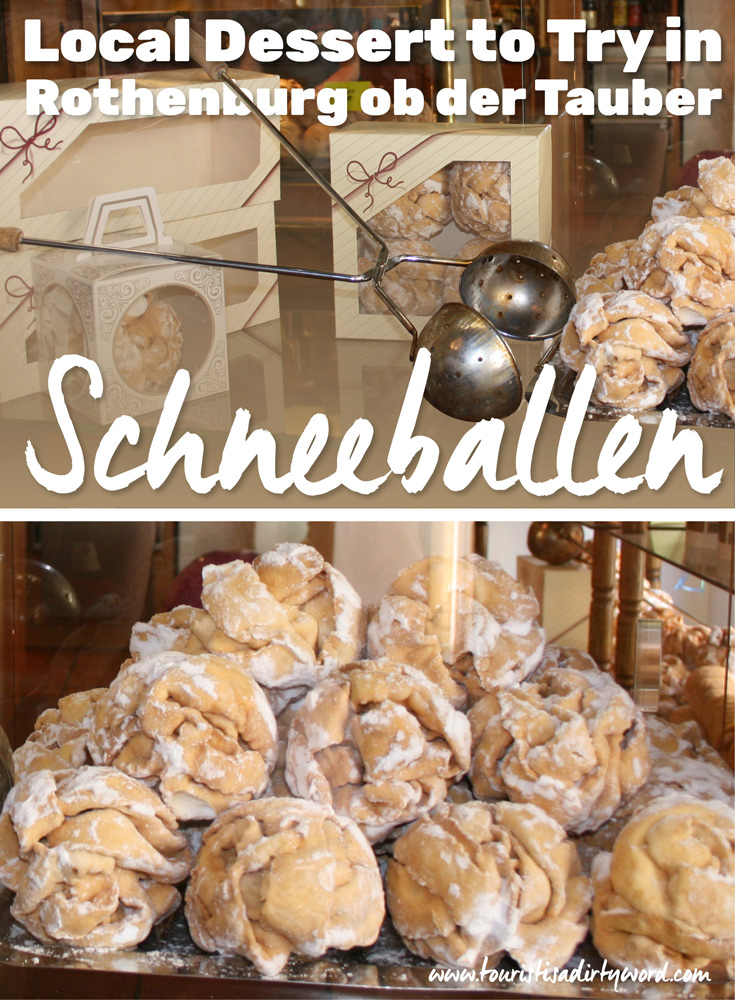 No trip to Rothenburg ob der Tauber is complete without a Schneeballen. This dessert is slightly bigger than a baseball and traditionally covered with confectioner's sugar. If you put enough sugar on, it looks like a snowball - hence the name Schneeballen. Tastes much better than a snowball though.. The Schneeballen have been tempting die-hard sugar fans for over 300 years in several parts of Bavaria. The origin story of the Schneeballen is unknown, but we do know they were originally baked for special occasions only, such as weddings or baptisms. Today you can buy Schneeballen all year round, many of them pre-packaged in gift boxes in Rothenburg, ready for you to share them with your loved ones. While Schneeballen are best eaten fresh, we were told that they have a shelf-life of about 8 weeks at room temperature.
How to Make a Schneeballen
The Schneeballen gets its wavy-ball-like shape from strips of shortcrust pastry that is alternately folded over a stick. Next, a quick 4-minute dunk in the fryer, then cover with a topping of your choice, not limited to confectioner's sugar. We spotted them dusted in cinnamon, chocolate or coconut flakes, and even filled with lemon or hazelnut cream at different stores all over Rothenburg. For those of you who would like to create a Schneeballen at home, here is a recipe, courtesy of Bavaria Tourismus.
Follow Along
If you enjoyed this article, or these topics sound interesting to you, you'll love our weekly newsletter. You'll receive a free Germany Packing list for signing up, and you'll receive each week's newest posts every Friday. Thank you for reading!