Although I'll always advocate for experiences over things, I'll admit that sometimes a 'thing' has magical powers to bring wonderful memories of an experience rushing back into your present. If you're looking to bring a touch of the German Christmas Market home with you to reminisce, consider choosing one of these souvenirs.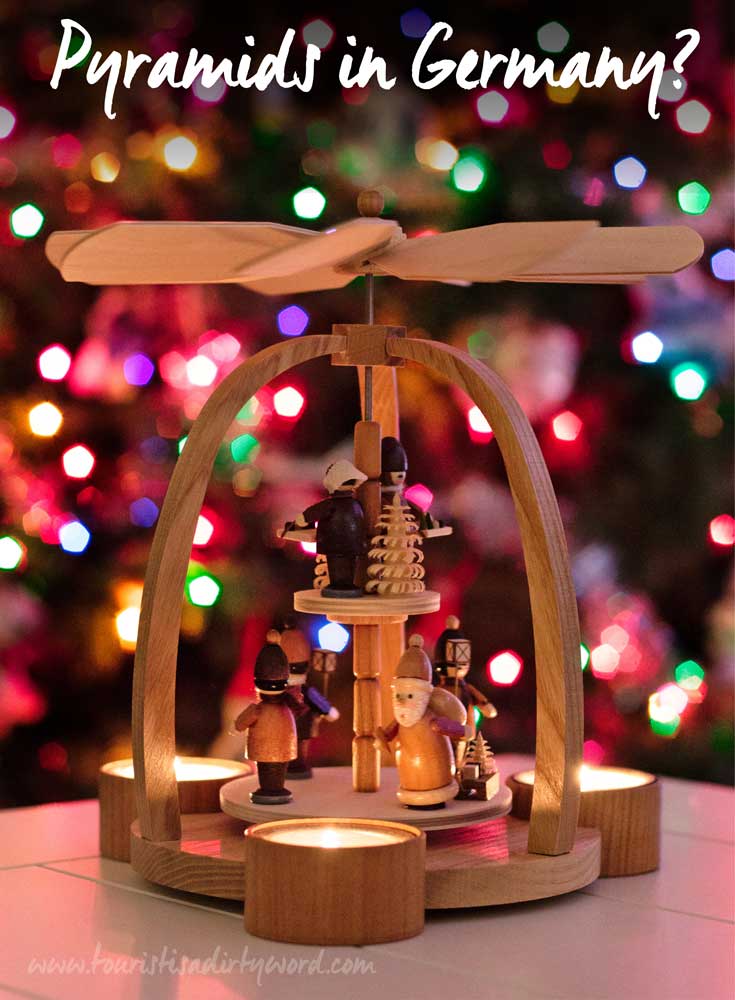 A pyramid? In Germany?
One thing I can always count on with German culture is to be surprised and delighted by their attention to detail. I'd heard rumor of 'Christmas Pyramids'. Honestly I was a bit perplexed by the mention of it, and my train of thought was on its way to Egypt and wondered how they're connected. Seeing is believing, and Sebastian's parents carefully brought over a pyramid for us one Christmas.
Sebastian's parents carefully lifted out of a box this meticulously handcrafted, wooden, contraption with figurines, helicopter fans and candle holders... Suffice to say, when his parents lit the candles, causing the heat to rise and the fan to spin, turning the figurines, making a visual play of shadow and light- my mind had been blown. No batteries required!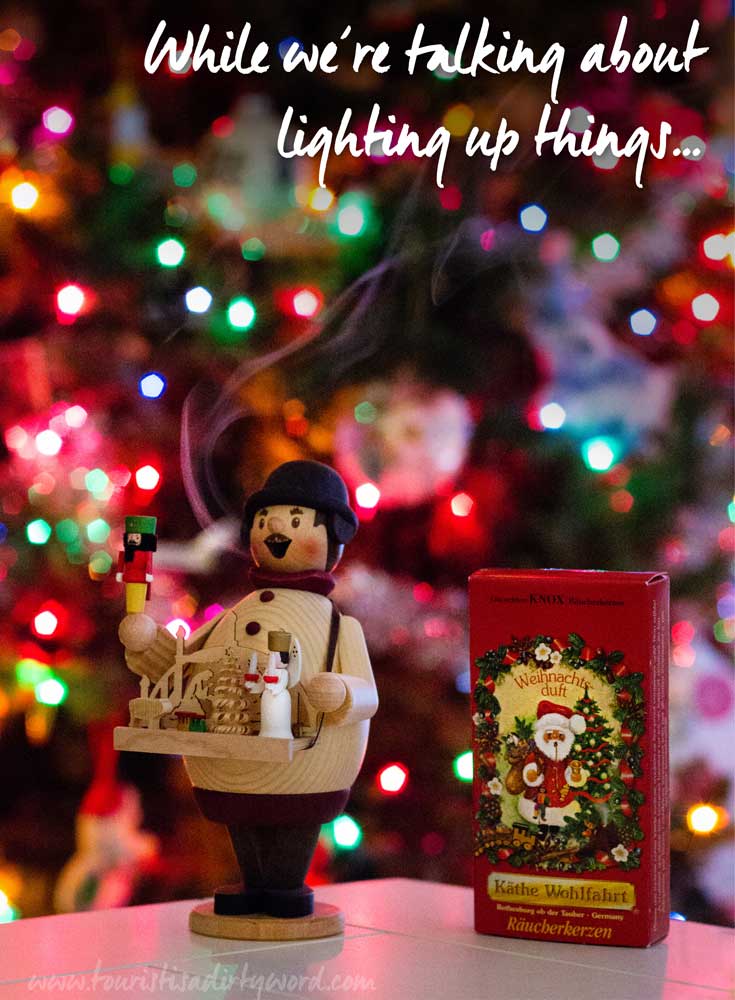 And while we're talking about lighting up things.
Here's a stinker! I say stinker, endearingly..
This clever little guy actually is hiding an incense stick in his belly. No joke. Once lit, the smoke will travel out through his pipe. I'd imagine this would be a great way to convince your little niece, nephew or other naive child that he's actually alive and smoking. You'll find these 'Smoking Men' in all sorts of occupations and forms. This one is a seller, in my opinion, and he's selling Christmas souvenirs..oh the irony, and one of which is my next suggestion.
Always the Overachievers
Again, the attention to detail, so German.
You know, and I know, that something used for cracking open walnut shells does not need to be this fancy, but of course the Germans thought otherwise! Ironically, I've loved nutcrackers since I was little, and collected a few over the years. Upon learning this, Sebastian's Oma gave me her nutcracker, an oldie but a goodie, who is our star performer here. He was even given an extra frisking during the Frankfurt airport security. Chemical swabs and everything. Who knows what secrets he possesses that prompted suspicion! He was approved, and flew home with us. He's guarding our kitchen this year. Nutcrackers, like the smoking men, can also be found in all sorts of occupations and forms.
To generalize, I'd say if you buy something wooden at the Christmas market..you're already winning. There's so many wonderful handmade gifts at the market, these are just three that are my favorite, which we've also collected ourselves, and I know are quintessentially German in origin.
If you missed Sebastian's post about Christmas Markets, you can catch it by clicking here.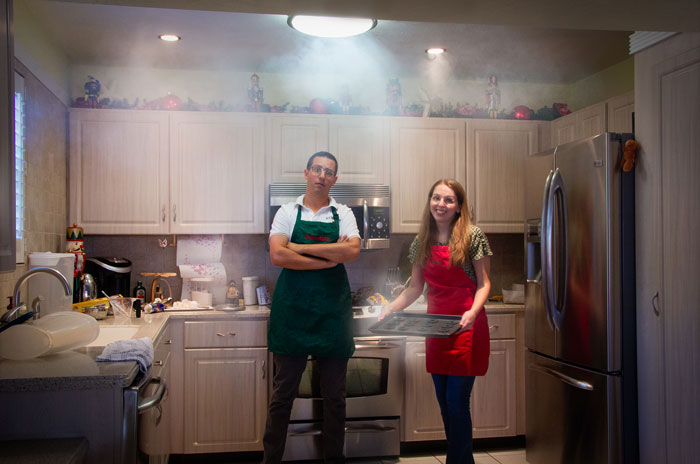 Sebastian and I wish you a very, very Merry Christmas! Enjoy it! Hug your loved ones and spread the love! Also check your smoke detectors:-) Ho ho ho! Can you spy all three souvenirs in our kitchen?