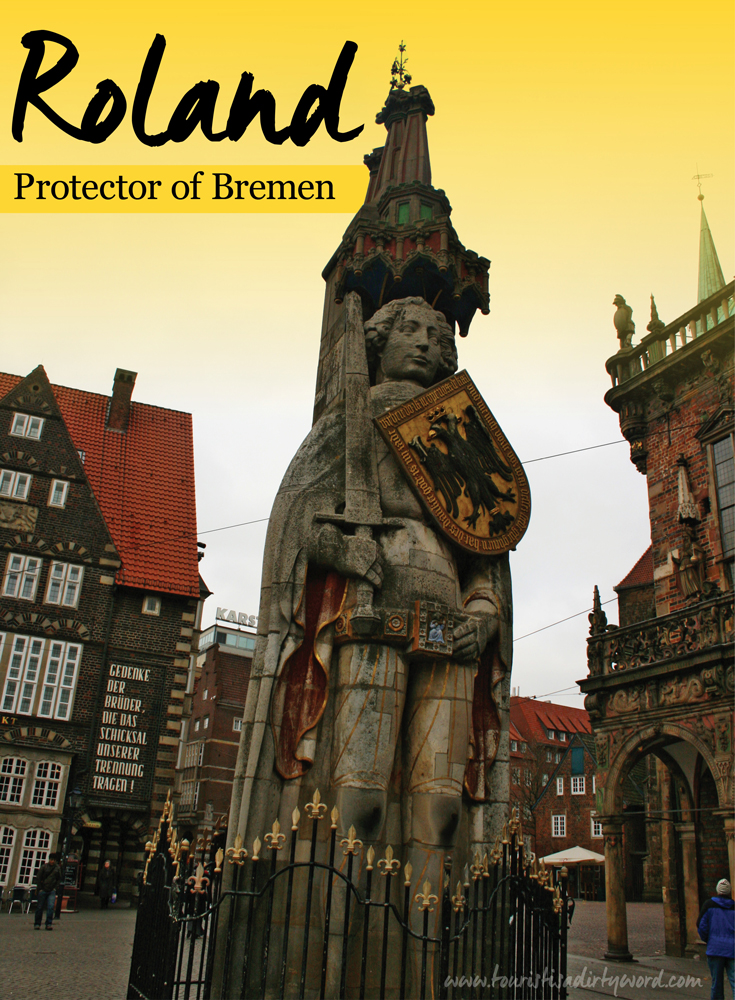 In the middle of Bremen's city center you can see a legendary war hero standing tall at an overall height of 33 feet: the Roland. Legend says that the young knight was a nephew of Charlemagne and had saved the army of his uncle in the eighth century in the Pyrenees in a battle against the Basques.
Roland Symbolism
The statue was erected on the marketplace in the city center of Bremen, where it symbolizes the city's independence and freedom. The armor and a raised sword clearly identifies Roland as a knight, but there are additional elements that give away a bit more of his story.
Roland's quest for freedom is reflected on the coat of arms on his shield showing a double-headed imperial eagle and the words: Vryheit do ik yu openbar de karl und mennich vorst vorwar desser stede ghegheven hat, des dankt gode is min radt. Roughly translated: "I manifest your freedom, as granted to this city by Charlemagne and many other rulers. For this, be thankful to God, that is my counsel."
Look close at his buckle and you can see an angel playing a harp, which testifies to the heavenly order in the Christian struggle. Roland had to lay down his life during the fight in the Pyrenees, a task he was sent to do by a higher power. To the left of the angel, there is a rose on the buckle, which is a Christian symbol for martyrs. In medieval Christian symbolism the rose stood for the blood that was shed by Jesus on the cross and symbolizes God's love.
Measuring By the Roland
With all this symbolism, there is even a much more practical purpose to this statue, as the distance between Roland's pointed knees is exactly one Bremen 'elle'. The elle was a historical unit of measurement (roughly 22 inches), and was supposed to help Bremen's merchants to measure out their material during the weekly market. Yardsticks or measuring tape could be faked by merchants trying to sell you less product for the same price as a competitor. However, with a Roland around, the customer could double-check his purchase for accuracy while the merchant was still on the marketplace. Nowadays the elle measurement is history, but you can see a darker discoloration on the knees of the statue. Legend says, that if you rub Roland's knees, you will return to Bremen in the future.
History of Roland
But Roland was not always made out of stone. His predecessor was made of wood in the 1340s, but overturned and burned by Bremen's Archbishop Albert II's warriors in 1366. The church would have lost too much power if Bremen became a free city, and a tall statue with a sword and coat of arms looking from the marketplace right over to the church of Bremen sent a clear message to the Archbishop. In 1404 the Bremer Council erected the Roland made out of sandstone by stonemasons Claws Zeelleyher and Jacob Olde.
Roland Replicas All Over the Globe
If you have not made it to Bremen and travel to or live near New York City, go see a 5 foot wooden replica of the Roland in the Evangelical Lutheran Church of Zion in Brooklyn, New York. It is part of the pulpit and was a gift from the city of Bremen in 1890 to former German citizens who have found a new home in New York. However, this is not the only replica of Roland worldwide. The Brazilian city Rolândia was founded in 1932 by German immigrants and is named after the Bremer Roland. Since 1957, Rolândia also has a large replica of Roland, donated by coffee merchants from Bremen. And even in an amusement park in Obihiro, Japan you were able find a replica created as part of a larger German fairy tale city with various German statue replicas. Unfortunately, the park closed in 2003 due to poor economic conditions and a decline in visitors.
Roland Myth
There is one story that we could not confirm, stating that there is a backup statue underground in Bremen, just in case something happens to Roland. Is that true or just a myth? Let us know in the comments if you know more about this or even more interesting facts about Roland.
The Roland Statue along with the Bremen City Hall are an ensemble UNESCO World Heritage Site. Find out what that actually means in Denise's previous post.
Follow Along
If you enjoyed this article, or these topics sound interesting to you, you'll love our weekly newsletter. You'll receive a free Germany Packing list for signing up, and you'll receive each week's newest posts every Friday. Thank you for reading!