To show the council was serious about its decision to build a new city hall in a new location, in 1404 the Roland Statue was set up. Sebastian will fill you in on Roland and who this austere looking fellow is in the next post. We know the building work began in 1405 and completed sometime after 1410. If you go to the north west facade of the building, it's easy to imagine how the original gothic building looked. This facade with it's pointed windows and octagonal corner turret has survived. This is also where you'll find Gerhard Marcks Bremen Town Musicians Statue.
In 1594, the city commissioned the windows on the south side to be made larger, and in the process the gothic pointed arches were updated to the trend of the time Renaissance rectangular windows. This change led to the 'modernization' of the main facade between 1608 and 1614. They gave the side of the building that faces the market, what was very simple and boxy, a central, predominant focal point in a decorative gable that extends out from the original gothic building with two smaller decorative gables on either side. They changed the windows on this side to the new rectangular style with alternating arch and triangular lintels above. The pointed arched arcade was smoothed out to a rounded arch arcade.
Here's some labeled photos I put together to help illustrate.

Architecture Overview
We discussed Gothic architecture in an earlier post, Architectural Style Guide to the Neues Rathaus in Munich. With a few minutes of reading, I broke down how to recognize four commonly found architecture styles in Germany. If you missed that post, I strongly encourage you to take a look at this post to get a basic know-how. There's even photos labeled with key features to look for. To tie that article together neatly with this one, the Neues Rathaus in Munich was built much more recently (1867-1874), in reverence and longing for the time period that the Rathaus in Bremen was built in, 1400-1410 thereabouts. The Rathaus in Bremen is the real deal, what all the town halls wish to be.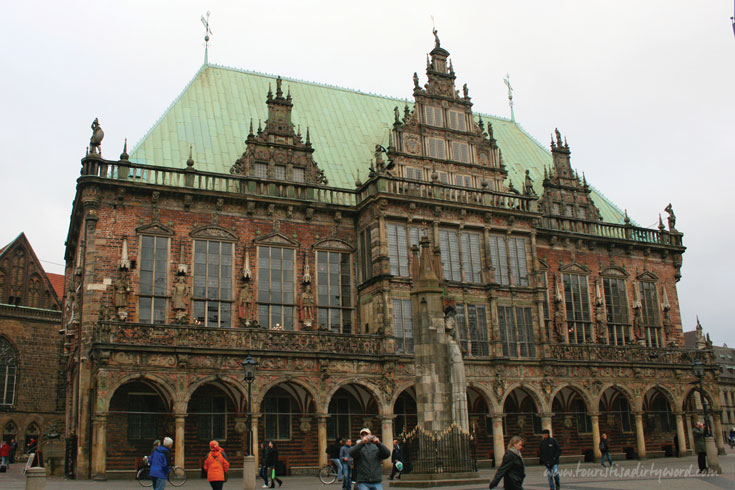 What is UNESCO and Why Does it Matter?
I've read about UNESCO World Heritage in the past, and accepted that whatever organization the acronym stood for was important at face value, if nothing else because the acronym is so long, 6 letters. Plus, World Heritage sounds heavily impressive too.
United Nations Educational, Scientific, Cultural Organization
Being a UNESCO World Heritage site means belonging to everyone in the world, regardless of the territories it belongs in. The Rathaus in Bremen and it's Roland Statue as an ensemble has been enfolded into the protection of a world wide organization, and therefore belongs to everyone.
Why was Bremen's Rathaus & Roland Chosen?
Simply, the Rathaus of Bremen and it's Roland ensemble was chosen as a UNESCO World Heritage site because it's the oldest, most authentic, and continuing example of republican city community during the late medieval European time period.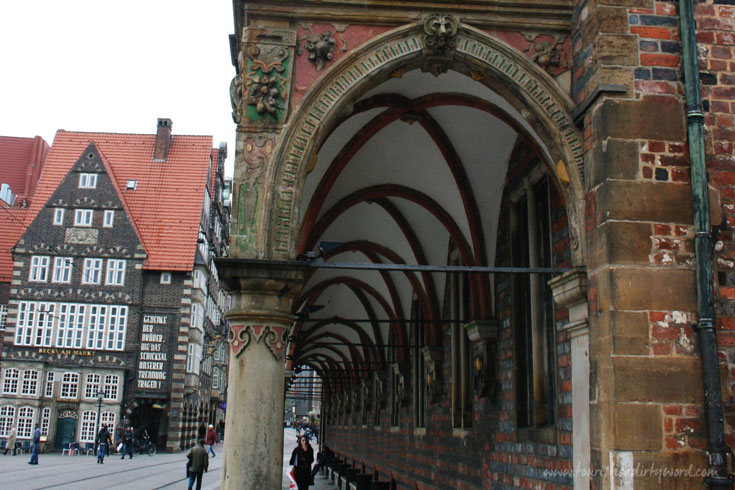 Info on visiting the Town Hall
You can purchase tickets for a guided tour of the Bremen Town Hall online. The one hour long tours run Monday-Saturday at 11am, noon, 3pm, 4pm and Sunday at 11am and noon. However, there are no tours during regional government receptions or events.
We were very unlucky in being in Bremen during a government reception. Do the next best thing, if you can't get in then go under, literally, under the Town hall to the Ratskeller restaurant and wine cellar. They're open from 11am until midnight, daily.
Bonus Resources
Read the official UNESCO listing for Bremen Rathaus & Roland.
Watch the UNESCO video about the Bremen in English.
Follow Along
If you enjoyed this article, or these topics sound interesting to you, you'll love our weekly newsletter. You'll receive the newest posts each week and exclusive access to free planning resources like 'Packing List & Tips for 2 Weeks in Germany' and 'Everything You Need to Rent a Car in Germany'.

Thank you for reading!