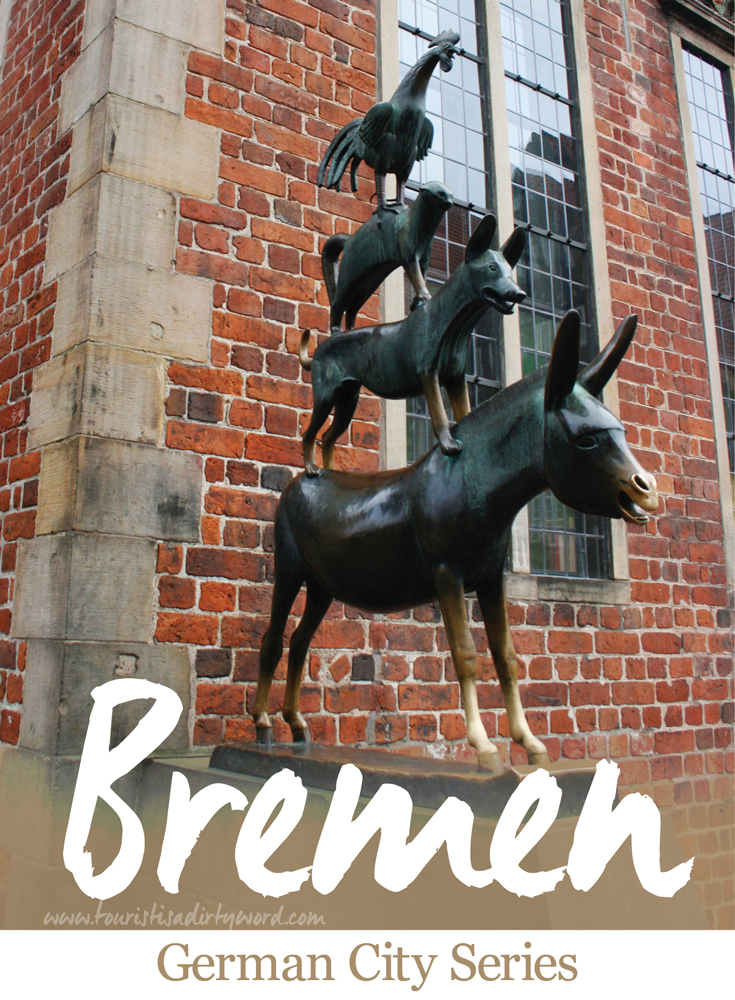 Upon learning that Bremen was in fact the namesake for the Grimm's Fairy Tale Bremen Town Musicians, I couldn't resist investigating the town. Only an hour drive/train ride from Hamburg, Bremen is a fantastic choice for a quick trip on Germany's Fairy Tale road. Nestled on the Weser river, this Hanseatic destination is full of surprises.
Upcoming Posts Featuring Bremen
Each month, Sebastian and I want to focus on one German city and provide an overview as well as a series of in-depth articles on particular attractions. This month we're exploring Bremen, and sharing our favorite parts of the city from our own experiences.
• Fairy Tale • Bremen is proud to be the home of the fairy tale the Bremen Town Musicians, and you'll see them all over town.
• Architecture • UNESCO World Heritage are impressed with the Bremen Rathaus, and so are we.
• Art • Bremen is a small town overflowing with history and creativity. We're going to have an epic trilogy of art posts this month, and explore how the Paula Modersohn-Becker Museum, Ludwig Roselius, and Böttcherstraße are historically inseparable.
• Roland • Let me introduce you to my tall, intimidating friend named Roland, and why he's guarding the town of Bremen.
Bonus Resource
Watch this 12-minute comprehensive overview video, wait for it, in English!
Follow Along
If you enjoyed this article, or these topics sound interesting to you, you'll love our weekly newsletter. You'll receive a free Germany Packing list for signing up, and you'll receive each week's newest posts every Friday. Thank you for reading!