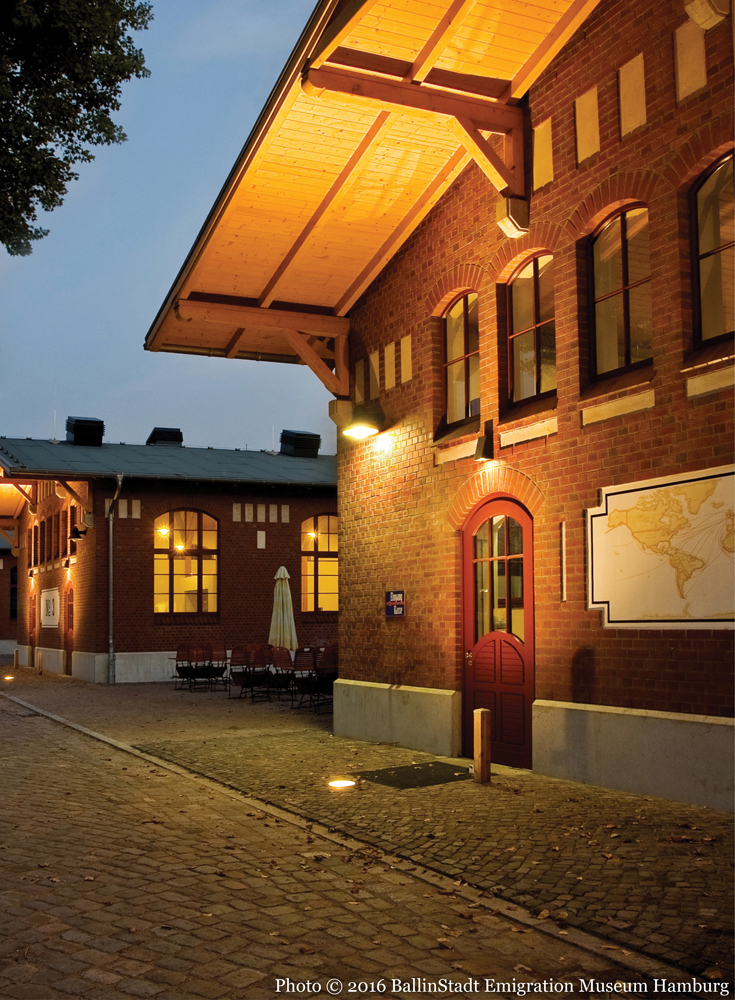 The "City" Within the City of Hamburg

Hamburg had reached a historical breaking point in 1892 when a cholera epidemic caused the port to close. Bad business for the HAPAG, Hamburg-America Shipping Line, and a bad situation for the emigrants living in limbo waiting to board the ships for North America. Albert Ballin was the perfect man to implement a solution. Ballin's family business, before his career at Hapag-Lloyd, had managed an emigration agency that helped emigrants buy tickets and transportation. He took what he knew and expanded the concept to include living for 14 days in what would ultimately be called BallinCity, BallinStadt.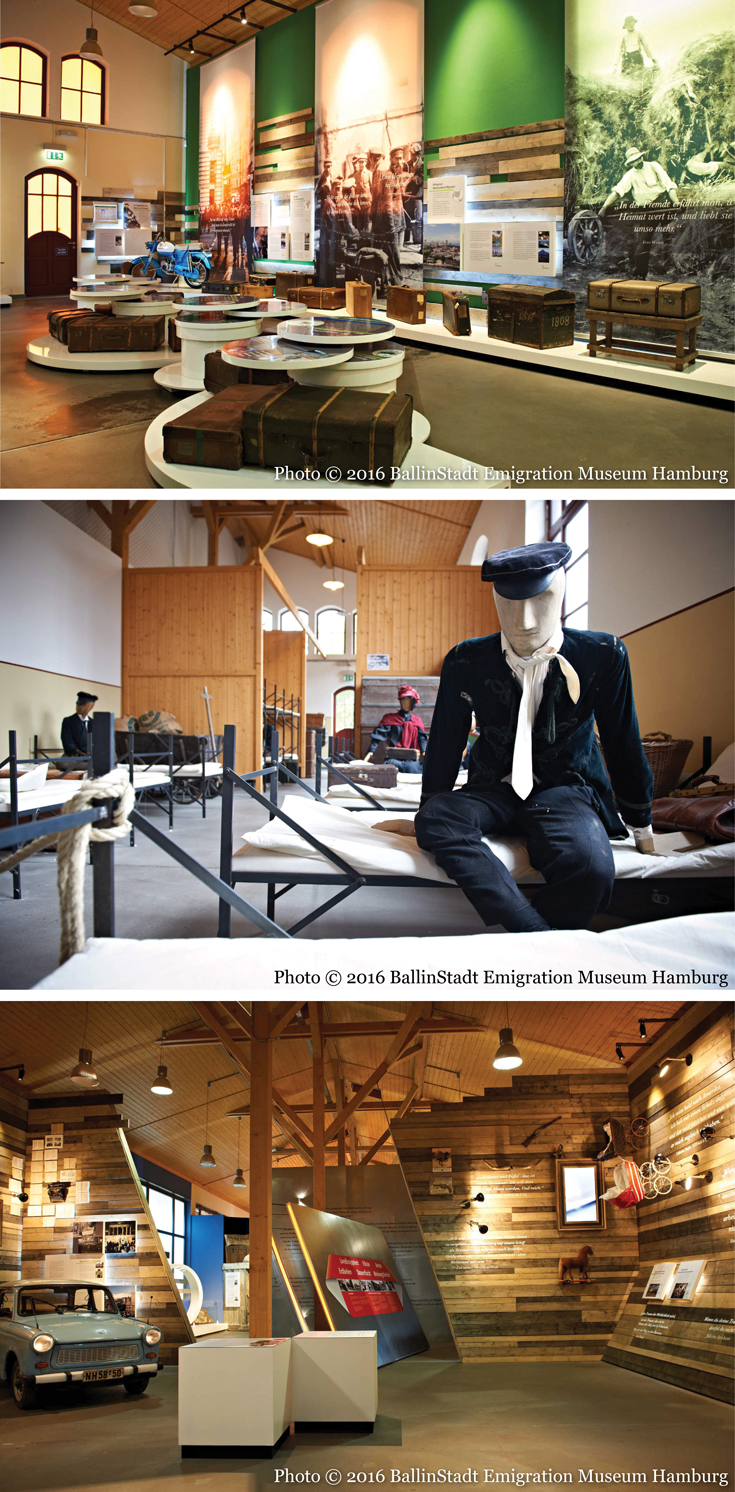 When the emigrants arrived by train in Hamburg they immediately went to Ballin's emigration dormitories where housing, food, healthcare, even various churches, were available and packaged in with the ticket to North America. This way any cholera or other disease outbreaks were isolated and only healthy passengers boarded the ship. It was incredibly successful, and there were 30 buildings in BallinStadt in it's height. In 1913, a record 192,733 emigrants passed through BallinStadt. WWII put an end to organized emigration, and the dormitory buildings were torn down. With three reconstructed and restored emigration dormitories on the historic site of the originals, each dedicated to telling parts of the emigrant story, the BallinStadt Museum opened in 2007. The museum was closed for a short time to expand the exhibition, and just reopened.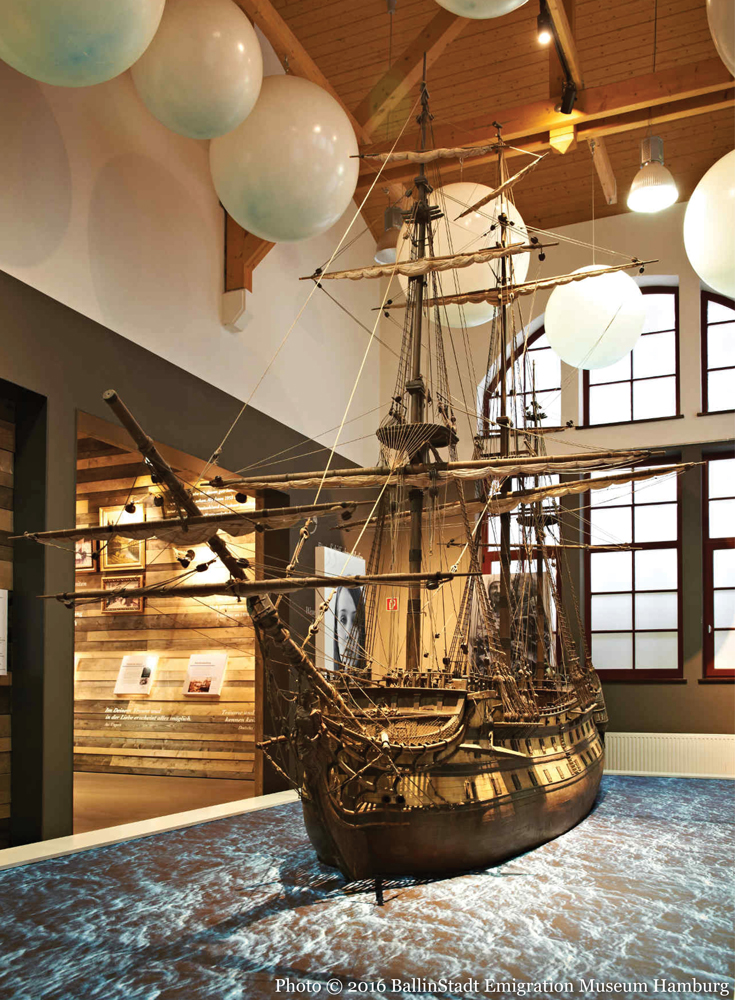 Quite simply, history comes alive at BallinStadt in Hamburg. This unique, innovative museum recreates, plays, sings, shows the story of emigration. The exhibits follow various individual stories as they go through the process of deciding to leave their homes, packing what they want and need, traveling to the port, living in BallinStadt, the ship voyage, and making it through immigration. With such props, staging, photos, you can't help but feel what it must have been like to be an emigrant.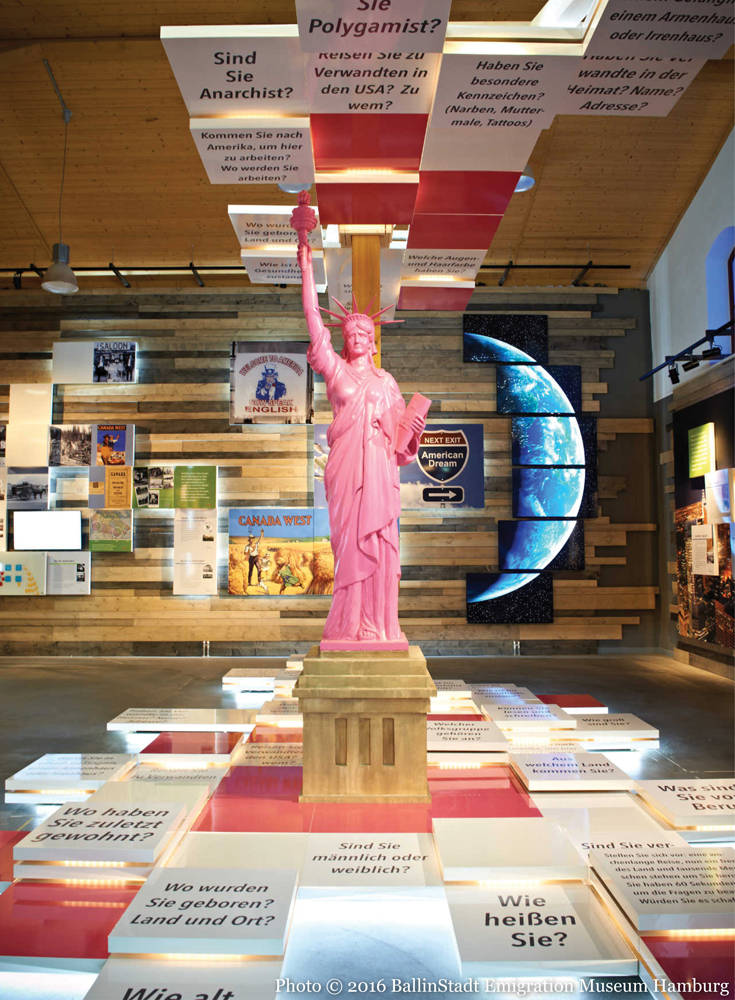 Genealogy Research
Although my ancestors left Germany before BallinStadt opened in 1900, it's likely they left through Hamburg or neighboring Bremen. Like many others, I went to BallinStadt in hopes of finding names on their lists. Make sure you bring your names, dates, and ancestry research you've done so you're ready to go further. I wanted to find out who it was that left Germany for the United States and when they left, but unfortunately at the time of my visit the emigration records were still being digitized. Now they're completely online, so if your family left from Hamburg, you should be golden. They have a computer lab devoted to researching, and staff are available to help you look.
Invaluable Experience and Opportunity
I wasn't keen on signing up for an online genealogy membership, and with BallinStadt's partnership with Ancestry.com you're able to access the records available to paid subscription memberships with just your admission. I've seen some complaints online about the cost of the admission to BallinStadt, but would argue that this is not a publicly owned museum. If you're visiting in hopes of researching your ancestry, compared to many monthly memberships, the ticket price is incredibly fair. The experience of the exhibition itself exceedingly justifies the cost of admission, but adding on-site access to the online records of ancestry.com without a subscription membership is fantastic.
Follow Along
If you enjoyed this article, or these topics sound interesting to you, you'll love our weekly newsletter. You'll receive a free Germany Packing list for signing up, and you'll receive each week's newest posts every Friday. Thank you for reading!
P.S. Read more about the man with the plan, Albert Ballin.