"I just don't understand why that is art! I could have done that. Why is that in a museum? " Sebastian asks me this if we happen to cross paths with a modern abstract art gallery. Often, art is noteworthy because it's completely different than what's come before it, or even revolutionary for the genre and pushes styles forward. Certain pivotal paintings in history affect all of those to come after.
As tourists visit the Louvre in Paris in hunt of the Mona Lisa, tourists visit the Hamburger Kunsthalle in hunt of Caspar David Friedrich's Wanderer above the Sea of Mist. I'll quickly fill you in on why you should visit Friedrich's work and what you need to know to appreciate what you see. The Hamburger Kunsthalle has several esteemed works of Friedrich's in their collection, but for attention span's sake, I'll stick to the Wanderer Above the Sea of Mist.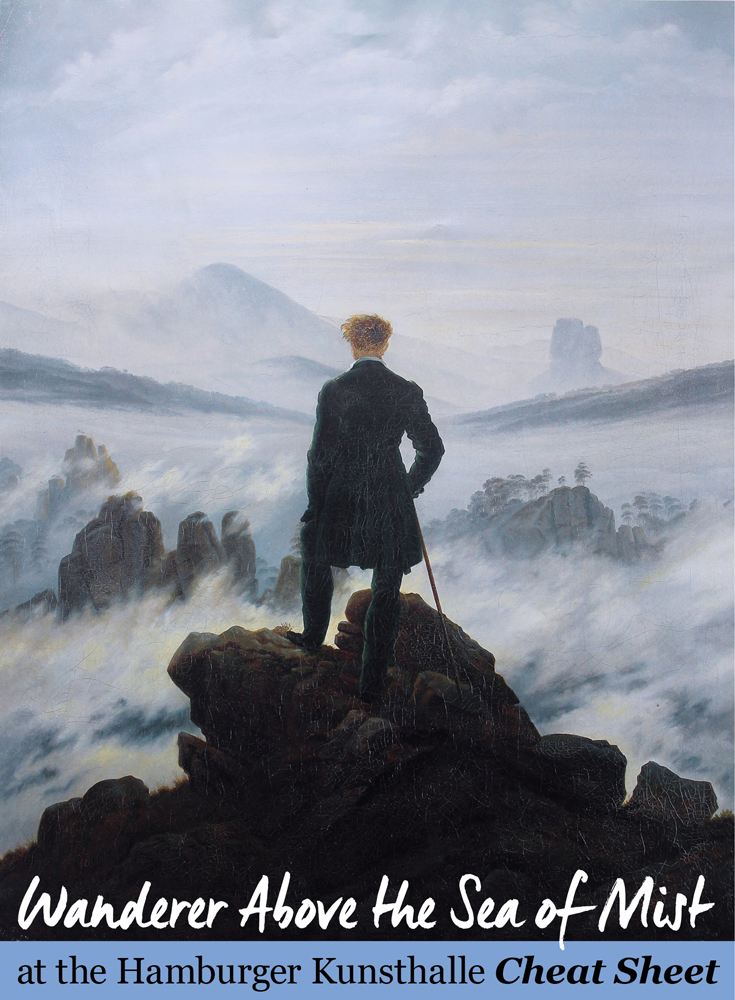 Pictured Above,
Wanderer Above the Sea of Mist
(1818) Caspar David Friedrich, [Public domain],
via Wikimedia Commons
, on display in the Hamburger Kunsthalle, Germany
Why was Friedrich's paintings revolutionary?
Caspar David Friedrich pushed the boundaries of the landscape painting genre. Coming from a generation where landscapes impersonated gardens and gardens impersonated landscapes, when only beauty and composition mattered, Friedrich's landscapes moved towards being illustrative and symbolic. His paintings weren't all blue skies and fluffy clouds, so to speak.
You feel something, as a viewer, whether that be sad, scared, reverent, or in awe. His peers were striving to deceive the viewer into feeling they were looking out of a window or at the real scene. Friedrich took the direct opposite approach, and said "A painting must stand as a painting, made by human hand; not seek to disguise itself as Nature."
Friedrich was recognized for his work while he was alive, to the extent at one time he worked on commission for the Russian Royal Family. However, his work fell out of popularity and he died very poor. Alfred Lichtwark, the first Director of the Hamburger Kunsthalle, acquired the Wanderer Above the Sea of Mist painting in 1970. His numerous Friedrich acquisitions for the museum have led to the rediscovery and appreciation of Friedrich's work
There are countless analyses on Friedrich's Wanderer above the Sea of Mist painting, and for better or worse, almost all are speculation and can not be substantiated with a helpful diary entry. Oh the mystery! Personally, I love artwork that's open for interpretation. It's more interesting that way.
Here's the art gossip and hearsay mixed with verified facts:
Some speculate that his early brush with nature's brutality at a pivotal moment in his life may have instilled his respect for nature and passion for landscape paintings. Friedrich, at age 13, almost drowned in a frozen lake while ice skating. His younger brother Johann Christoffer died in his effort to save Friedrich from drowning.
Some speculate that it's a self-portrait, judging by the gentleman's hair color as reddish-blonde, like Friedrich's. However, others would argue that if it's a self-portrait, why didn't he entitle it as a self-portrait? There's no way of knowing who the Wanderer is as he is turned away from the viewer.
During this period of Friedrich's paintings, the addition of groupings of figures are prevalent.
Some speculate his finally getting married at age 43 to a girl twenty years younger and starting a family made him more inclined to include figures in his landscapes.
Others argue that his including figures from behind in his paintings is his way of reminding the viewer that this is NOT a real scene, that it is a painting. This was counter to what his peers were doing, trying to make their landscapes as realistic as possible in order to be mistaken for real nature.
Where is this epic cliff that the Wanderer is using as a look out?
Technically speaking, as it is shown, it does not exist. Friedrich's process included making very detailed sketches from life, and then returning to the studio to assemble the sketched motifs into a composition of absolute perfection. The rocks that the Wanderer is standing on are likely to be from Kaiserkrone, as evidence by preliminary sketches Friedrich made.
Some speculate that Friedrich combined pieces of the Elbe Sandstone Mountains, Zirkelstein, Rosenberg, or the Katlenberg.
Bonus Resources

Go Prepared Buy your Hamburger Kunsthalle museum tickets in advance online here. Visit the English version of the Hamburger Kunsthalle website here.

Connect You can follow the Hamburger Kunsthalle in English via Instagram. They recently reopened after a major renovation and modernization and have all sorts of interesting behind the scenes shown: @hamburger.kunsthalle

Explore a virtual tour of several rooms after the renovation and modernization, thanks to the Hamburger Abendblatt.
Read this excellent article by the museum director about the Wanderer Above the Sea of Mist painting.

Watch an interview in German in the newly reopened Caspar David Friedrich room, you may not know what they're saying, but it's still nice to watch.
Follow Along
If you enjoyed this article, or these topics sound interesting to you, you'll love our weekly newsletter. You'll receive a free Germany Packing list for signing up, and you'll receive each week's newest posts every Friday. Thank you for reading!

P.S. The Best Caspar David Friedrich Book Out There
For my research, I visited my alma mater Ringling College of Art & Design's library, went through their nine different monographs available on Friedrich. Hauled them to a study table and carefully reviewed each one, promising myself I'd only borrow one. This is the one I chose. It's phenomenal. It's the coffee table book other coffee table books aspire to be. It makes full use of it's oversize pages with close-up reproductions of paintings that bleed off the edge of the page. The author provides an unbiased, overview of Friedrich's work, life, and times, and how it fit in with what was happening in his time. I felt that he presented all of the speculation fairly and let the reader make their own conclusion, and his doing so inspired me to do the same with my post. Amazing monograph. See if your local library can borrow a copy for you to check out, or buy now online.
Grave, Johannes. Caspar David Friedrich. Trans. Dr. Fiona Elliot. Munich: Prestel Verlag, 2012. Print.