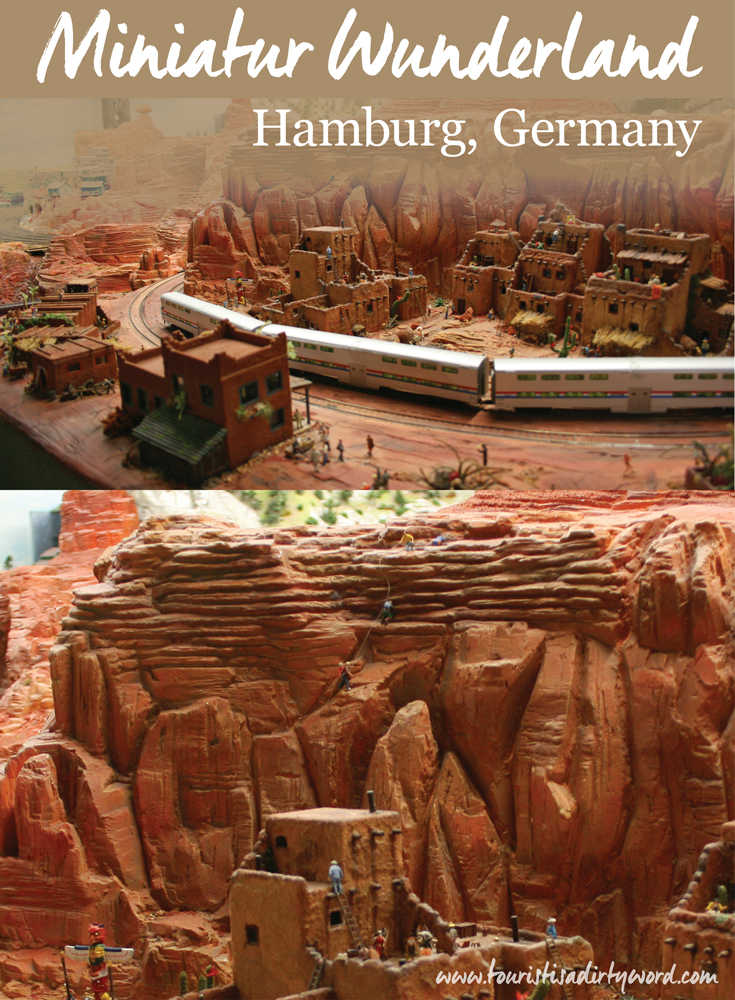 I have never been a fan of model trains; I always preferred Lego building blocks over small scale trains propped up on a piece of plywood covered in stiff, fake grass. When I got the recommendation not to miss visiting the largest worldwide model railway at the Miniatur Wunderland in Hamburg, I was not easily convinced. But the weather that day was rainy and very windy, so we decided on indoor attractions and ultimately ended up at the Miniatur Wunderland.
Speicherstadt
Miniatur Wunderland is located in the Speicherstadt district of Hamburg, which translates to City of Warehouses. Import companies had large warehouses in the Speicherstadt where they kept goods in storage until they were ready for delivery. The advantage for the companies was that the Speicherstadt was built as a custom-free zone to transfer goods without paying customs. Many of these warehouses have been converted as museums or attractions. The Speicherstadtmuseum shows the historical development of the district, the Hamburg Dungeon throws you inside an interactive horror show and the Prototyp car museum shows you cars from 1930 until today.
When you first approach the row of red brick buildings with its gothic architecture (link to our post about recognizing this style of architecture) and small towers on the roof, it is hard to imagine that these buildings house an exciting exhibition inside. Trying to find the entrance was a challenge. The warehouses all look alike and there were no large signs. After walking along the warehouses for a while we found a sign next to a door stating 'model trains' and walked up a wide staircase leading to a hallway on the upper floor. The hallway reminded me of an underground train station with artificial lighting and no windows.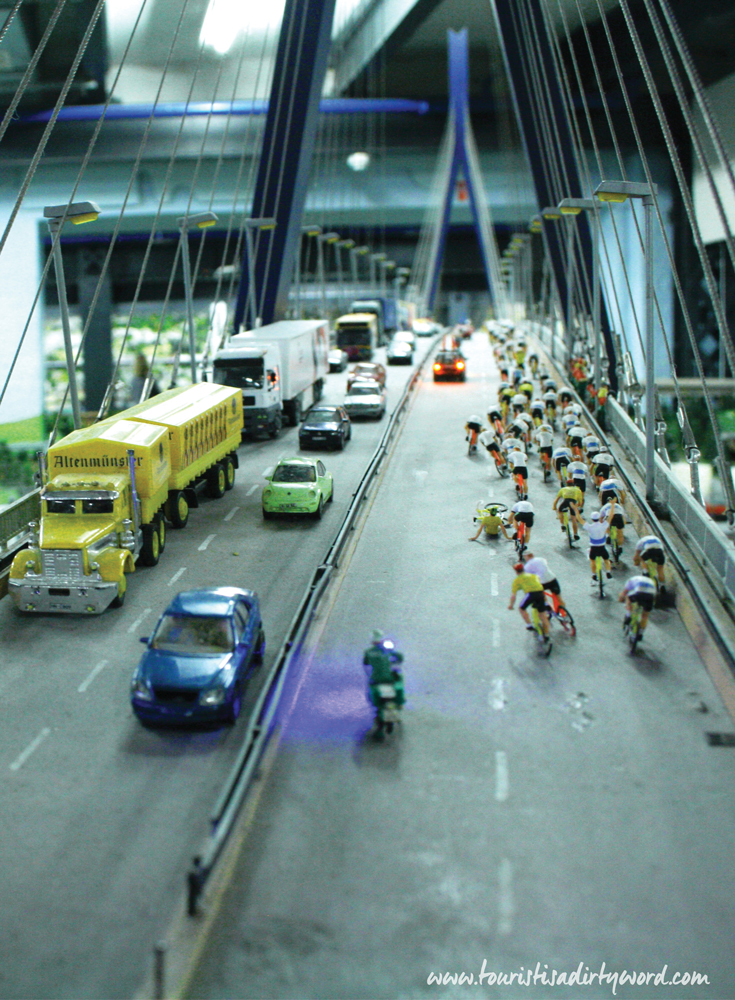 Stories within Scenes within Towns within Countries
We paid our admission fee and walked into the first room filled with large train landscapes including visitors that seemed glued to them. Stepping closer you could see why, there are countless details. From a dead body being retrieved out of a river, several car accidents and a man urinating in a corner under the train tracks, Miniatur Wunderland has it all. Whole countries are built with a scale of 1:87 on large pieces of plywood, covered by wire mesh and gypsum, then covered with grass and trees, and finished off with train tracks, streets and buildings. More than 33 computers coordinate lights, sounds and movement of different vehicles, a result of over 475,000 work hours with 262 employees. It is a mammoth project and won the builders an entry to the Guinness Book of World Records as the "World's Largest Miniature Railway".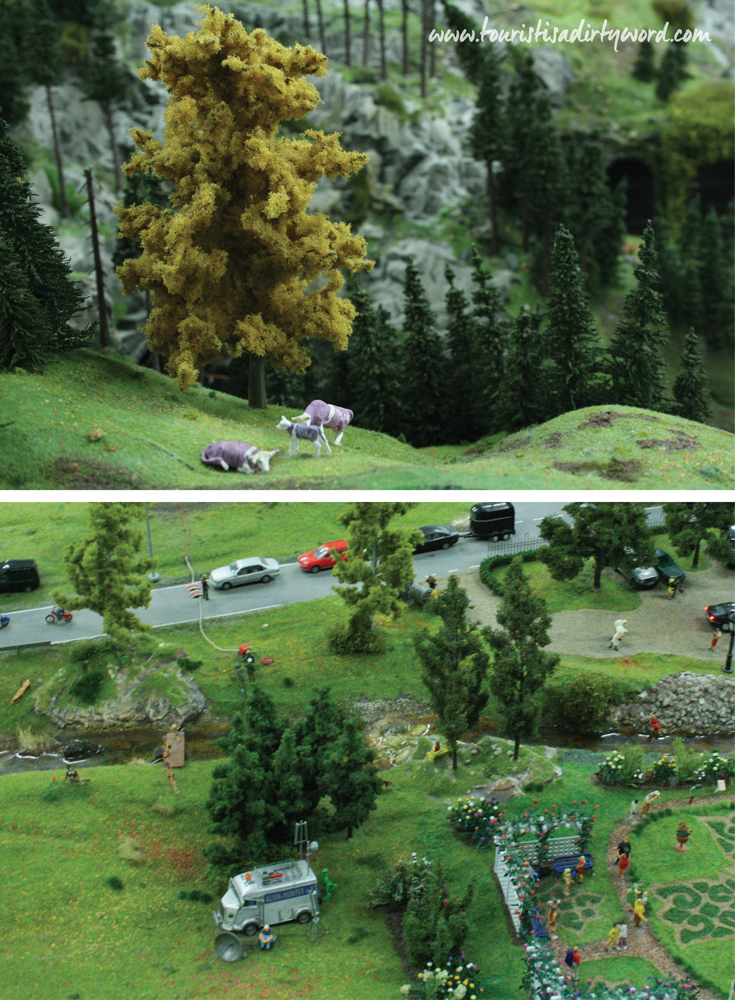 Just like the visitors in front of us, we slowly wander along, looking for those Easter eggs of stories playing out and watching different trains go by every minute. The designer's love for detail is apparent in each exhibit location and can be further enhanced by pressing different 'action' buttons in front of the exhibit. All of a sudden a ship starts sailing down a canal or a S.W.A.T. team storms a house, complete with sound and light effects.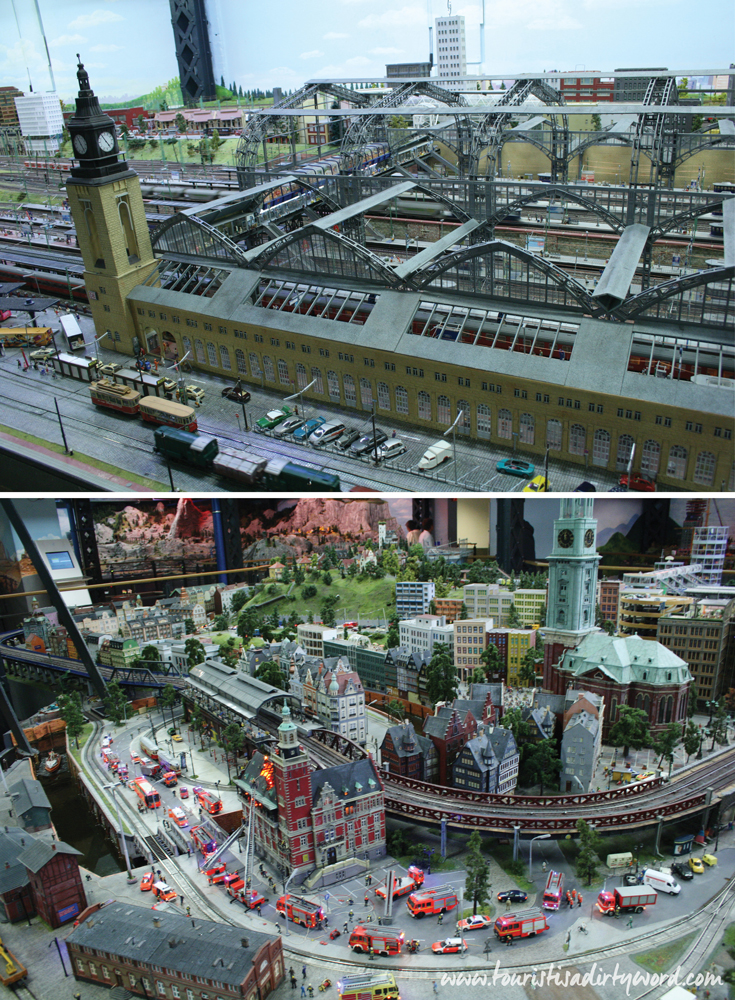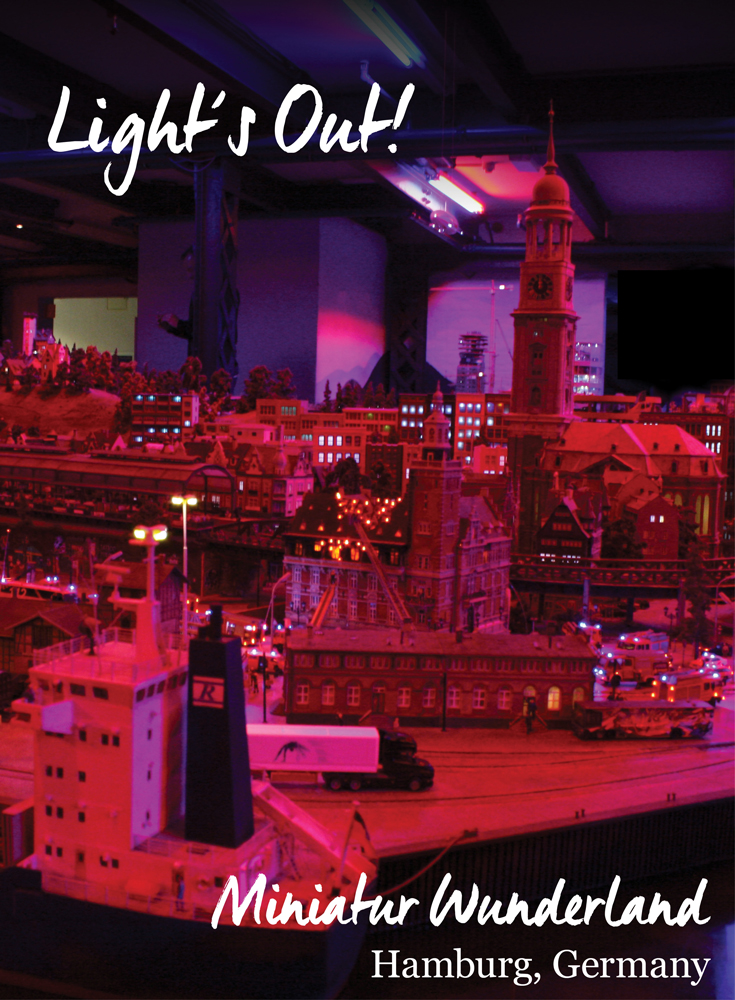 Lights Out
All of a sudden, the exhibit went dark within about 15 seconds. The bright ceiling lights turned off and at first I thought it was a power outage or a child had found a dimmer switch. Far from it! The intentional darkness make the exhibits come to life in a different way and you start realizing just how many lights and moving parts are in each model display.
This also explains why the rooms do not have windows! The Las Vegas model glitters and shines in all colors of the rainbow, the train station halls are illuminated in a bright, white light and even the cars on the roads have working lights on them, front and back!
My Favorite Part
We continued through the exhibition until we passed a model showing a huge festival with a concert stage, which mesmerized me. The stage featured a live concert of DJ Bobo, which was my very first concert when I was a teenager.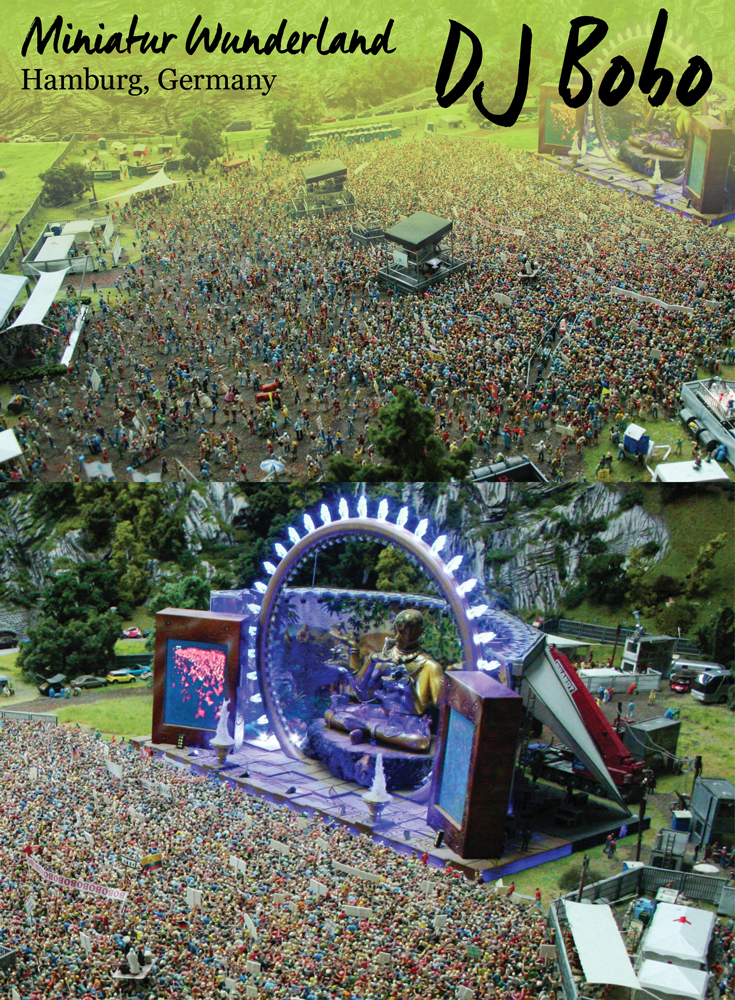 DJ Bobo is a household name in Germany and many other European countries, mainly because of his elaborate concert stage setups paired with his Dance/Pop music. Catch a glimpse of it here:

If over 900 trains, night mode and a DJ Bobo concert do not fully persuade you to visit the Miniatur Wunderland, then take a look at their promotional video:
Or take a virtual walk through the exhibit, thanks to Google.
If you planning to go to Miniatur Wunderland, make sure to go as early as possible. They only let a certain amount of visitors into the exhibit so that everyone has the chance to take a close look at all the details.
Still Building
The Miniatur Wunderland team is constantly adding new worlds and you can see their theme sections and progress on their website. Let us know in the comments if you have been to Miniatur Wunderland, and if so, what your favorite part of it was!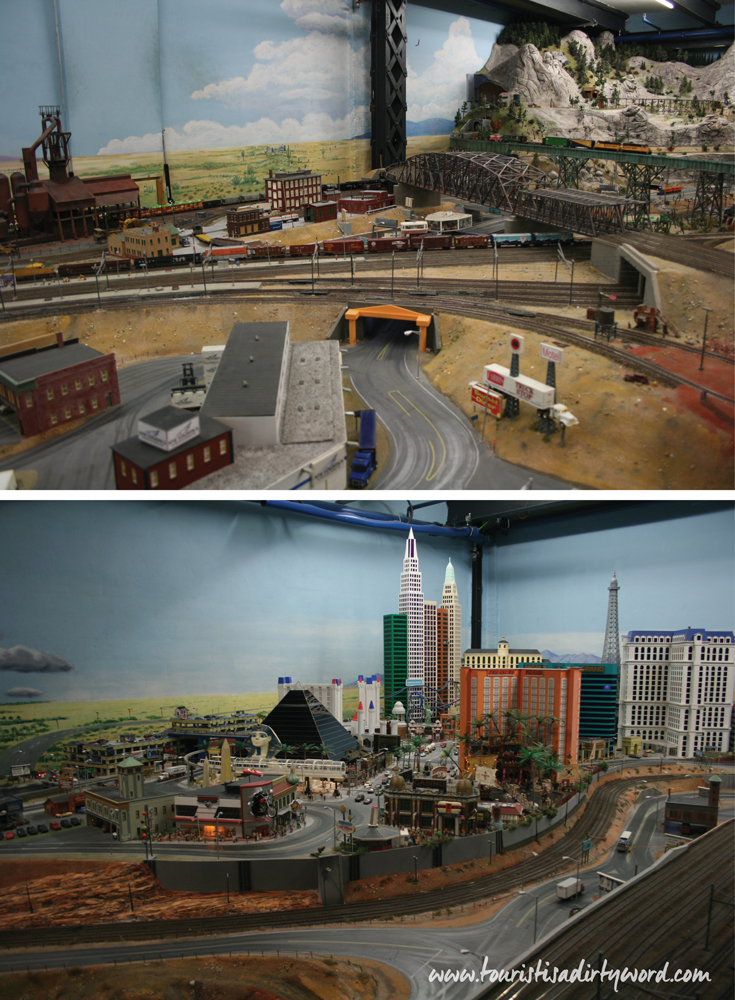 Follow Along
If you enjoyed this article, or these topics sound interesting to you, you'll love our weekly newsletter. You'll receive a free Germany Packing list for signing up, and you'll receive each week's newest posts every Friday. Thank you for reading!