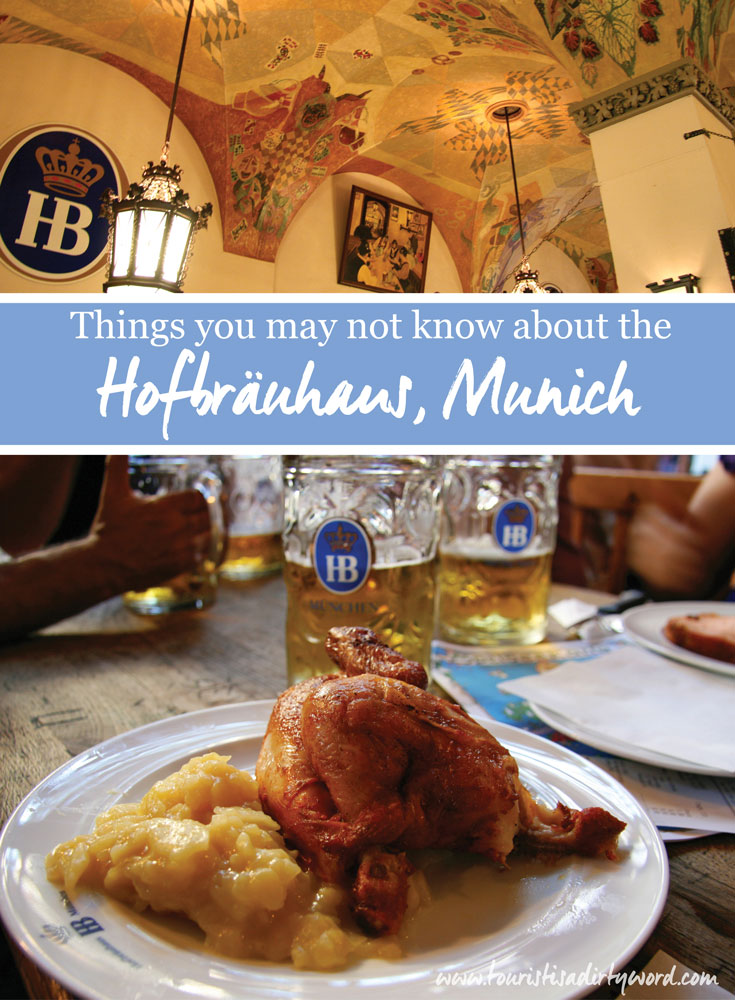 This place is packed, we are never going to find an open table.
Scanning the room for a place to sit, or a hostess, we wandered through half of the Hofbräuhaus, stressed waitresses passing us with plates of food and glasses full of beer. We knew we wanted a taste of everything on those trays. At a loss, I stopped one of the waitresses near the tables, and I politely asked her how to find a table.
I knew the answer, you simply had to ask someone already sitting at the table, or wait for someone to leave, but I was not in the mood for either. The waitress smiled at me, then shouted towards the patrons on a nearby table to huddle together and make space for our group of four. This was going to be comfy! And it was.
Hofbräuhaus History and Folk Tales
The Hofbräuhaus is the oldest beer hall in Munich, and self-proclaimed 'The most famous tavern in the world". On September 27, 1589, the Duke of Bavaria founded a brewery on the site of the Munich royal residence of that time, which lasted until 1808. The Duke preferred a dark, malty beer, while his son Maximilian favored Weissbier, which means 'white beer' in German. In the United States the white beer brew is usually found under the name Hefeweizen.
The brewery of the Duke kept brewing only the dark beer variant, which resulted in Maximilian building his own brewery in 1607. In the beginning the beer hall was filled with brewing equipment, which was later moved and more than 1000 guests can find a seat in the beer hall of the Hofbräuhaus today. About half of the visitors are regulars, the other half tourists. And legend has it, that one of the 1000 guests is actually an angel – based on the folk tale "Ein Münchner im Himmel".
It tells the story of Alois Hingerl, a porter on Munich's central station, who dies and goes to heaven. But Alois does not like heaven with all the singing and worshiping all day long, irritating other angels around him that he wants to go back to Munich. After fussing for a while, God decides to send him on a mission back to earth, delivering an important message to the Bavarian government. Alois Hingerl takes off and ends up in the Hofbräuhaus instead of delivering the message. He orders a beer, and another one, and based on the folklore story, still sits there at one of the tables to this day while the Bavarian government is patiently waiting for heavenly advice to come their way. The TV Channel Bayrischer Rundfunk made a comic based on the story, you can see the video here, starting with Alois flying back to Munich with a letter in his hand:
Hofbräuhaus Beer Stein Lockers
With Alois Hingerl always being around in spirit and many Munich regulars visiting, the Hofbräuhaus caters to them by providing over 400 tankard lockers. That way you do not have to take your beer glass home every time. However, the limited amount of lockers translates into a long wait list - just in case you were toying with the idea of getting yourself a personal locker there. List wait times can be several years, many lockers are handed down from generation to generation.
Getting a Table at Hofbräuhaus, Munich
Besides the local crowd you will find a lot of tourists there, too. The central location, good food, overall typical Bavarian atmosphere complete with live band and waitresses wearing dirndls, is a magnet for many. You will find most tables full of people. You can either ask a waitress if she knows where open spaces are or look around yourself and ask those sitting at half-empty tables, "Ist hier frei?", which means "is this spot taken?" Don't be shy! If you cannot find a place inside, check the beer garden area outside with another 400 seats - weather permitting of course.
Sing-a-long Time
You did not walk into the set of a musical. Public singing is perfectly normal at the Hofbräuhaus. Chime in with the live band that plays several times per hour. They usually play...
"In München Steht ein Hofbräuhaus"
OR "Ein Prosit"....
so you can practice before you go.
If you have been to the Hofbräuhaus in Munich, let us know how your visit went. And if you plan on going there and have a question, let us know, too. Just leave us a comment below this post.
Follow Along
If you enjoyed this article, or these topics sound interesting to you, you'll love our weekly newsletter. You'll receive a free Germany Packing list for signing up, and you'll receive each week's newest posts every Friday. Thank you for reading!