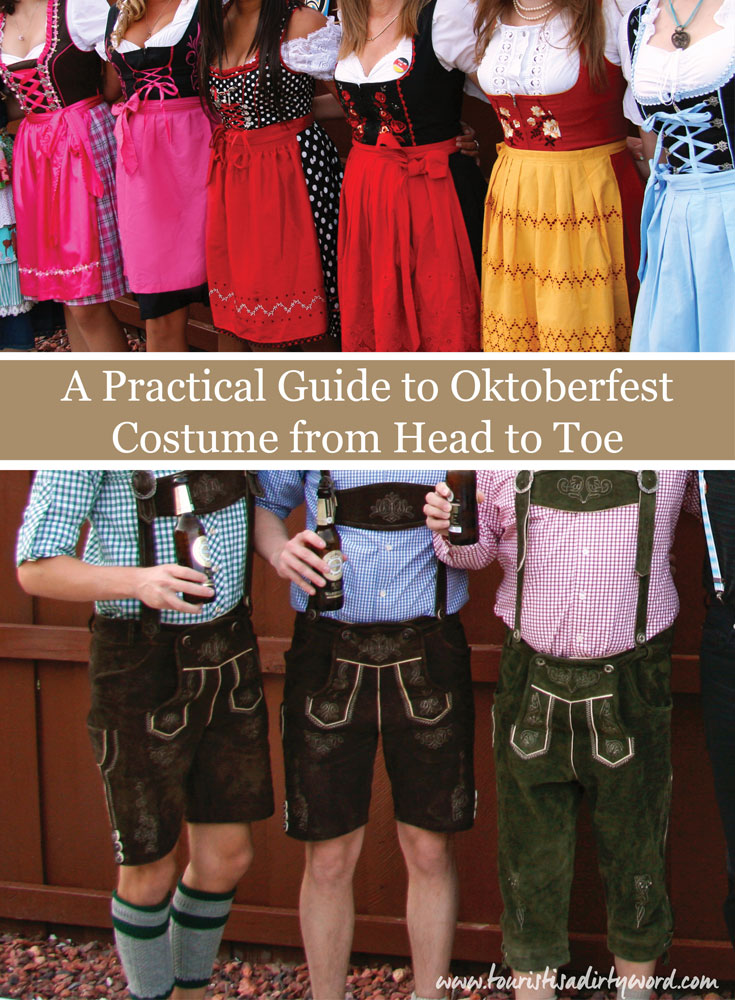 I had several Oktoberfests in my future. We were attending THE Oktoberfest in Munich, then when we came home we were having a company-sponsored one at Sebastian's work, and then we were hosting our own in our backyard for family and friends. My motivation to figure out this Bavarian costume was high! We saved money on our outfits by shopping during the off-season. You can find good deals online, even in the States, during the summer months or immediately after Oktoberfest season (September-October). Admittedly it was not fun to pack. Sebastian's lederhosen are really heavy, then adding the shoes and hats we bought while in Germany, we could not bring as much German chocolate home with us that year. You pick your battles!
Similarly to how everyone wears green on St. Patrick's Day regardless of Irish ancestry, in Munich during Oktoberfest everyone wears traditional, historically-inspired Bavarian costume regardless of German ancestry. I'm here to help where I can as an American who has researched the tradition and after having been there and seen the variety of costumes on display.
Ladies First-
Option 1: Dirndl (pronounced DURN-dul)
The dirndl is available in a kaleidoscope of colors and patterns today. Traditionally the skirt length is mid-calf, which is still available, but more commonly seen on women 40+. Most young ladies wear a knee-length skirt. If you want to look more historically accurate, avoid shiny fabrics with excessive embellishments. Embroidery, eyelet, or lace is as fancy as a historical dress should get.
There are countless white blouse variations to layer with your dirndl. They're typically cut very short and will end right below the bust line in order to reduce unnecessary fabric bulk around your waistline. Some tops will have a adjustable ribbon in the middle of the bust that you can adjust if you want your blouse to be more or less revealing.
Your costume is incomplete without an apron. Some aprons are a simple, one-colored cotton fabric, others are slightly embellished with lace and embroidery. Often, they're sold as a set, so its likely the apron will flatter the dress already.
There's a debate on how to tie your apron. Some say tying it to one side, front, or back, indicates your relationship status. I haven't been able to find any historical proof to that, and it may be a more modern interpretation. But, in any case, tying it in a bow on your left side means you're single and looking, tying it in a bow on your right side means you're taken, tying in a bow in front means you're a virgin, and tying it in a bow in the back means you're widowed or a waitress. Let me know if you discover it makes any difference;-)
Option 2: Lederhosen for Ladies
"Anything you can do, I can do prettier." Not interested in skirts? No problem! Nowadays lederhosen is available for women as well. Perfect for the tomboy girl who wants to rebel against the norm while still nodding to the culture. The lederhosen is typically real leather, these will often be more expensive than a dirndl set, but again it depends on the embellishments and the length of the shorts and if suspenders are included or not. Pair your lederhosen with a checkered button up shirt or blouse.
Option 3: Makeshift Oktoberfest Outfit for Ladies
Try pairing a checkered button-up blouse with puffy princess sleeves or a deep-cut peasant flowy top with tan khaki pants or capris. While you may not have the 75+ Euros to buy a simple dirndl, for 20-30 Euros you can buy a wool fedora hat with feathers or a neckerchief, both are part of the traditional costume to polish up a makeshift costume.
Oktoberfest Accessories for Ladies
• Shoes For the dirndl, look for flats or low-heeled pumps that coordinate, but don't distract. For lederhosen shorts, look for short boots. For both options, thick socks or stockings are appropriate and encouraged.
• Purses Look for a handheld or wristlet clutch, or small cross-body purse. Time to sneak into Grandma's closet for the perfect one!
• Jewelry Pearls, lockets, or beaded jewelry. Heart, flower, and deer designs are popular.
• Hair Pinning hair up in braids is a perfect, low-maintenance look that keeps the eye's attention on your outfit. Floral headwraps or pins are also popular.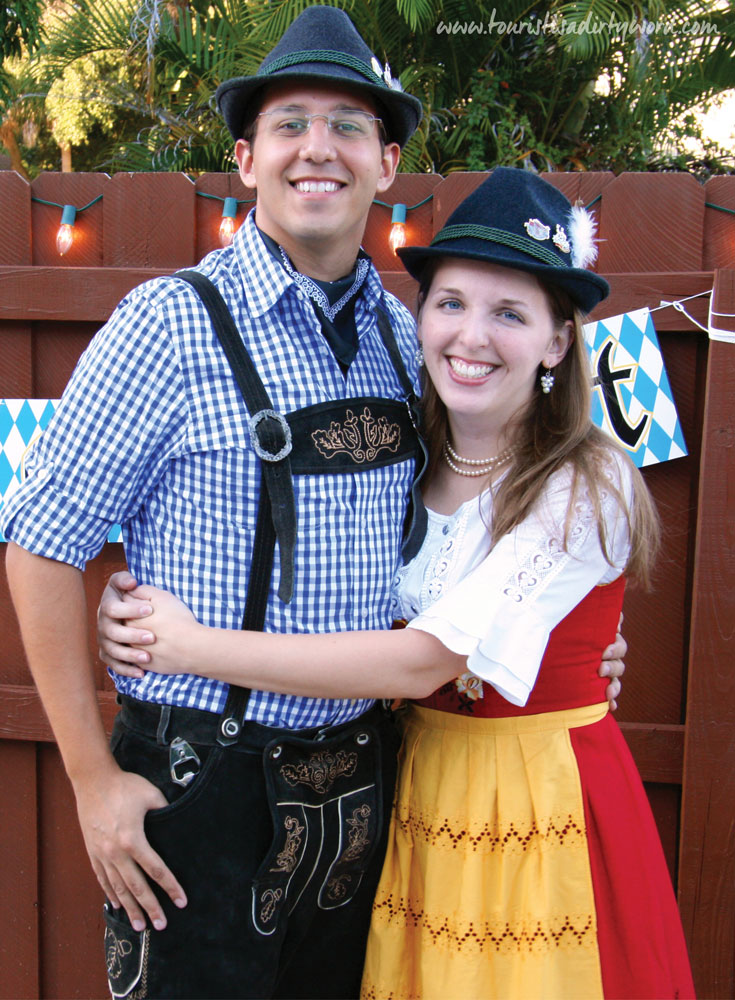 For the Gentlemen-
Option 1: Lederhosen
This is the only time I've ever seen men's fashion cost more than the coordinating ladies' fashion. However, a good pair of Lederhosen can last for a generation or two if well maintained. Lederhosen are sold in several lengths; shorts that hit at the knee, or a cropped pant length that hits at mid-calf. The mid-calf will be more expensive. Aim for some that have suspenders, those will be more comfortable to wear without a belt. If you choose a pair without suspenders, try a complementing vest. Pair your lederhosen with a checkered or solid colored shirt.
Be mindful of the buttons connecting the backside to the pants to the suspenders, as these need to be sewn tightly to endure sitting all day at the tent. I've seen two different pairs that on the first or second wear the back button popped off. Perhaps pack a few safety pins if you're able, or reinforce the buttons before the event.
Option 2: Makeshift Oktoberfest Outfit for Men
Similarly to the ladies' makeshift outfit, look for a checkered button-up shirt to pair with tan or grey khaki pants or shorts (without cargo pockets). While you may not have the 120+ Euros to buy authentic lederhosen, for 20-30 Euros you can buy a wool fedora hat with feathers or a neckerchief with edelweiss or whatever you fancy.
Oktoberfest Shoes for Men
With lederhosen, try and keep the shoes slightly dressier, or with a classic short boot. For the makeshift option, try and complement the pants that you choose.
Have fun, and be safe! And don't forget to send us a picture of your outfit!

Follow Along
If you enjoyed this article, or these topics sound interesting to you, you'll love our weekly newsletter. You'll receive the newest posts each week and exclusive access to free planning resources like 'Packing List & Tips for 2 Weeks in Germany' and 'Everything You Need to Rent a Car in Germany'.

Thank you for reading!