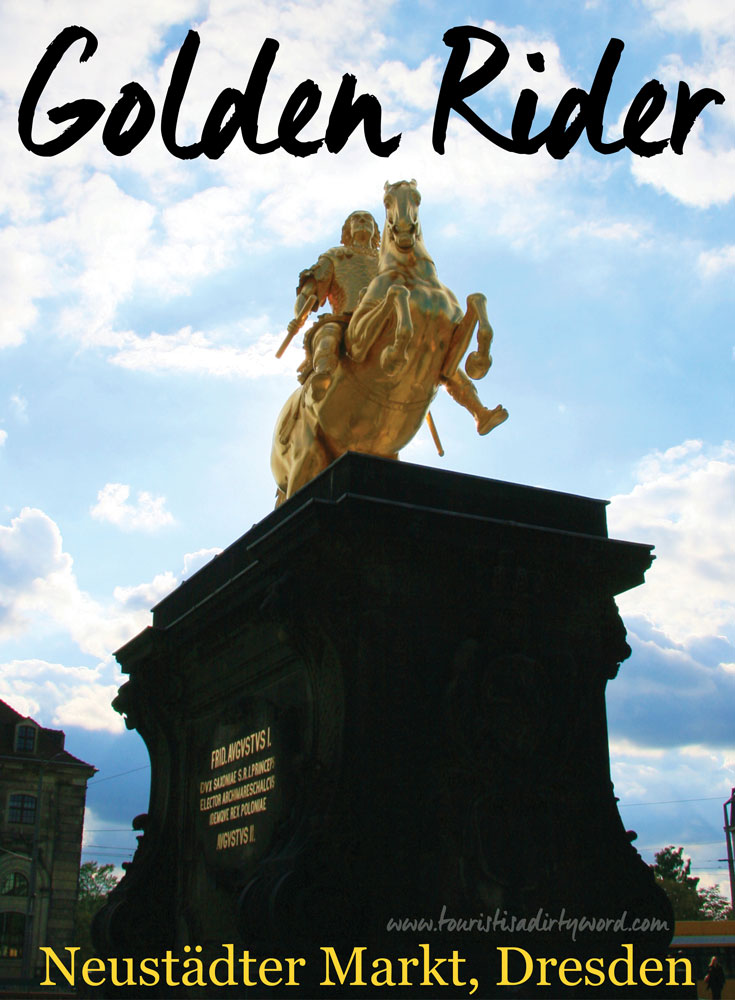 If you are looking for the most well known historical statue in Dresden, follow the golden shimmer and look down the tree-lined alley in the Neustadt district. At the end of that alley you will spot the golden, extravagant statue of Augustus II the Strong (1670–1733) in full body armor on a horse.
Who is the Man on the Horse?
Augustus II the Strong, the Elector of Saxony from 1694-1733, loved the arts, and the wealth and status the arts advertised. He fashioned the Saxon capital city of Dresden into a baroque gem through his numerous building projects he started and his extensive collection of treasures. Why is 'the Strong' part added to his name? The story goes that Augustus II could bend horseshoes with his bare hands, excelled in fox tossing (which is as horrible to foxes as it sounds), was above average height for the time at almost six feet, and supposedly sired hundreds of children.
The Story of the Statue
Upon the death of Augustus the Strong, his son Augustus III collaborated with his father's court sculptor Jean-Joseph Vinanche on a memoriam equestrian statue. Vinanche designed the statue showcasing Augustus the Strong as larger than life. Then the design was cast by Ludwig Wiedemann from Augsburg. The statue is actually made out of copper covered in gold foil. The statue was unveiled in 1736 in the square of Neustädter Markt next to the Augustusbrücke, meaning Bridge of Augustus, with the statue facing towards Poland, where he reigned twice, 1697 to 1704, and re-elected 1709 until his death in 1733.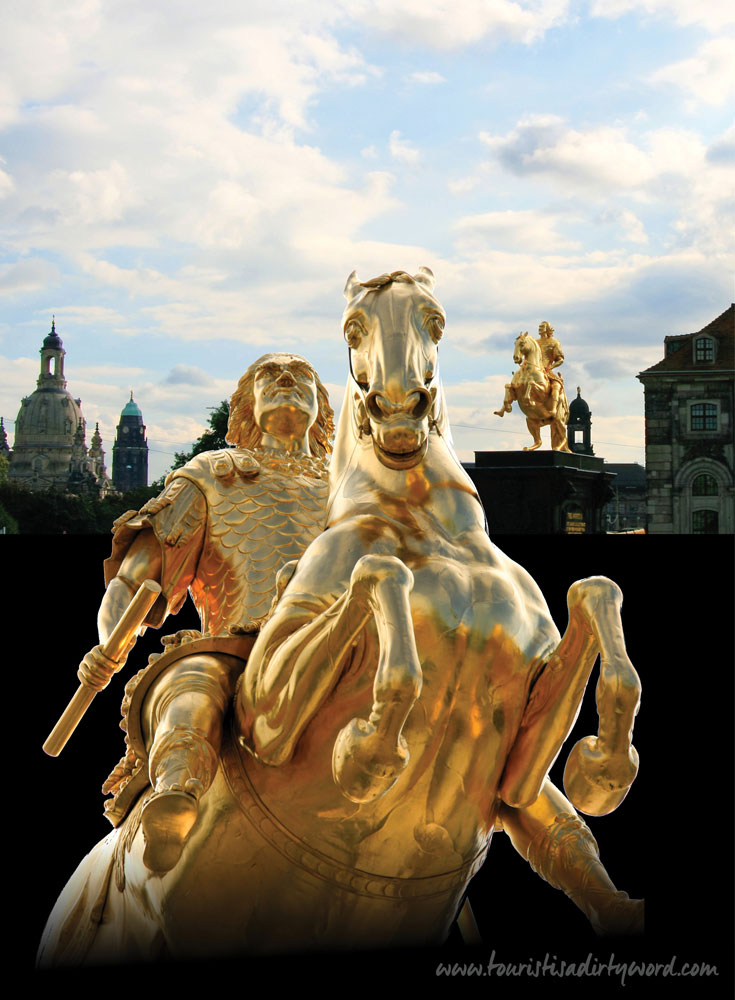 Equestrian Statues as Status Symbols
Equestrian statues are challenging to create because of the amount of weight and support that must be maintained by four, sometimes two if the horse is rearing, slender horse legs. In the Golden Rider, the horse is rearing on its back legs, but you'll notice there is additional weight support through the horse's tail. Equestrian statues representing rulers were far from being an innovative idea. It was yet another token of accomplishment that 'Yes, we too can create that complicated type of sculpture at our court.'
WWII and Today
The statue survived the 1945 city-wide bombing hidden in a secret place, and was not returned to its original position until 1956, where it stands today. The statue has become a symbol of Dresden. Keep your eyes open when you are in a Dresden supermarket, because this landmark is not only pictured on certain beer bottles, but also graces a golden seal on a brand of Dresden Christmas cake called Stollen, basically a sweet yeast loaf with fruits and almonds.