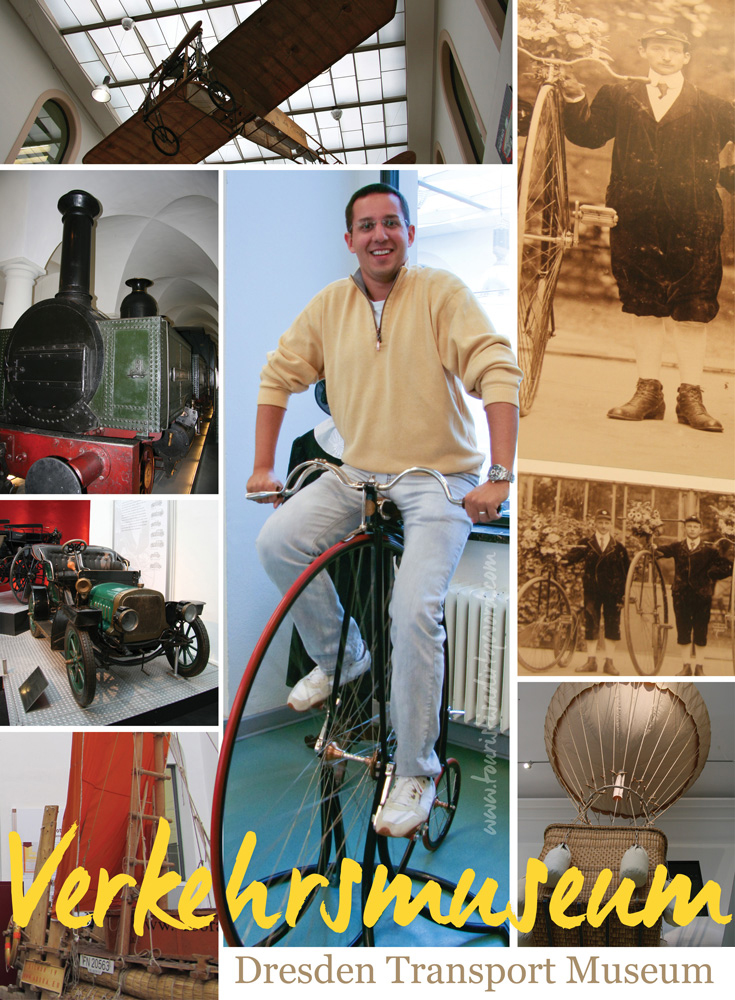 I love museums where you can touch things without getting accosted by the security guards in the room.
It makes the museum come to life and I remember items in that museum for years to come. When I noticed the high-wheel bicycle on the second floor of the Verkehrsmuseum in Dresden, I was elated. It is one of those exhibit experiences that you will not forget! Sitting way higher than normal, imagining how it must have felt like to go down the road on one of these, looking down at people passing you and trying not to lose your balance and land on your face.
But let's not get carried away and start at the beginning.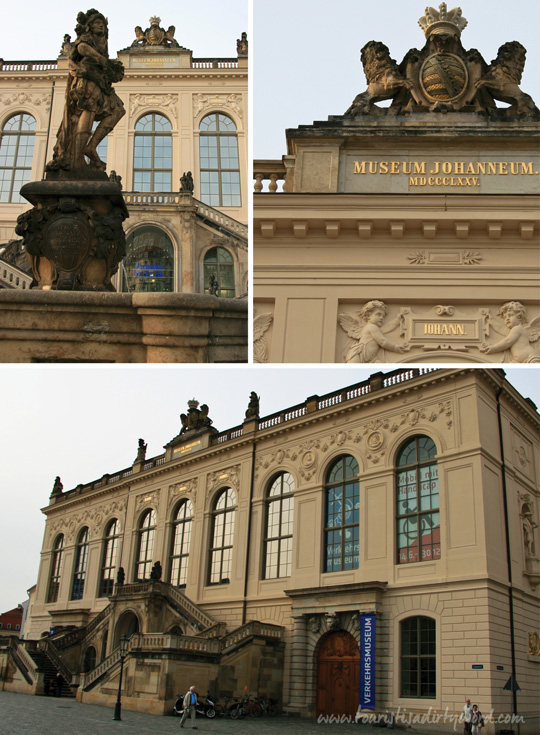 The Verkehrsmuseum in Dresden is housed in a building called Johanneum, a 16th-century Renaissance building that was used as a stable for the adjacent Dresden Castle. What better place to put a Transport Museum? I was taken aback when the first two things we saw were a pair of worn out shoes and a sedan chair, when I expected to immediately see cars and trains.
But, before there were cars and trains, this is how people moved around - with the sedan chair being reserved for royalty and very rich folks. That all changed in 1886 when Karl Benz built and patented the motorized tricycle - the first automobile in the world. I had seen pictures of it in one of my fathers car books, but looking at a full size replica in Dresden got me excited to see the rest of the museum. We walked by restored versions of rare classic cars like a Wartburg, several horse carriages and numerous rows with bikes, scooters and motorcycles. The best part? Most of them are not behind glass, you can walk around them and look at all the details without hitting your nose.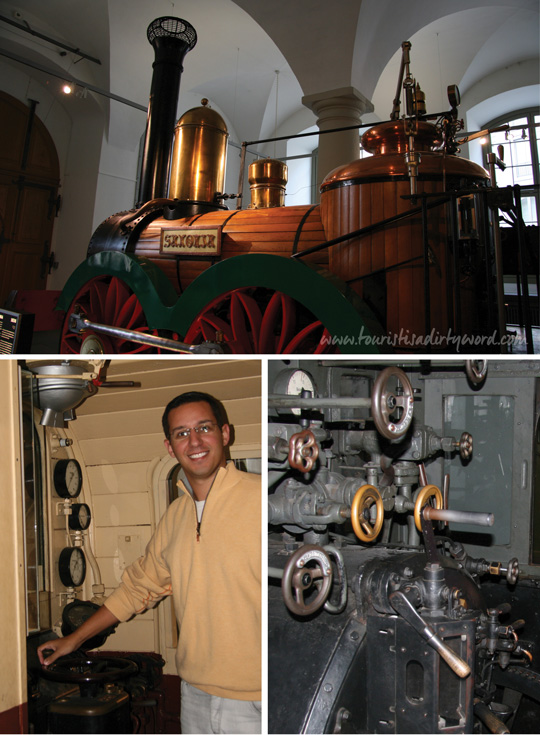 While I am a big automobile fan, I was fascinated by the exhibition next to the cars. There is a huge hall FULL of locomotives and trains, all beautifully restored and, again, not behind glass walls. It is not every day that you get to see the oldest original German steam locomotive called "Muldenthal" from 1861, or a fully furnished saloon carriage. While you cannot step into the saloon carriage rooms, you can jump onto the metal pedestal that they built in front of the carriage windows and take a peek into an era long gone, when Princess Mathilde of Saxony was sitting inside enjoying amenities like gas lights and a private bathroom.
After climbing onto all the platforms and inside a steeple cab, we ventured upstairs into a large play area for children called Verkehrsgarten (traffic garden). Here they can ride on Bobby cars and interact in a shrunken down version of streets and railway crossings tied in with working traffic lights. I would have had such a blast if only I could have fit on one of those cars…
We stroll to the next area full of ship and ocean items including a piece of luggage that catches my eye. It is a gift from a girl that survived the Titanic disaster from 1912. The accompanying story tells us that the suitcase was given to the girl from her father when he placed her in a lifeboat. She had kept the suitcase in memory of her lost father until she passed away and the suitcase was given to the Verkehrsmuseum. I remember standing there and looking at all the stickers on the luggage for several minutes, trying to imagine what it must have been like to be there over 100 years ago. And as much as I daydreamed about it, I forgot to snap a picture of it.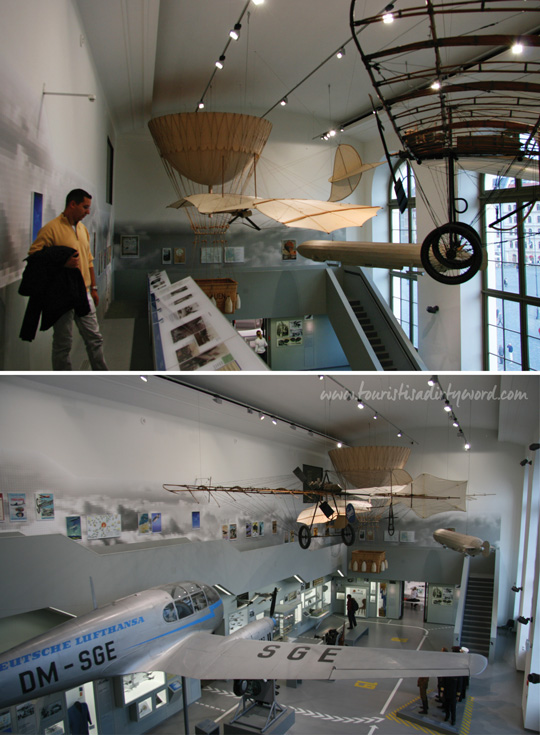 By that time I had lost the rest of my family who already strolled into the plane and flight section, scaring myself walking onto a walkway high up in the air surrounded by a hot air balloon basket and several model planes. My fear of heights did not help with that part of the exhibit and I swiftly made it down the staircase. But even with a fear of heights, I very much enjoyed the last part of the Verkehrsmuseum, looking at the painted details of the model planes and learning more about Graf von Zeppelin and his vision of an airship.
If you go and visit Dresden, do not miss a visit to the Verkehrsmuseum, and snap a picture of that suitcase from the Titanic for me!
Here's a link to the official site for the Verkehrsmuseum.