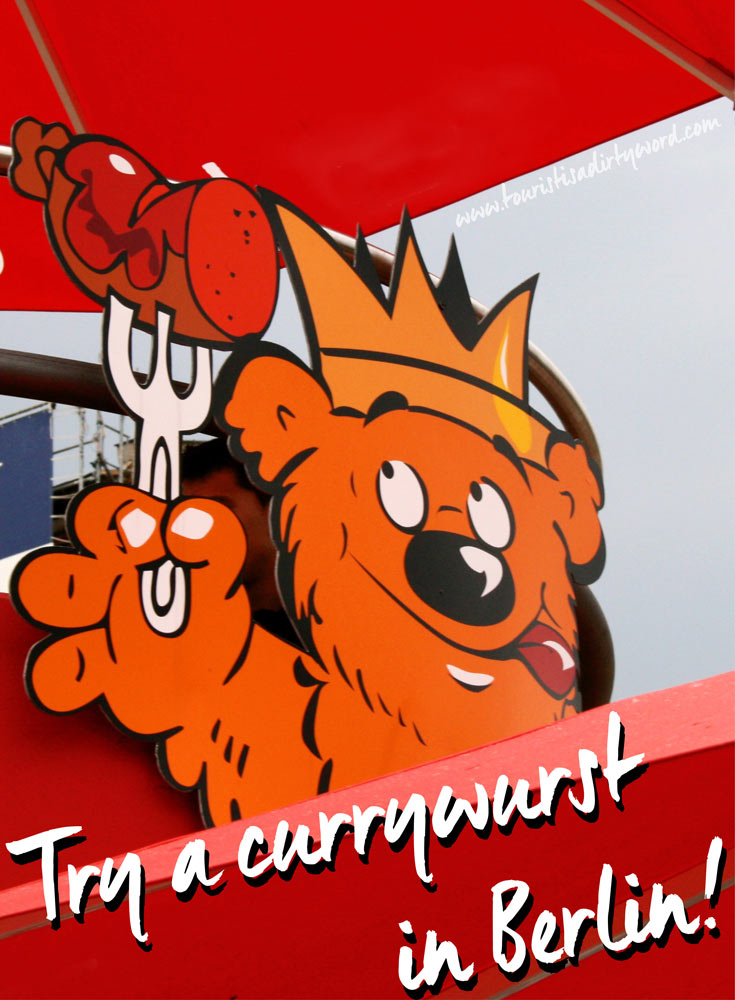 As much as I am enjoying a Key Lime Pie in Florida and a Doener in Germany, I miss my favorite Berlin food, currywurst. It is a steamed & fried pork sausage (in Germany we call pork sausage 'bratwurst') cut into thick slices and smothered with curried ketchup sauce, finished off with curry sprinkled on top. To make the calorie bomb perfect, add a side of fries with mayo. Pure heaven, I promise! And just like the bear in the photo, you get a mini-plastic fork to keep things civilized.
The History and Legend of the Currywurst
But who started this Berlin fast food staple? Her name was Herta Heuwer, who lived in the British military sector after WWII. Legend says the she traded some spirits with British soldiers for ketchup, then added Worcestershire sauce and curry powder to make the bratwurst dish a bit more exciting than other post-war food. Herta then added the dish to her food stall in West Berlin's Charlottenburg district and even patented her sauce, called Chillup, in 1951. She passed away in 1999, but there is a metal plaque dedicated on the spot where her stall once stood.
If you want to know more about this iconic Berlin food staple, head over to the Deutsches Currywurst Museum at Schuetzenstraße 70 near Checkpoint Charlie. According to that museum, some 850 million sausages are eaten in Germany every year, including 70 million in Berlin. With that many people loving Currywurst, go try one when you are in Berlin.
Recommended Currywurst Stalls
There are a lot of independent food stalls competing for the title of the Best Currywurst in Berlin. The two most known ones are Konnopke's Imbiß, located in the Prenzlauer Berg district, open since 1930 and the first stall in East Berlin to sell currywurst based on Herta Heuwer's idea. The other Berlin currywurst institution is Curry 36 in the Kreuzberg district on the busy Mehringdamm Street.
Have you been to Berlin and tried currywurst? Where did you try it? Let us know in the comments.
P.S. Check out the BBC Radio 4 Podcast Episode "One People, Many Sausages" for an interesting perspective on this topic and mentions currywurst.
Follow Along
If you enjoyed this article, or these topics sound interesting to you, you'll love our weekly newsletter. You'll receive a free Germany Packing list for signing up, and you'll receive each week's newest posts every Friday. Thank you for reading!