One of my favorite city souvenirs is local sweets, and Heidelberg has a great piece of edible history that you can take home with you and share. It is called Studentenkuss, which translates to student kiss. It is made with nougat on a waffle bottom, covered in dark chocolate. Let's dive into the history of this product for a moment and imagine Heidelberg in 1863.
During the nineteenth century, young women were often only allowed in public, when they were accompanied by aunts or older sisters. Contact or meetings with men were therefore only possible under the supervision of an extra set of watchful eyes. The Café Knösel in Heidelberg became a popular meeting point for young ladies of the local girls' boarding school, but also for students of the Ruprecht-Karls-University.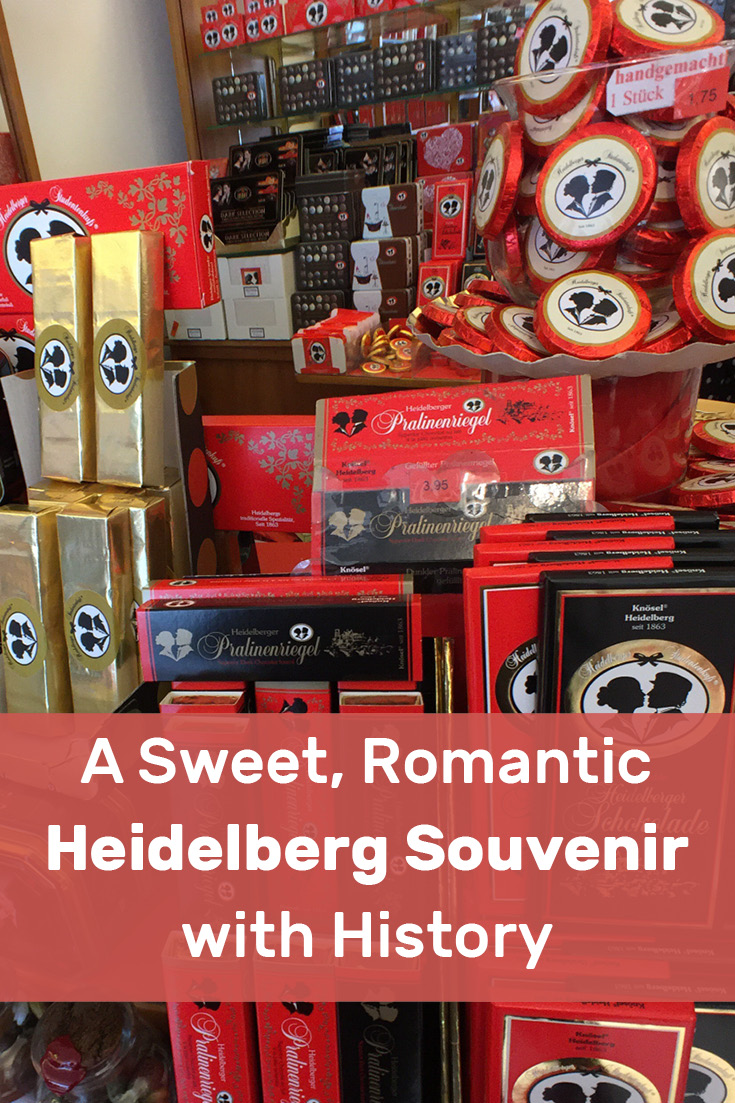 Café operator and confectioner Fridolin Knösel invented the student kiss in 1863, a delightful, sweet treat. The chief attraction, besides the great taste, was the packaging. The student kiss chocolate came in a small box, often accompanied by a handwritten message which could not be seen by the chaperones of the young women. This made it much easier for the young men to flirt and communicate with the adored girl. Even without a handwritten message, printed on each chocolate foil, is a student of a student union with student cap and a young woman right before they are about to kiss. If you receive a chocolate like this, you know that someone has feelings for you.
Much time has passed since 1863, but the students kiss chocolate still exists today as an amicable reminder of bygone, romantic times. The sweet idea of Fridolin Knösel developed into a small piece of Heidelberg's history and is still produced fresh several times per week. The original Café Knösel, where the Heidelberg student kiss was invented, was sold and does not belong to the Knösel family anymore. The student kisses, however, are still made and sold by the Knösel siblings, two houses away from Café Knösel.
Follow Along
If you enjoyed this article, or these topics sound interesting to you, you'll love our weekly newsletter. You'll receive the newest posts each week and exclusive access to free planning resources like 'Packing List & Tips for 2 Weeks in Germany' and 'Everything You Need to Rent a Car in Germany'.

Thank you for reading!