Centrally located in the middle of the pedestrian zone, the Kurpfälzisches Museum der Stadt Heidelberg, Electoral Palatinate Museum, is located inside the Palais Morass, a Baroque palace building. The history of the museum dates back to the initiative of the French emigre, Count Charles de Graimberg, who from 1810 began to devote himself to preserve the history of the Heidelberg Palace and the Palatine Princely House. His collection of coins, pictures and altars as well as sculptures (over 3,500) are the foundation of the Kurpfalz Museum.
The art collection of Charles de Graimberg was purchased from the city in 1879 and the museum was opened in 1908. After adding a new building in 1991 adjacent to the palace building, the collection grew immensely, and makes the museum experience itself a wild adventure of different styles of rooms, floors, and exhibits. It feels like the inside is so much bigger than the outside lets on. Besides collections of paintings from the 15th to the 20th century, you can also find sculptures, porcelain, Heidelberg city history, and costumes from a bygone era. Denise fell in love with Karl Weysser's painting 'Alte Poststation in Heidelberg mit Blick in die Seminarstrasse,' and finding a postcard with the artwork on it in the gift shop made her very happy.
Besides art, there are also numerous archaeological finds in the museum, mainly through the remains of the Roman Neckar Bridge, which was discovered in 1877. Further archaeological excavations in Heidelberg and the surrounding palatine area after WWII, made the collection grow considerably.
History, art, porcelains, historical costumes, archaeology, period interiors, the Kurpfälzisches Museum der Stadt Heidelberg has something for everyone, and we enjoyed it very much! For more information regarding visiting hours and the history of the museum, visit their official site Kurpfälzisches Museum.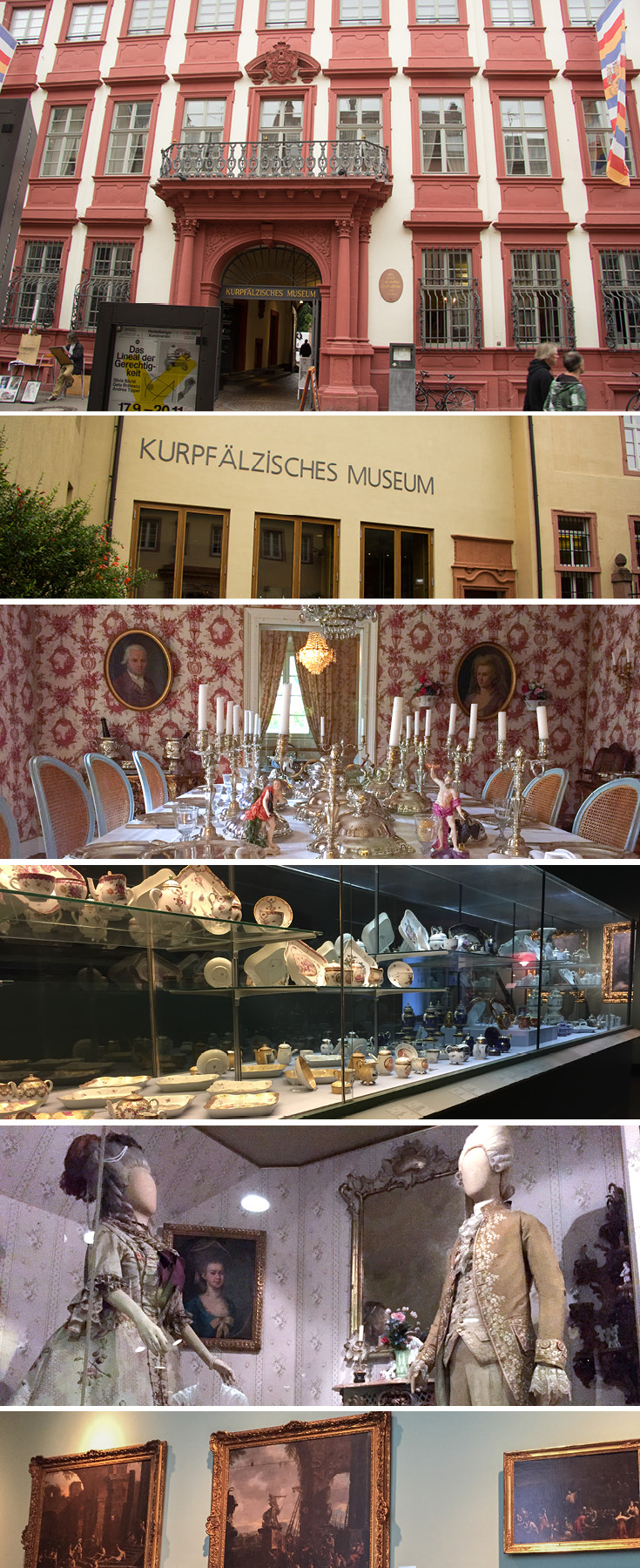 Follow Along
If you enjoyed this article, or these topics sound interesting to you, you'll love our weekly newsletter. You'll receive the newest posts each week and exclusive access to free planning resources like 'Packing List & Tips for 2 Weeks in Germany' and 'Everything You Need to Rent a Car in Germany'.

Thank you for reading!