Tuesday, January 19, 2016 by
Denise & Sebastian
Topics
Frankfurt am Main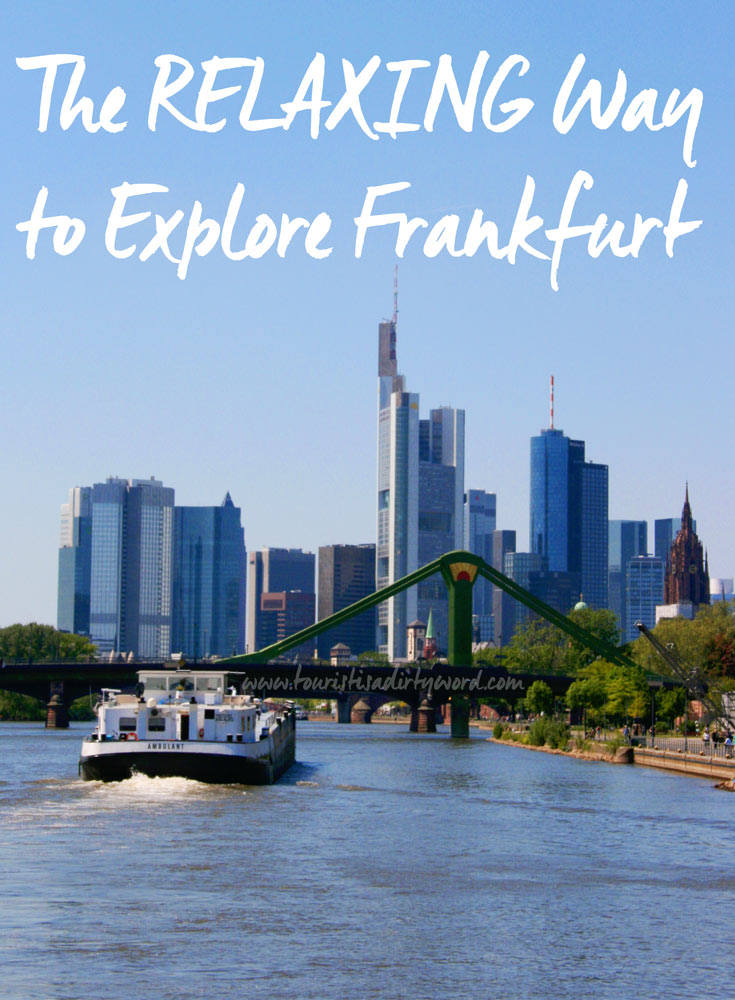 Whether you are in Frankfurt for a couple of days or just for a quick layover, you should kick back and enjoy a nice cruise on the river Main. The view from the ship will give you a whole new perspective, no matter if the sun is shining and you are sitting outside on the top deck or if it is a windy day and you prefer to sit at one of the large window tables inside the ship.
We picked a 'Sightseeing cruise' on a boat from 'Primus Linie', the largest cruise operator in Frankfurt located on Mainkai 36. You can choose one of the 50 minute cruises or opt for the full route at 100 minutes. The longer tour combines the two 50 minutes routes, one upstream and one downstream, returning to the dock in between. Credit cards payments require a small surcharge over cash payments. On board, only cash is accepted and you can pick from reasonable priced drinks (alcoholic & non-alcoholic) and small food items like french fries or ice cream, while you listen to the descriptions of the different buildings, bridges and the history of the area in German and English.
On the 100 minute excursion you will travel along the 'Sachsenhausen' district, where most of Frankfurt's nightlife and parties happen. You will also pass the Roemer building, which was Frankfurt's city hall for over 600 years and catch a glimpse of the 'Museumsufer' (Museum Embankment) with the fabulous Staedel Art Museum, which we wrote about in one of our previous posts. Click here if you missed it. Primus Linie also offers full-day excursions on the river Rhine, Sky-Light cruises where you can see the skyline of Frankfurt lit up after the sunset and themed cruises, for example a family brunch or a New Year's Eve fireworks cruise.
One word of advice if you are cruising on a weekday evening, where a cruise like this is very popular with the locals as an 'after-work' event to watch the sunset and have a beer or two. The ship can get very full with employees having a good time and you might not be able to hear the narration over the speakers or get a good seat if you board late. Try to avoid this peak 'party' time and go during the day.
For more information check out the website of Primus Linie This is not a sponsored, or affiliated post. This was something we chose to do on our own, had a wonderful time, and hope you find it helpful.

P. S. Here are some photos from our cruise that Denise took. Let us know if you have any questions in the comments below. Enjoy!