In the adjoining building to the Goethe House, and up the stairs, squirreled away in fourteen jewel-tone rooms are paintings, busts, and ephemera from the time of Goethe, revealing his colleagues, friends, adversaries, and rulers. What a genius lens to view a person's life! If you take the necessary time, no more than an hour, to visit the galleries, you'll see the painting styles change as Goethe witnessed them.
Goethe's lifetime saw late Baroque, Rococo, Enlightenment and Sensibility, literary Storm and Stress movement, Weimar Classicism, and Romanticism. There are examples of all these movements in one place. It's impressive the wealth of the experience in such a small collection. One of the most important Fuseli collections in Europe, a trail blazing German woman artist whose story is nearly impossible to find, and THREE Caspar David Friedrich's landscapes in one small room.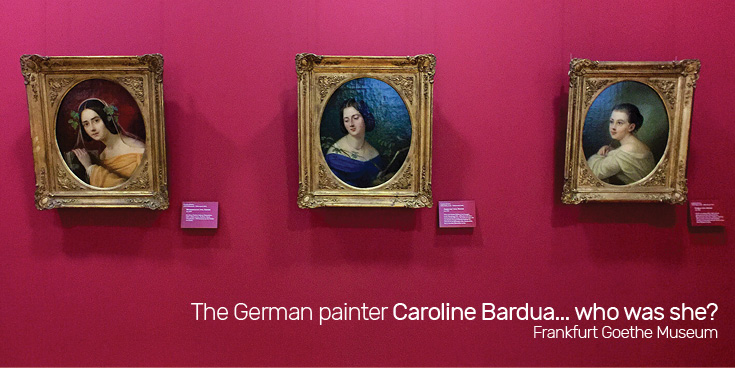 The adjoining Frankfurt Goethe Museum is a graphic arts collection, library and a manuscript archive. While the nonprofit group Freies Deutsches Hochstift furnished and opened the Goethe House in 1863, the complementing Goethe Museum opened 34 years later in 1897.
Remember that beefy, 22-page English brochure in the gift shop for 1.50 Euros? You'll be so glad you bought it. It provides the overview of each of the 14 gallery room themes and explains the relationships Goethe had with the subjects for a majority of the works on display. I'm only going to focus on three rooms, and I'll elaborate on what you'll find in the brochure.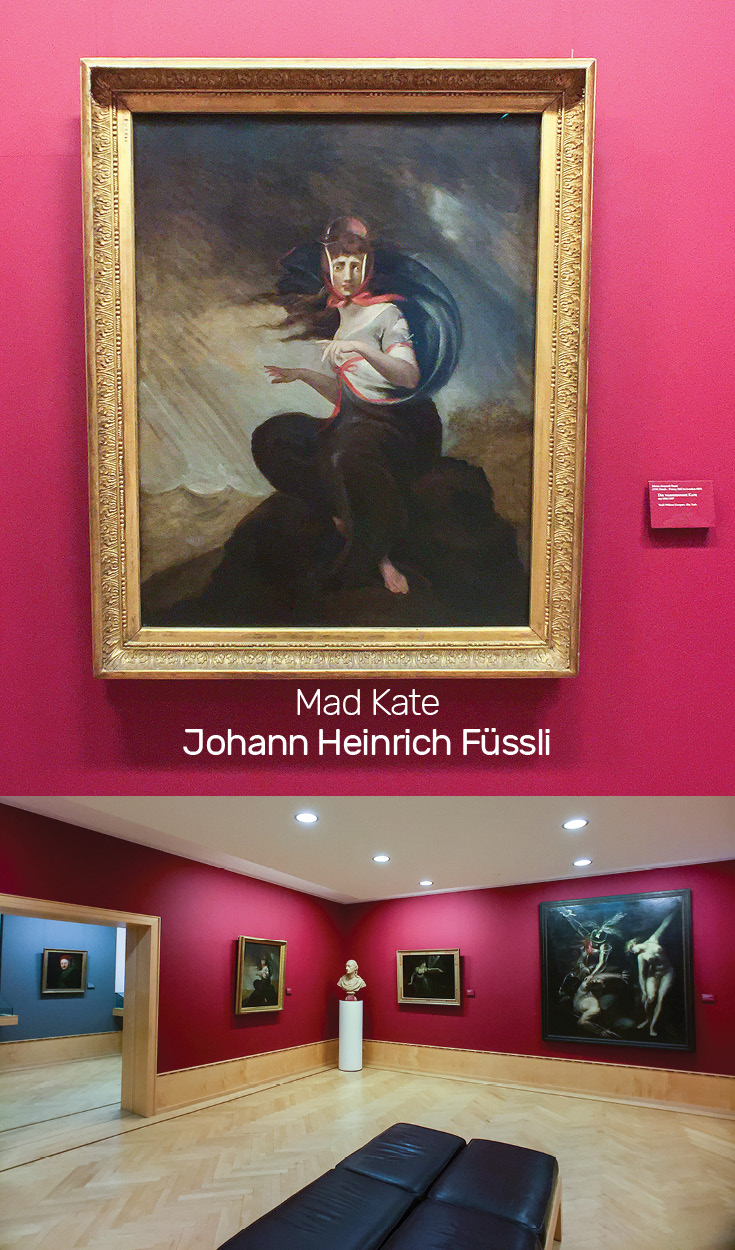 The Sturm und Drang Movement Visualized
Room 3 | Johann Heinrich Füssli: New Paths in Historical Painting
(German birthname: Johann Heinrich Füssli) Henry Fuseli's paintings were a revolutionary thrill to behold during Goethe's lifetime. A great example of being at the right place at the right time, when writers, including Goethe, and musicians were rebelling against the Enlightenment ideals and exploring human nature and emotions, cue Fuseli with his dramatic, emotional paintings bringing to life Shakespeare's plays and supernatural forces. His explosive depictions resonated with what others were reading and composing. He is most famous for his renditions of 'The Nightmare.' The first version (1781) was so impactful he made several variations of the work, and the Frankfurt Goethe Museum collection has the 1790-1791 variation.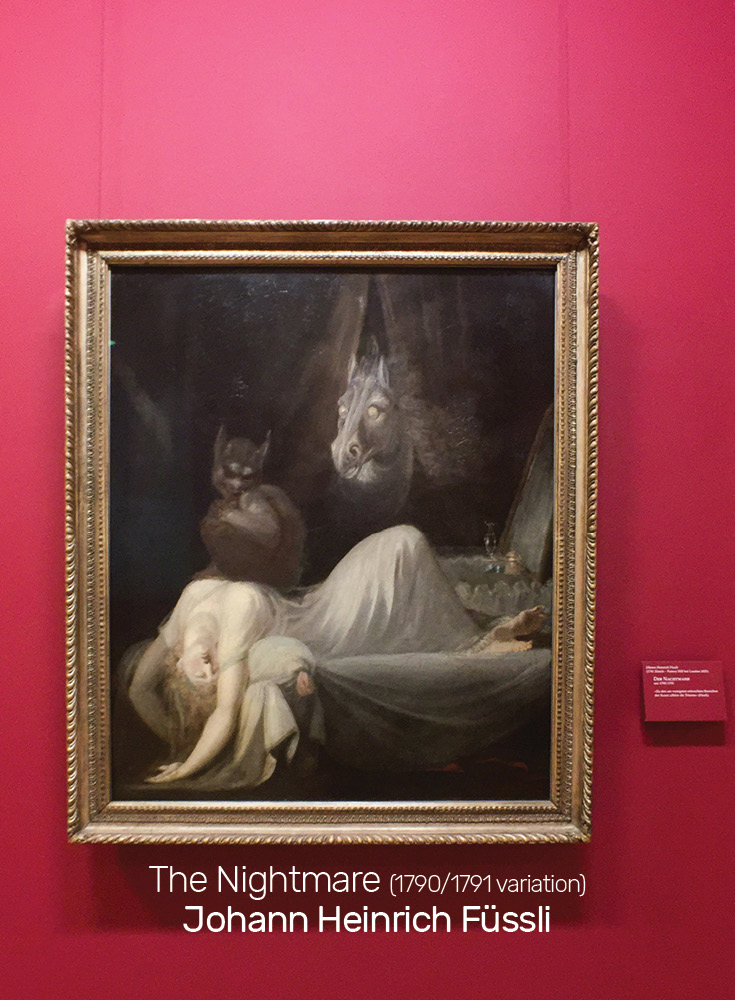 Who Was Painter Caroline Bardua?
Room 11 | Clemens Brentano, Bettine and Achim von Arnim
I was delighted to see in Room 11 a triplet of stunning portraits of ladies that was painted by a female artist I've never heard of. Her name is Caroline Bardua. Unfortunately the accompanying text was in German and only had the names of the subjects, dates, materials, artists, the basics.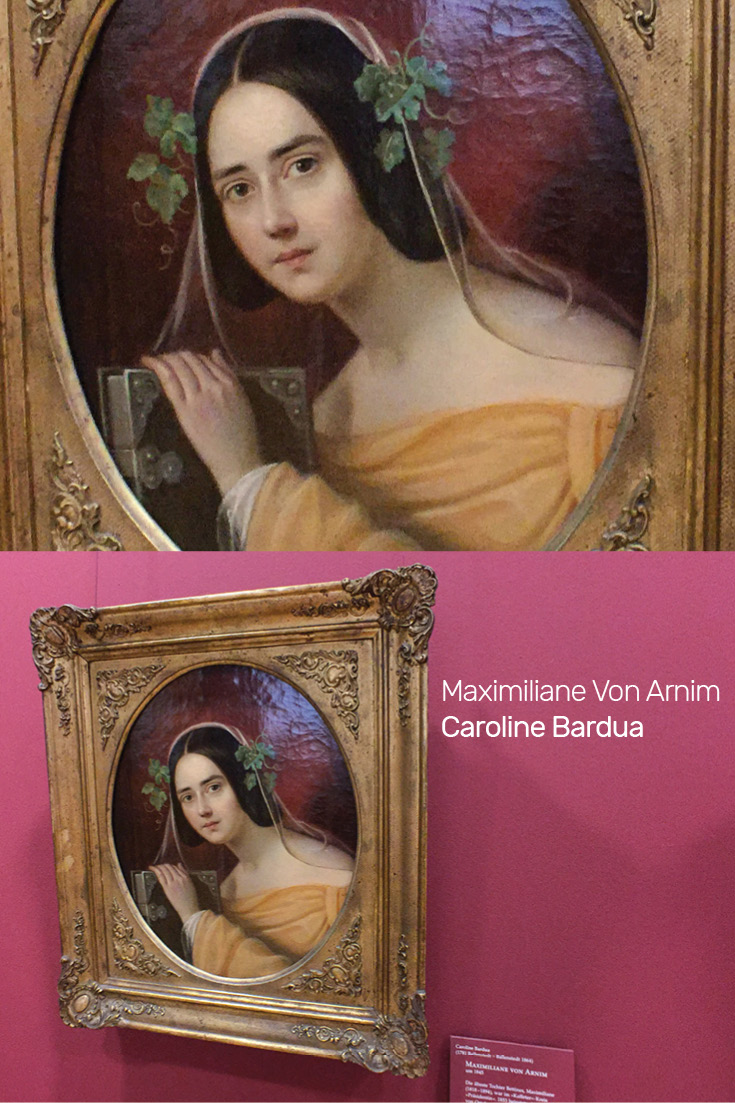 Far left, Maximiliane von Arnim, the oldest daughter of the Bettine and Achim von Arnim.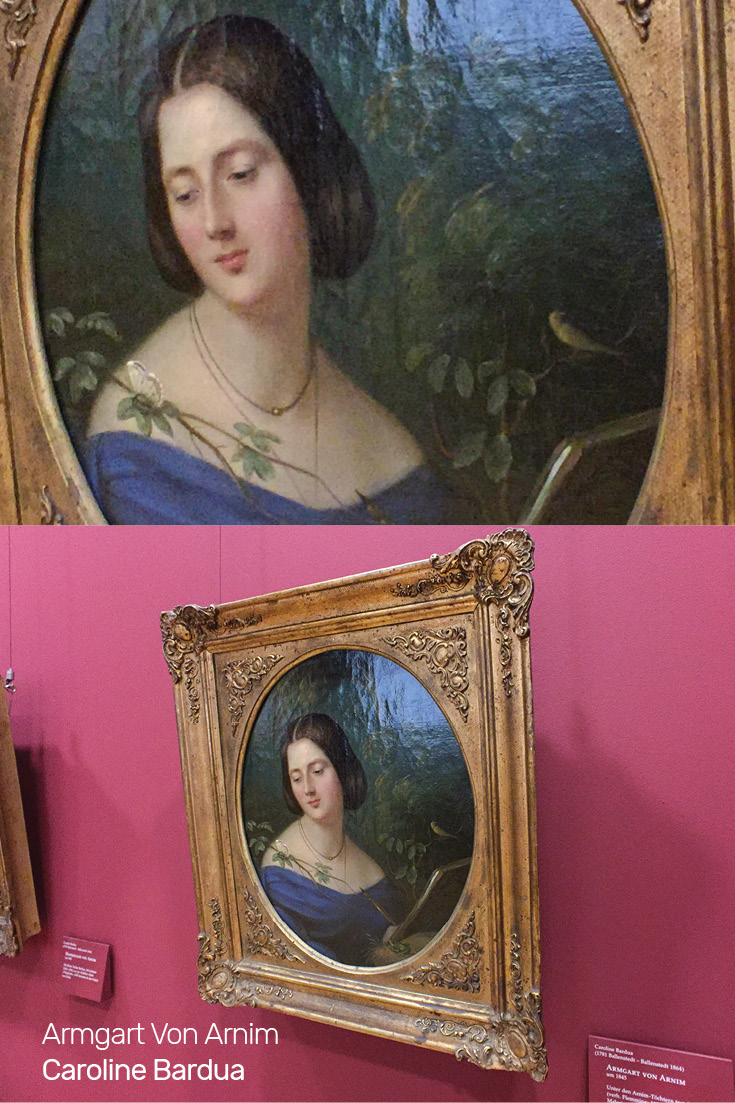 In the middle is her younger sister Armgart von Arnim, and on the far right is the youngest Gisela von Arnim. Gisela later married the son of Wilhelm Grimm, and became famous for her own fairy tales. The sisters had their own literary salon, Kaffeter Kreis, Maximiliane was the President. Caroline Bardua painted the three sisters' portraits in 1845.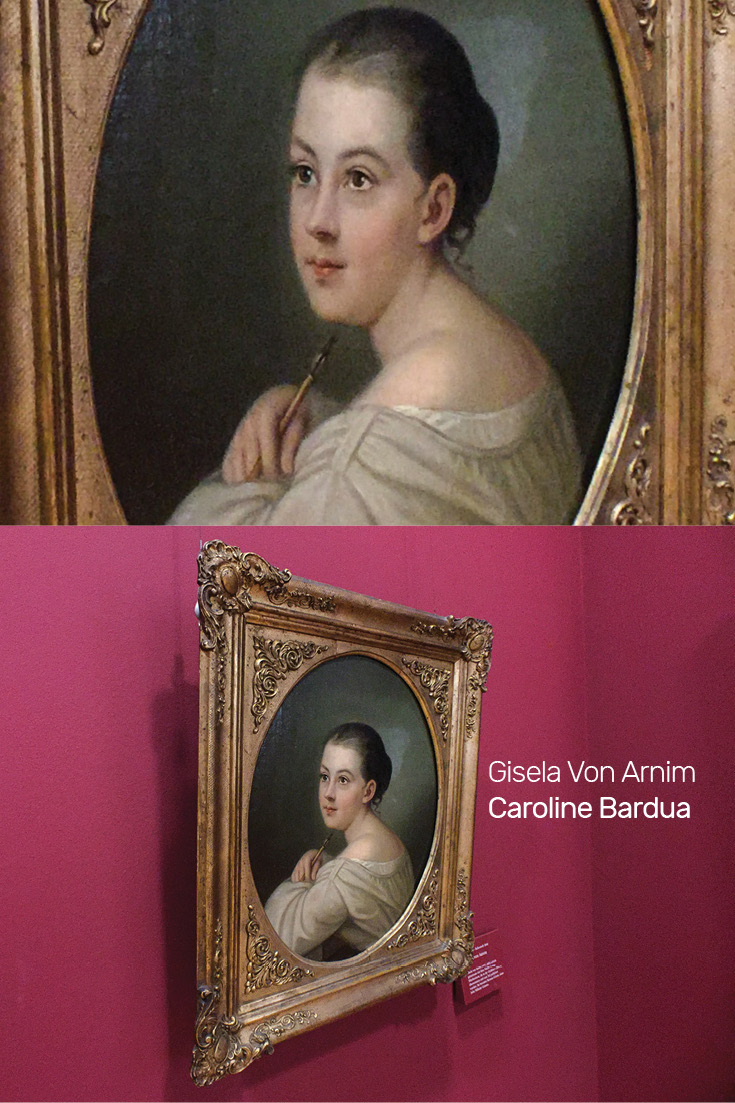 A basic google search on Caroline Bardua brings up tidbits; she was a middle-class female artist who supported herself, and sometimes her sister too, with her art! Very rare, and very hard to do! So many webpages were quick to point this out, but I couldn't get much farther than that.
Finally a breakthrough thanks to Google Books search, I found a well-sourced biographical entry on Caroline Bardua. She sounds like such a cool, brave, independent lady, and Goethe helped her career. There's no mention of this in the Museum, and there really should be! Goethe's recommendation helped her get into the Weimar Academy where she studied for three years under Johann Heinrich Meyer. Then, Goethe gave her a letter of recommendation to study under portrait painter Gerhard von Kügelgen. She lived to be 83 years old and was a lifelong, self-supported painter. If you'd like to read more about her, she's on page 209-2012 in the Dictionary of Women Artists: Artists, A-J.

Johann Wolfgang Goethe and Caspar David Friedrich
Room 12 | Romantic Landscapes
If you're a Caspar David Friedrich fan, then you'll be tempted to skip straight to Room 12. I don't blame you.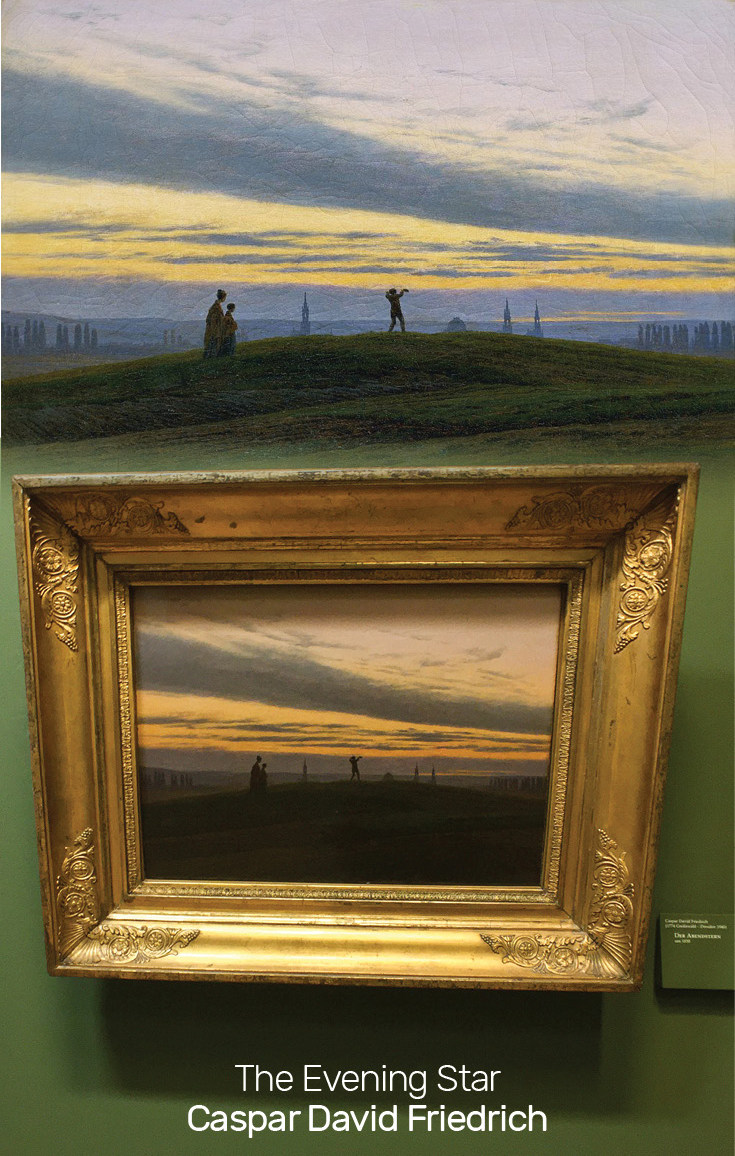 The Frankfurt Goethe Museum has three similarly-sized landscapes by Friedrich, The Evening Star, Swans in the Reeds, and Willow Bushes in the Setting Sun. There's debate as to whether Goethe was a fan of Friedrich's, but does it really matter? The brochure points out that Goethe's feelings were ambiguous. However, it was thanks to an early career competition prize Friedrich won, which Goethe was a juror, that legitimized Friedrich as an artist. History can't have one without the other. I'm disappointed in how my cellphone shots turned out, and then the public domain ones I found aren't any better. You really just need to see them in person, they're stunning. It's challenging with such high contrast paintings with a lot of dark areas to see the detail in reproduction. However, in person, every brush stroke is delicate, and looking at any one of these pieces is to be transported into the scene, emotions in your throat, classic Friedrich.
Have you been next door to the Goethe House, where Goethe was born? We'll fill you in on the highlights, just click here.
Where? When? How Much?


You can reach the Frankfurter Goethe House and Museum by all subways and interurban trains stopping at 'Hauptwache' within five to ten minutes walk. Car parks are located in the immediate surroundings. The address is Frankfurter Goethe-Haus / Freies Deutsches Hochstift, Großer Hirschgraben 23-25, 60311 Frankfurt am Main.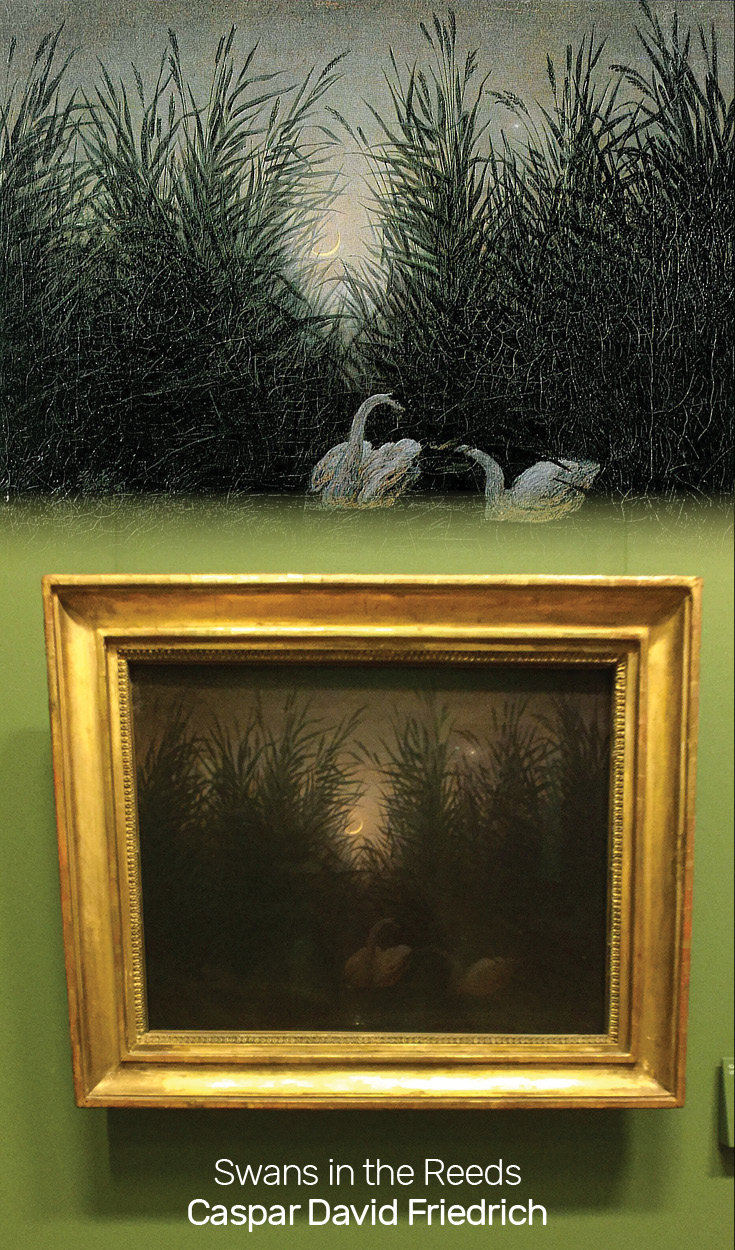 Follow Along
If you enjoyed this article, or these topics sound interesting to you, you'll love our weekly newsletter. You'll receive a free Germany Packing list for signing up, and you'll receive each week's newest posts every Friday. Thank you for reading!