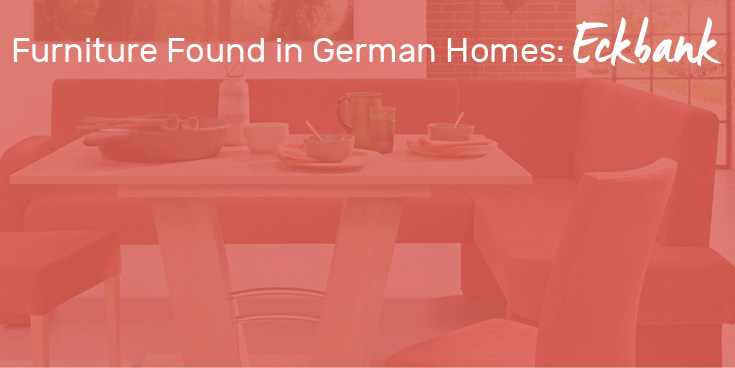 My parents have one. So do my Oma and Opa. Around the time I took Denise over to my friend Ralf's parents home, and she saw yet another one, she started to get suspicious. "Does every German house have one?" Admittedly, it does seem that way. If you ask me to name a piece of furniture that is "typically German" to me, my answer would be: the Eckbank, which translates to corner bench. Historically, the corner bench served as a space-saving, built-in furniture piece in taverns, ships, and camper vans. The corner bench is built to fill out and maximize the space in the corner of a room, so you need fewer chairs. Another advantage, especially in taverns, is that you can move closer together on the bench, making it easy to fit one or even two more guests to the table. Over the years corner benches moved over to many German households as part of the seating arrangements on a dining table.
Regardless of where a corner bench is used, the structure is very similar for all. Traditional corner benches consist of two benches, which are connected by a rounded corner to form a single unit. Some corner benches even have the advantage that there is storage space under the seats. The seat cover can be moved up and down like a lid, which makes it really easy to fill and utilize this storage space. Depending on where the corner bench is placed, different things can be found there. In a corner bench in the kitchen, for example, napkins, candles, tablecloths or placemats can be stowed.

Traditionally corner benches are made of solid wood, but with the time and the development of new materials, today's Eckbank can be made of plastic, rattan, or even metal elements. This gives the customer a large variety of choices, based on their individual style preferences. Not everyone likes a traditional wood corner bench with carvings of farm animals or heart cutouts in the backrest. The good news is that the corner benches today can be completely individualized when it comes to size, style and materials. Corner benches made out of beech wood create a warm, homey atmosphere with a golden hue wood color. Oak is a lighter and very modern looking alternative, while walnut wood gives you a dark, distinctive wood color choice. Even if you want to use your Eckbank outside, there are woods like teak or eucalyptus that score with their hardness and low-cracking abilities.
If you want to play around with a customizer tool for your imaginary German home, you can find one here at Fueg.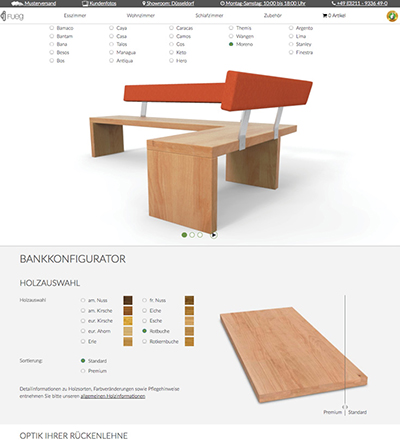 Once you picked your material for the actual bench, you will be spoilt for choice again when it comes to the decision of the fabrics and color. Choose between leather, synthetic leather, fabric or fleece. Of course, different fabrics also have different advantages and disadvantages, as a leather or artificial leather cover, for example, can be cleaned more quickly than other covers, since liquids cannot penetrate quickly. If you opt not to have the corner bench upholstered, but would rather go with just the bench part, you can add individual cushions or seat cushions. The advantage of these seat cushions as opposed to a complete cover is that they can usually be washed in the washing machine and can also be replaced quickly and cost-effectively in case a stain does not come out anymore. You could also flip them one time to hide the stain. And if you are bored with your color choice, seat cushions can be replaced with a more appealing design very easy.

Have you seen an Eckbank before and could you see one of them in your household?
Follow Along
If you enjoyed this article, or these topics sound interesting to you, you'll love our weekly newsletter. You'll receive a free Germany Packing list for signing up, and you'll receive each week's newest posts every Friday. Thank you for reading!