Tuesday, January 5, 2016 by
Denise & Sebastian
Topics
German Food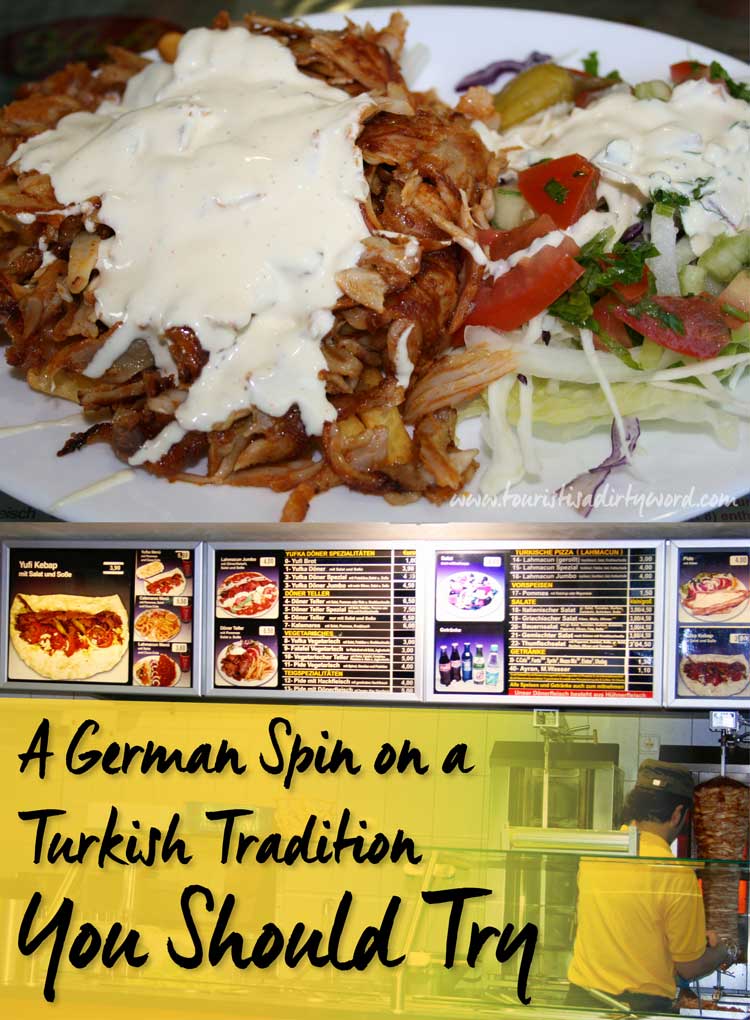 When you think about German food, what comes to mind? Probably a pretzel, schnitzel, or sausage of some kind? One very popular street food and fast food item that has conquered German hearts in the past decades is the döner (pronounced sort of like dew-nah, or doo-nah).
In the 1960s, Turkish workers arrived in Germany to fill the demand for labor in a booming post-war economy. Many never left, started families and shared their traditions, one of which is döner. The döner, meaning 'turning meat', is a traditional rotisserie Turkish meat dish served with rice on a platter.
The German version of the döner was allegedly developed in Berlin by Turkish guest workers in the early 1970s by stuffing the döner meat into baked pita bread. It is typically eaten hand-held, burrito style, wrapped in aluminum foil to keep the contents warm. The pita bread is filled with roasted chicken (sometimes turkey or beef) meat, topped with your choice of lettuce, tomato, onions, cabbage, spicy chili flakes, and usually a garlic-yogurt sauce, which is to die for! This simple and quickly made sandwich is available for lunch, dinner, and after last call, making it popular with the party crowd that leaves the clubs right before the sun rises.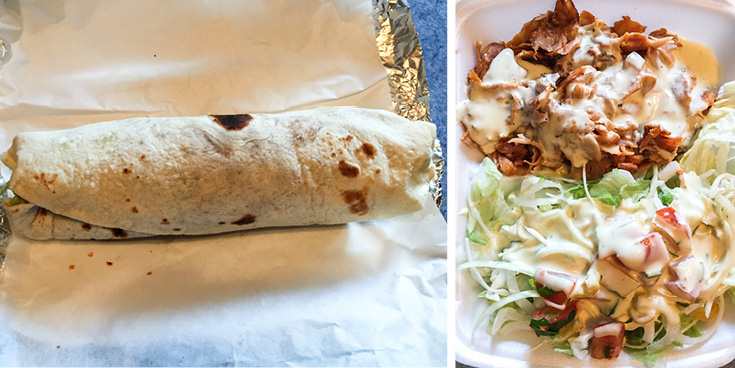 You can customize every döner to your liking, adding extra spicy ingredients (ask for 'scharf') or less of ingredients you do not l

ike.

Denise struggles eating it hand-held, so she orders it as a 'plate' style that is open-faced without the pita bread and eaten with a fork and knife. That's what we're showing in our photo above. In the shop photo, you can see a few of the other options, including the more traditional with the pita bread.
Follow Along
If you enjoyed this article, or these topics sound interesting to you, you'll love our weekly newsletter. You'll receive a free Germany Packing list for signing up, and you'll receive each week's newest posts every Friday. Thank you for reading!