An island of flowers? It's not the first image that pops into my mind when I think of Germany. As we were planning our family trip to Lake Constance and it's towns, the flower-filled island of Mainau popped up. I'm passionate about flowers, and deeply appreciate the labor that goes into making beautiful gardens. Seeing the recommendations that you can easily spend a half day, or full day there, I was really looking forward to exploring Mainau.
To kick off our flower adventure, we needed to cross Lake Constance. We rented a house for the week in Meersburg, and the fastest, cheapest way to get there was by ferry boat. And not just any ferry boat, a ferry boat that carries cars! It would be my first time on a car ferry. We were so lucky, as we pulled up to the ferry boat, we realized we would be the first in the line of cars. Our view from our car would be perfect! While we were waiting, a man walked up and down the cars selling newspapers. It boggled my mind that this was for many an every day commute! Lake Constance was foggy this early in the morning, and there was a nip of chill in the air. Torn between wanting to hear the water and the birds or staying warm inside the car, we compromised and rolled one window down. It made for better photos that way too.
After the ferry ride, it was just a short drive to the parking lot where we left all wheels behind. We paid our admission, and walked along a short path by the lake and spied the feathered residents enjoying breakfast. We saw several ducks and swans diving down and up again.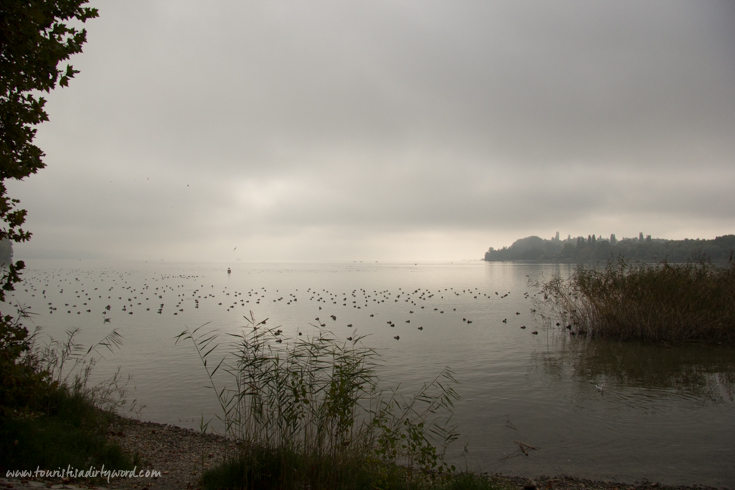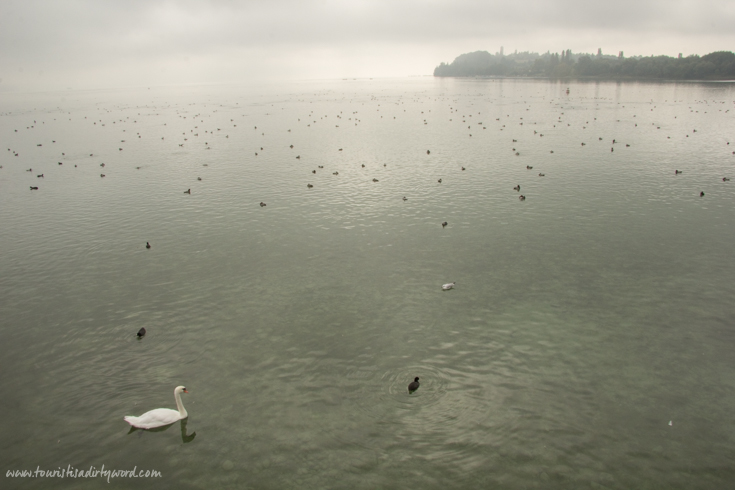 There are several circuits that you can take around the island and we chose to walk counterclockwise. Right away, we saw a group of duck sculptures built out of flowers, then an extravagant peacock built out of flowers! It was like being in Cypress Gardens again. There was once a fantastic botanical park in Winter Haven, Florida called Cypress Gardens, and they had numerous animal sculptures built entirely of flowers. My grandparents used to take my brother and I every time we came to visit. It's no longer open, and has been transformed into a Legoland Theme Park. It made my heart smile to know in Germany flower animal sculptures still exist.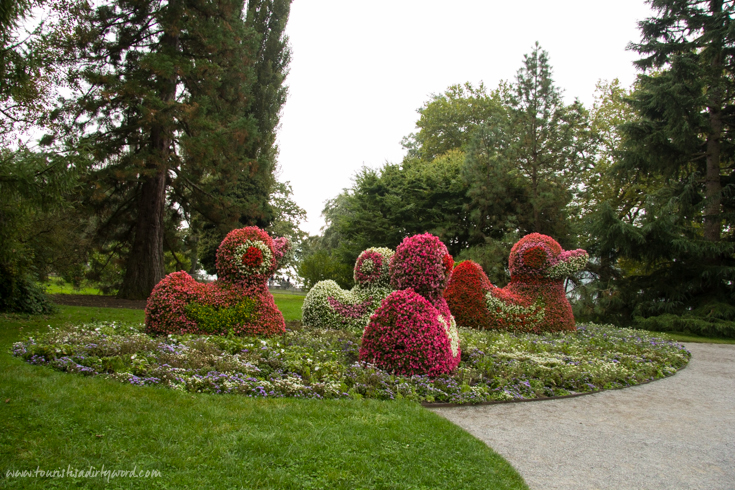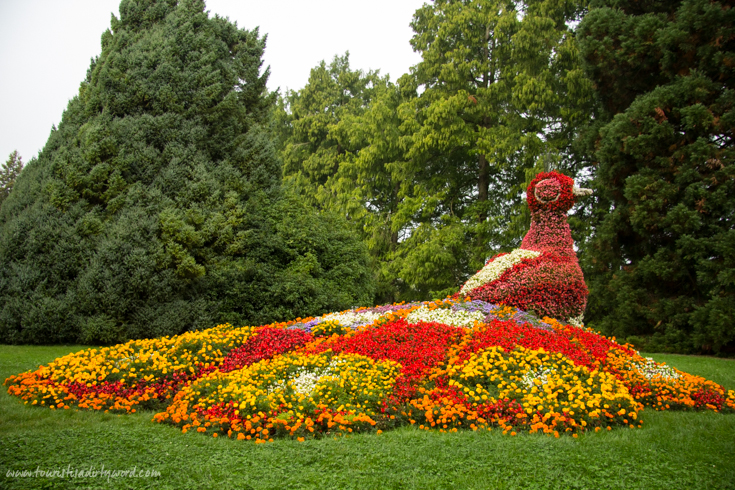 Then we discovered a miniature farm where a rabbit had chickens and roosters for roommates. The rabbit had an extra espresso carrot that morning and sprinted in between the roosters, startling them. It was comical to watch. There was a goat who said good morning, and we visited with a calm, orange tabby cat that was not phased by anything. With the morning sunshine starting to bust up the fog clouds, his orange fur was angelically lit.

The farm was beside an area with a charming wooden bear stuck in a tree log, and a moss-covered troll couple.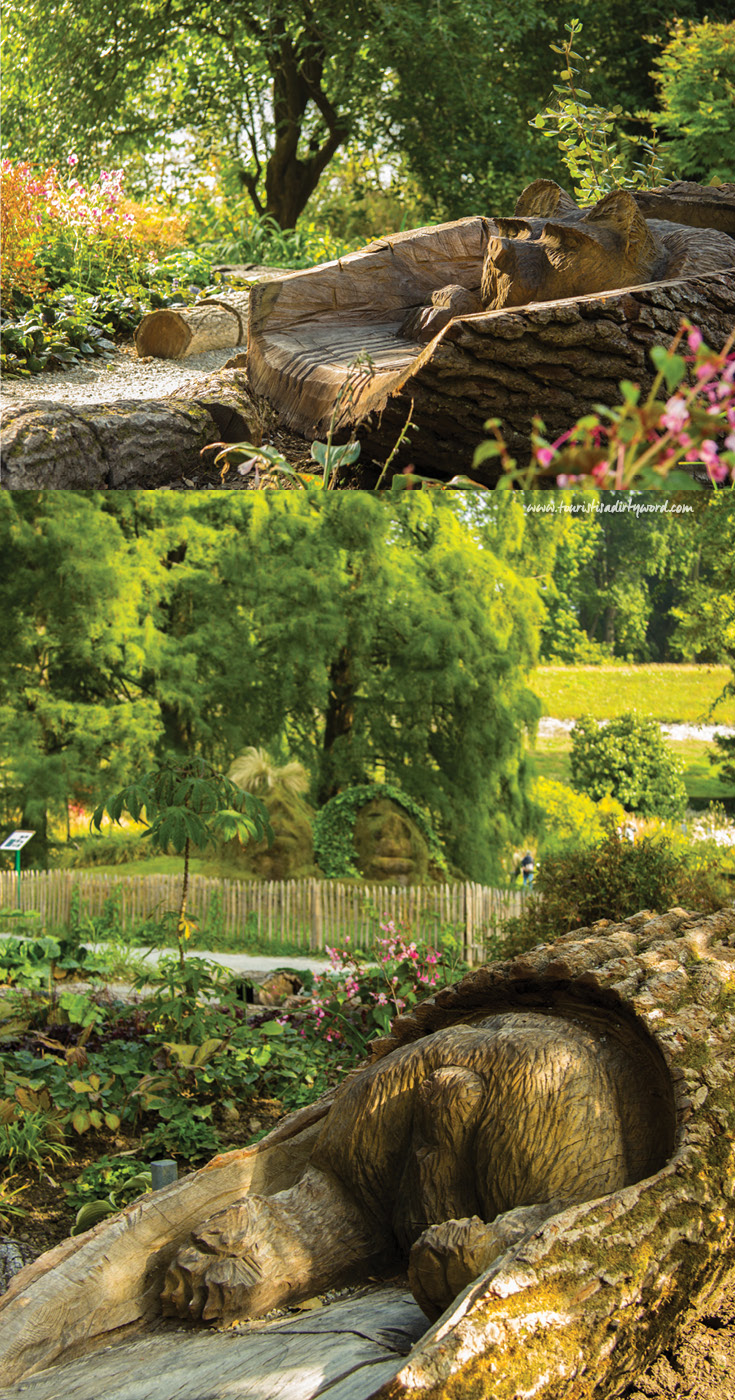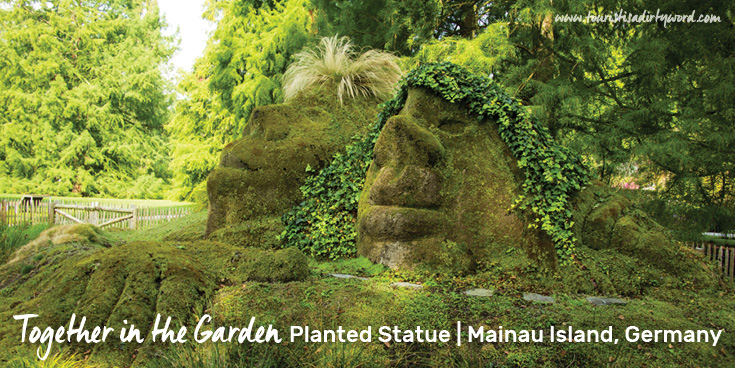 The path we were on wound up and down the shore of Lake Constance. I loved the Dahlia garden which were in season, and they had about 75 to 80 different varieties on display.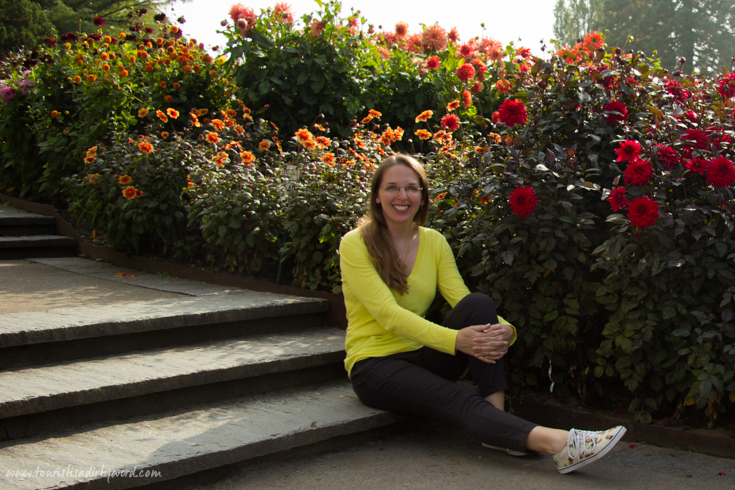 Further along, we saw the Italian cascading fountain, and the map of Lake Constance illustrated through flowers.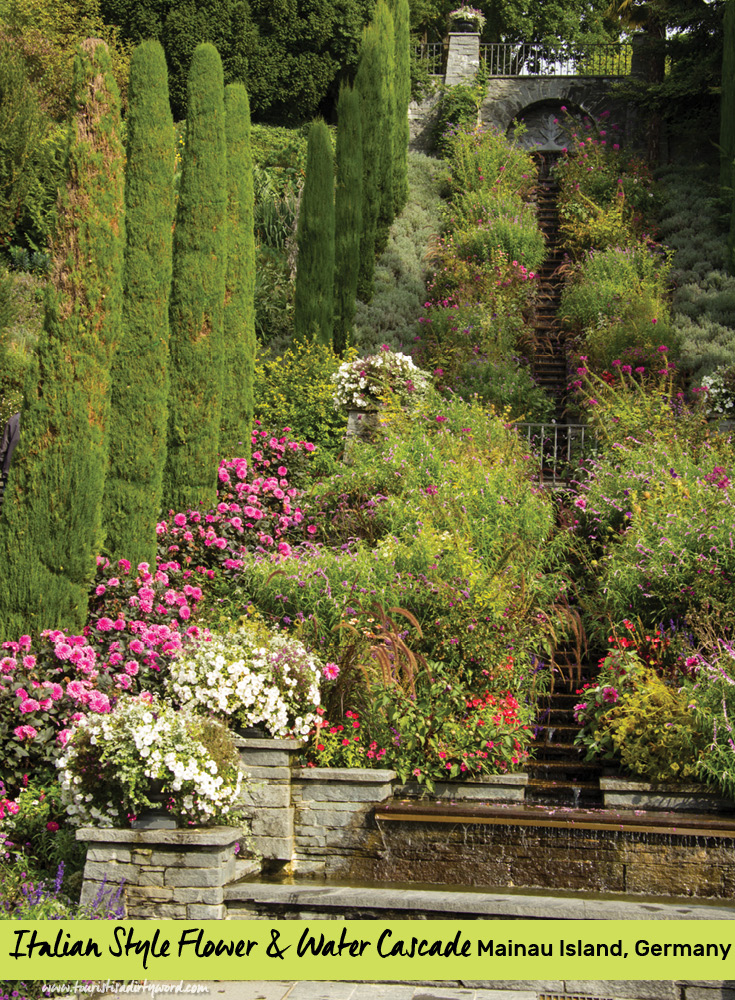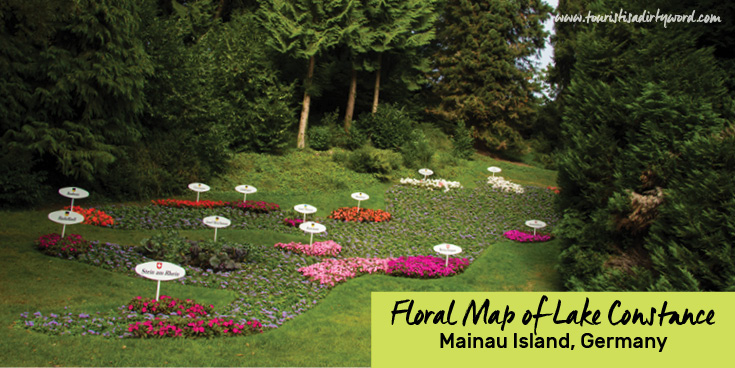 We took a break at a garden cafe where the tables had built-in flower planters. It was just what we needed, walking halfway around Mainau Island already.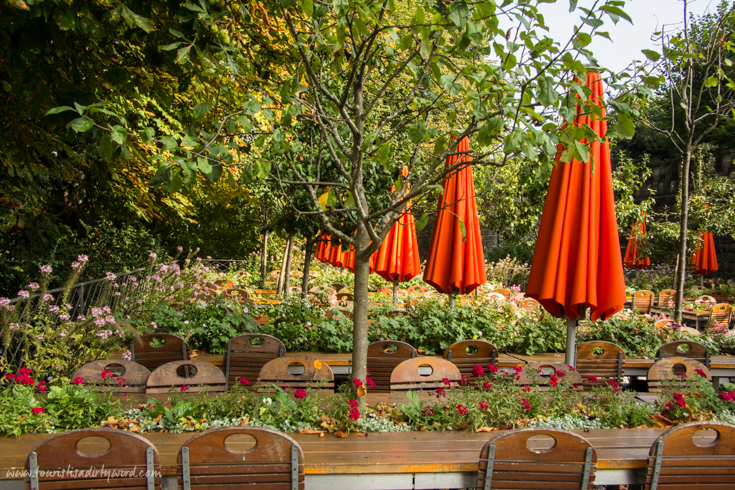 On top of the hill, the 13th-century Baroque palace and church stands from the time the Teutonic Knights owned the island. Alongside the church is an Italian rose garden complete with statuary and fountains. Wherever we looked there were colorful blooms surrounded by lots of greenery.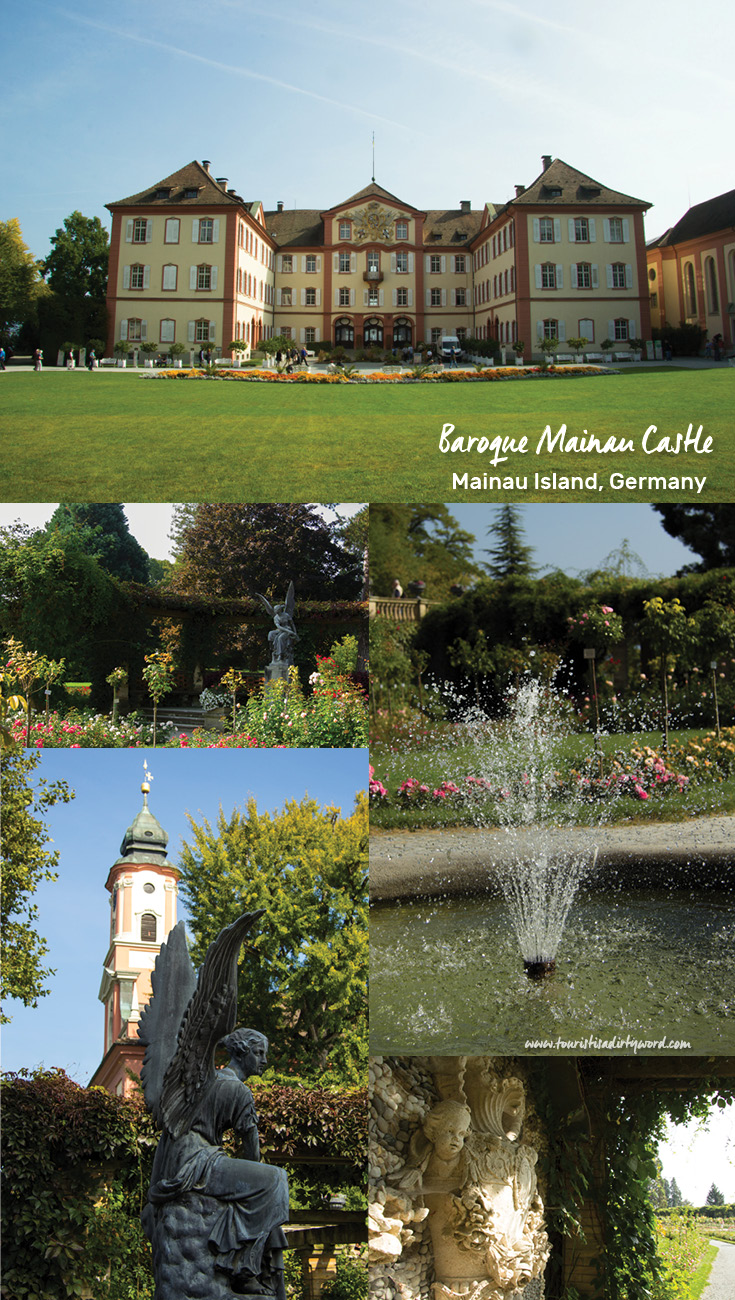 We passed giant redwood trees on our way to the butterfly house. The butterfly house was overwhelmingly crowded, both with people and butterflies. A pond with a waterfall entertained a gang of turtles, gorgeous orchids hung from the ceiling, and butterflies were everywhere. Specific feeding trays put out for the butterflies was a sure-fire way to get a good photo. I made myself dizzying trying to photograph a few of them! There was always a fluttering of wings passing overhead.

By the end of the day it felt like we had seen the entire Nature Encyclopedia. It was refreshing, and a wonderful experience not to be missed, if your ventures take you to Lake Constance.

Follow Along
If you enjoyed this article, or these topics sound interesting to you, you'll love our weekly newsletter. You'll receive a free Germany Packing list for signing up, and you'll receive each week's newest posts every Friday. Thank you for reading!