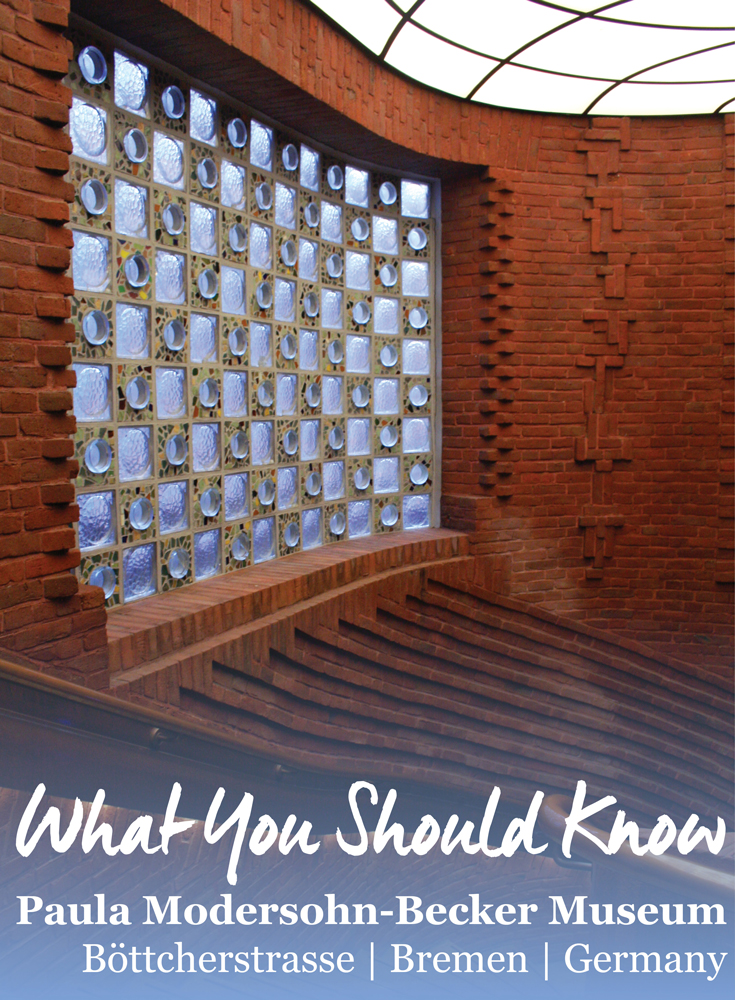 The first museum dedicated solely to a female artist, and the first female artist to do a nude self-portrait.
Paula Modersohn-Becker certainly has my attention!
You might be wondering why you haven't heard of her before. It is surprising that her life hasn't been appropriated for a major motion picture or a best-selling historical novel by Susan Vreeland. Paula Modersohn-Becker led a dramatic, full life, with hundreds of paintings to her credit before dying at the young age of 31. Her greatest love in her life was her art, and she battled the same struggle women do today of balancing career with having a family. She married an older man and died a few weeks after giving birth to her one and only child. She documented her life through countless letters and diaries, available even in English (affiliate link).
Often the argument I'll make for modern art is that it's the first of it's kind, and while something may not be as aesthetically pleasing as we may prefer, it's still notable because it's first. Although Paula's style of work may not be my favorite, to see it up close and in person is something else entirely. Her paintings are so textured that it's impossible to reproduce what they're like in two dimensional form. You simply must see them. Trust me. She would use the sharp end of her paintbrush to scratch into the thick oil paint, making her paintings sculptural in person. They're visually fascinating.
Paula was moved to paint how a scene felt, rather than appeared. She was trained and capable of reproducing a scene realistically, but she chose to express a scene with shapes, simplicity and feeling. Paula has been attributed saying, translated from German, "I believe that one should not think too much about nature when painting, at least not during the painting's conception. The color sketch should be made exactly as one has perceived things in nature. But personal feeling is the main thing."
A Closer Look at the Museum's Highlight: Self-Portrait on the Sixth Wedding Day
To be clear, six year anniversary. This life-size, self-portrait demands to be seen. Statuesque, and staring out at the viewer, Paula looks confident, but also as if she's thinking hard. We have history's advantage to know that she was not pregnant when this painting was done. With that knowledge, viewers can make all sorts of guesses and observation as to what Paula's thinking so hard about. This painting is a great example of how she sculpted her paint. The brushwork follows the direction of the form.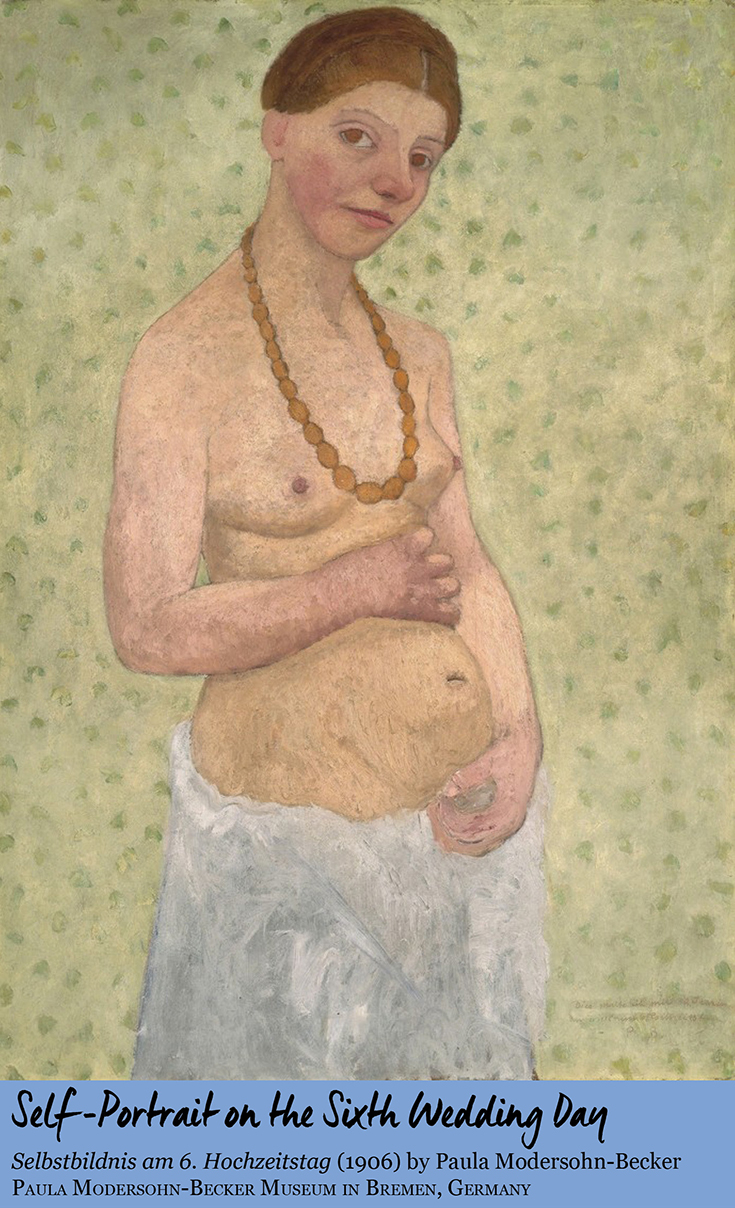 My Personal Favorite: Girl in a Birch Wood with a Cat
I'm a loud and proud cat fan, and I'm immensely charmed when I see cats starring in paintings. Girl in a Birch Wood with a Cat easily stole my heart. This painting also stars Paula's favorite tree, birch. I love how the birch tree the girl is leaning against seems to be leaning against the girl as well. The figure holding a baby on the right side of the canvas is mirrored in the girl holding the cat. Is the girl pretending the cat is her baby? Maybe that's the girl's mother behind her, on the right side of the canvas, holding a younger sibling. Maybe the girl wandered off to be alone, taking the cat with her while she pouts? That's what I wonder about when I look at this piece. The pattern on the cat's coat also seems to mirror the pattern of the birch tree. The cat alone looks at the viewer, almost protectively, or perhaps startled. I can easily picture this as a real life scene that Paula observed while at the Artist Colony in Worpswede.
A side note: It seems as though someone at artsy.net made a beautifully detailed scan or photo of both of these paintings, and you're able to see the brushwork clearly. Click either of the paintings to go to their respective pages on artsy, and while your mouse is over the image on that page, the cursor is a magnifying glass, click to see the painting even larger. Its really nice.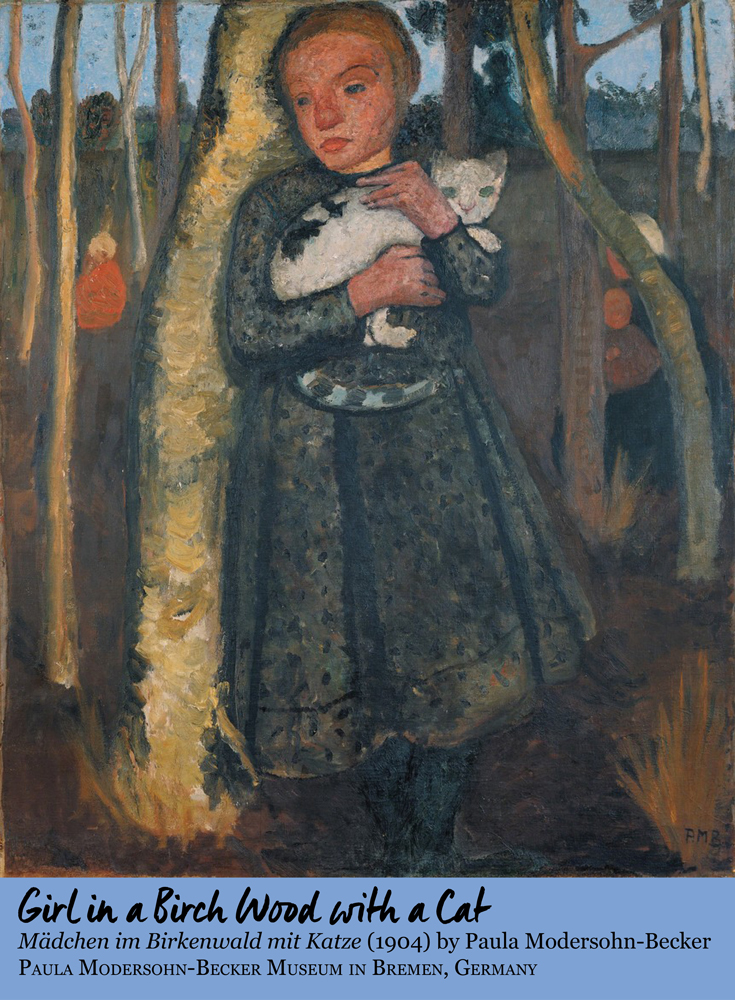 Planning Your Trip to the Paula Modersohn-Becker Museum
Follow Along
If you enjoyed this article, or these topics sound interesting to you, you'll love our weekly newsletter. You'll receive a free Germany Packing list for signing up, and you'll receive each week's newest posts every Friday. Thank you for reading!